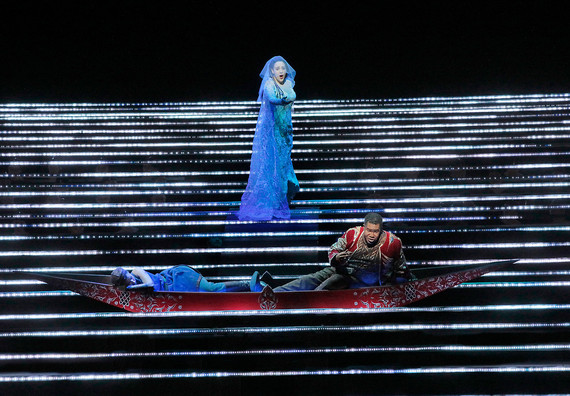 By Christopher Johnson, ZEALnyc Contributing Writer, December 20, 2016
Yes, folks, it's that good, and if you don't race off to see it, you will miss one of those life-changing nights in the theatre that people will still be babbling about on their deathbeds.
So why are you wasting time listening to me when you could be off getting tickets? There are three more performances, and the house is criminally undersold for each of them, even in the cheap seats upstairs. There was a Live in HD showing in movie theaters recently (December 10, 2016), and hopefully an encore screening is scheduled for the near future, so you will have no excuse, and you will have no one to blame but yourself when your grandchildren ask you where you were when Kaija Saariaho and Amin Maalouf's L'Amour de Loin finally came to the Met. I will wait patiently while you make your arrangements.
Good, you're back! What you want to do now is to punch up Maalouf's libretto, which the city of Tripoli, Libya, where the piece is largely set, has made available in a reasonably accurate transcription, with a reasonably accurate English translation, here. Then you want to secure ready access to Kent Nagano's recording, either on CD or through a streaming-service such as this. Then you want to block out as much time as you need to sink into two hours of the most riveting conversation you are ever likely to hear--and trust me, you won't want to do this only once, so allow plenty of time over several days, and find yourself a place to do it in where you can sob freely without alarming your nearest and dearest, or frightening the livestock.
Here's what you will find: a devastating real-life love-story told, without a syllable wasted or out of place, through music of such beauty and naturalness that you might begin to imagine you were listening in on a series of intimate scenes of overwhelming tenderness and almost unbearable urgency. I won't detain you with the story itself, nor with a lot of bushwa about its metaphorical import, vast as that is; you can, and should, discover all that for yourself. Suffice it to say that, for once in contemporary opera, a perfect story is perfectly told, unburdened by intellectual doctrine and free of excess theoretical baggage. You may well be improved by it, but that is not what it sets out to do.
The Met's production, directed by Robert Lepage, is a technical marvel made up of a large moving bridge and somewhere between 25,000 and 90,000 LED lights (depending on which piece of promotion you believe), which have been individually programmed to change to millions of colors, all of which gives visual form to the spiritual connection between two lovers who know each other only in imagination, and to the sea that separates them. Our editor-in-chief, who reviewed the opening-night performance, felt that the bridge restricted the performers' movements unduly, and that the lights were tiresome, in the end almost blinding against a black backdrop. I saw it on the second night from near the top of the house, and there the effect was, perhaps, different. To this eye, the sea-imagery was beautiful and poetic in and of itself, while reflecting and sometimes even deepening the singers' expression. By the same token, the bridge reinforced the story's essential tension: the lovers, kept separate and apart, can do nothing except think about one another, and any action outside their heads is wasted. The acting was intense, but simple and unaffected. The only thing missing was a bit of charm: the occasional laugh-line or wry aside--there are a few, and they're valuable--got swallowed up, but that's probably unavoidable in a house this size.
All the headline-news fuss about the production, and about this being the first opera by a woman that the Met has put on since 1909, obscures the material fact, at least as I see it: this is a great opera, and it ought to become a repertoire-item. (And you need not fear: it is achingly beautiful without even a moment's pandering; if you can listen without tears to Debussy or Fauré, or to the less done-to-death Ravel, you will feel perfectly safe here.) It was magnificently led by Susanna Mälkki, making her Met debut, magnificently played by the Met Orchestra, who sounded like they were having the time of their lives, and magnificently sung by Eric Owens, Tamara Mumford, Susanna Phillips, and Donald Palumbo's magnificent chorus, who are becoming the stuff of legend and never sounded better.
Owens and Mumford are well known and highly valued for their work in this kind of show, but Phillips, a charming singer whose previous work at the Met has been in lighter roles, transcended expectation with her harrowing final scene, which began with a shocking guttural outburst of rage and ended on a note of uneasy acceptance. By the end, I had my knuckles stuffed in my mouth to keep from crying. I was not alone. And then we all just got up and howled. If they hadn't turned the house-lights on, we would probably still be there.
Go.
_____________________________
L'Amour de Loin at the Metropolitan Opera through December 29th. Music by Kaija Saariaho with a libretto by Amin Maalouf; conducted by Susanna Mälkki; production by Robert Lepage; set and costume design by Michael Curry; lighting design by Kevin Adams; lightscape image design by Lionel Arnould; sound design by Mark Grey. Susanna Phillips (Clémence), Tamara Mumford (The Pilgrim), and Eric Owens (Jaufré Rudel).
Cover: Tamara Mumford as the Pilgrim, Eric Owens as Jaufré Rudel and Susanna Phillips as Clémence in 'L'Amour de Loin;' photo by Ken Howard/Metropolitan Opera.
_____________________________
Christopher Johnson writes frequently for ZEALnyc about classical music and related performances.
Popular in the Community