 It was around this time last year that I started this blog, Opera Teen. First I was on Blogger, then Tumblr and now I'm here at WordPress and I couldn't be more satisfied with it. One of these days will be my "Opera Teen-iversary." Too bad I don't remember which one...
When I started this blog, I was a little lost. I didn't know which direction to take. I didn't know what I wanted to focus on or what my next step would be. Then, along came opening night at the Met (You will notice that I liveblog opening night. Other post came after this one so you can see), and I found my groove. Over the past season, I spent a lot of time reviewing the radio broadcasts. Since then, I've grown as a writer, and I'm more knowledgeable. That being said, I still have a lot more to do. And that more, starts September 24th, 2012.
On that day, the Metropolitan Opera opens its doors with a production of L'Elisir d'Amore for a whole new season. You can't help but be excited!
So in this series of posts, I'm going to take it opera-by-opera and break down what this season might look like.
L'Elisir D'Amore: This opera is Anna Netrebko's second opening night, and a new production by Bart Sher. Sher's production's tend to go either way and this one looks pretty traditional so we'll see in the HD screening. Vocally, Netrebko sounds a little mature for this role. To sing Anna Bolena one year then Adina the next is a little odd. Polenzani, who won rave reviews for his Alfredo last year, sings Nemorino. Polenzani is a talented artist, but I'm surprised Juan Diego Florez or someone similar is singing opening night. Polenzani isn't in the throes of his career yet and as talented as he is, maybe another role in a few years. Rehearsal picture below. What's with that hat, and doesn't this Elisir look JUST LIKE the last one?!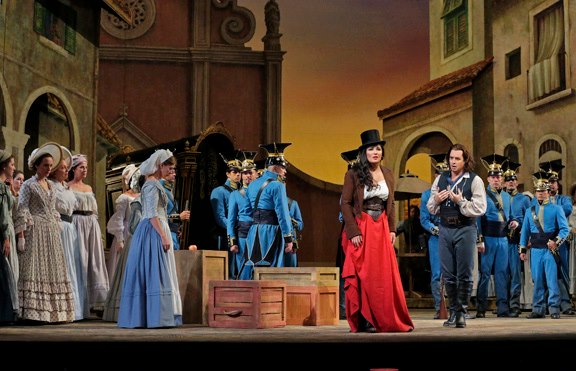 Turandot: Zeffirelli's gilded stage masterpiece rides again at the Met this year, sadly without the late Charles Anthony singing Emperor Altoum. There will be a sentimental vibe this year. Guleghina and Theorin alternate as the princess and Marco Berti(Who of which I am not a fan.) and Marcello Giordani alternate as Calaf. OT predicts a fantastic role debut for her. She sang Brunhilde in the final run of the Schenk Ring Cycle and it's her first return to the Met since 2009. Rehearsal picture below. Both photos courtesy of Ken Howard.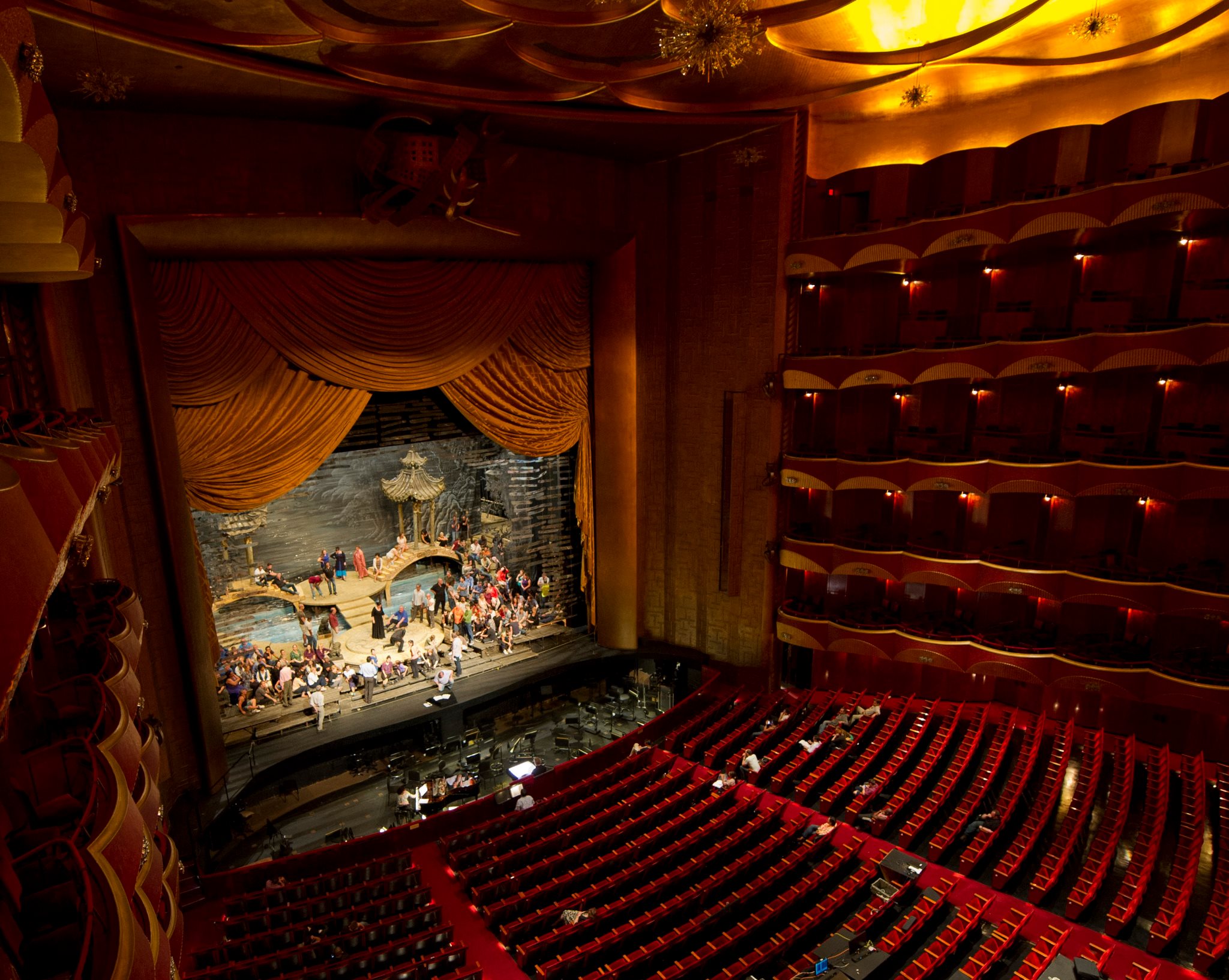 Carmen: The Richard Eyre Carmen was pretty fantastic and Anita Can'tpronounceherlastname sings the title role. She sung the role at the Met before and opened a season at La Scala with the role as well, to moderate reviews. Yonghoon Lee sings Don Jose and Kyle Ketelsen sings Escamillo even though the blurb says Teddy Tau Rhodes will sing it. The ever underrated, ever talented, and ever talented Hei Kyung Hong sings Micaela in later performances while Kate Royal sings it opening night. This is a pretty safe cast.
Il Trovatore: This revival should be called "Send in the Sopranos". Carmen Giannattasio, Patricia Racette and Angela Meade are all singing Leonora at some point during the season. Marco Berti, Alexey Markov and Franco Vasallo all take on "leading roles". As Azucena, Stephanie Blythe and Dolora Zajick alternate, furthering the fact that Blythe and Zajick are pretty much the same person.
Otello: The Feast of Fleming opens on October 9th, with Renee Fleming as Desdemona and Johan Botha as Otello. Falk Struckman sings Iago. This production is also running in the spring. The Met pulled a nasty trick on us. In the Spring, Jose Cura sings Otello and Thomas Hampson sings Iago. However, Krassimira Stoyanova is singing Desdemona and not La Voce. It Renee was singing in the spring, t would be the perfect cast. Ever. I've already got my tickets for the second performance on the 13th! I'm excited to hear Renee Fleming live for the first time!

The Tempest: The Met's major production dilemma: Planning their productions four of five years in advance. Why, after the Ring disaster, would you EVER have Robert Lepage back to direct?! The composer, Thomas Ades conducts his recent piece that is relatively highly regarded around the world. Isabel Leonard sings Miranda. Leonard is a talented artist, but she's being pushed on Met audiences a little too fiercely. with Iestyn Davies as Trinculo and Alex Shrader, 2007 Met National Council Audition winner and star of the Susan Froemke film, The Audition sings Ferdinand. Simon Keenlyside sings Prospero. The premise of the production is that everything is set in 19th Century Teatro alla Scala. This is going to be good... Or bad.
Le Nozze di Figaro: The Mozart favorite comes back in a no-hype revival of the Ponnelle production. The cast looks great, with Ildar Abdrazakov as Figaro, Christine Schafer as Cherubino and Maija Kovalevska as the Contessa. Our favorite Hei Kyung Hong sings the Contessa in the last performance and Mojca Erdmann sings Susanna, after a questionable debut in Don Giovanni as Zerlina last fall.
So there you have it, my analysis for the Met productions from September to October. I'll be back soon with November to December. Talk to you soon people and tell me what you think in the comments below. Stay tuned for Part 2 soon!
Calling all HuffPost superfans!
Sign up for membership to become a founding member and help shape HuffPost's next chapter