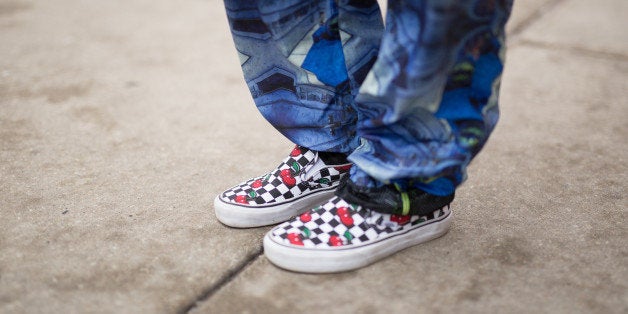 Adrianne -- to borrow a line from "As Good As It Gets" -- makes my son want to be a better man. At least, she makes him want to be a better kid. My son is 5 years old, and Adrianne is his preschool teacher.
He'll draw pictures for her on the weekends or eat carrots -- which he tells me he hates -- when they're offered at school. A necklace she gave him to commemorate the 138-floor Lego tower he once built in her classroom is his prized possession, beating out his pet goldfish and entire Pokemon collection.
My second grader had Adrianne as his preschool teacher as well; if you ask him about his time in her class, he'll wax poetic, even though in "kid years" it was a long, long time ago. In fact, I've spoken to a number of parents whose children had Adrianne, and all of them loved her -- if love means that a person makes you want to be your best self when you're with them and your best self when you're not.
Because I live with such devoted members of Adrianne's fan club, I wanted to see her magic up close. So I spent the day with Adrianne, her kind co-teacher Maddy, 12 boys, 5 girls, a hedgehog named Mr. Sniffs, and 17 caterpillars living temporarily in little plastic cups.
I don't know what image comes to mind when I say "preschool teacher" but there's a good chance it's not Adrianne. She's 5'1", has 11 tattoos, a lip ring, glasses, and makes an incredibly convincing "Harry Potter" on dress-up day. On the morning I join her class, she wears blue jeans, a black "Empire Strikes Back" T-shirt, and beat-up, checkerboard-print Vans. In the movie "Weird Science," two teenage boys create their ideal woman and it's Kelly LeBrock. If my kids ever get their hands on such a machine, I think they'd invent Adrianne.
Until my time in class, I had never noticed that Adrianne and Maddy greet each and every child by name when he or she walks in the door. No one gets a "Hey, what's up?" and no one slips in unnoticed.
There is playing and painting and building and watching Mr. Sniffs eat mealworms; snacking and singing about the days of the week; checking the weather; going to music; reading books; playing outside; practicing yoga disguised as ninjas moves; and participating in an earthquake drill that Maddy and Adrianne prep the kids for ahead of time.
"Here's the deal, kiddos, in about 10 minutes we're going to have an earthquake drill and when that happens we are going to go under the tables like this," she says, crouching under a table. "Upstairs in the office there's a microphone, and Mary Jane is going to talk into the microphone and her voice will go into that speaker. She's going to say, 'We are now having an earthquake drill.' Is that scary?"
A few of the kids look worried. "If you feel a little nervous is that ok?" Adrianne asks. Kids nod. Then it is time for the actual drill, and everyone does such a great job that they are rewarded with enough pompoms to fill their pompom jar, which means they earn a class treat. The students' reaction to the full jar and class treat is similar to how the studio audience reacted on the day Oprah gave everyone a car.
If asked what they hope their children will get out of the last year of preschool, there are parents who will tell you they want their children reading. Period. This is not because they can't wait for their kids to dive into the classics and embrace American literature. This is because there is a fear that if children aren't reading by the time they enter Kindergarten then they will fall "behind" their peers who are. And if their children fall behind, parents are worried that their children won't -- eventually -- get very, very good grades and won't score high enough on their SATs to get into Harvard or Yale or insert-name-of-a-preferred-school here.
Adrianne and I duck out of the room so I can ask her one final question: What does she want kids to get out of her class by the end of the year?
"I want them to be kind, open to learning, really curious, and have confidence not just in themselves but in their abilities -- but humble too."
Then she asks for a moment to think about the question more. A minute of quiet passes, and Adrianne resumes speaking:
"You know, when kids get to my class, they've only been on the planet for four years... walking for three... talking for three. Sometimes I have to remind myself of that. As much as I believe in treating children with respect and not talking down to them, they are not little adults."
"It's really normal for kids to come in thinking pretty much just about themselves. This is a really big year to learn to think about other people and the world around them. So if I was in the hallway with my kids and we saw a stranger drop something, my goal would be that one of them would notice, pick it up and kindly hand it to them."
The school day is almost over. The school year is almost over too for that matter. We finish talking and walk back to class. Adrianne goes back into her room. I glance inside one last time and see the 17 caterpillars and the 17 preschoolers. Both of whom will soon turn into butterflies.