The metro has finally arrived at Bergamot Station, but with the train comes uncertainty and inevitable change for the galleries housed at the popular arts center. Although this could be the last hurrah for the SANTA MONICA AUCTIONS, owner, Robert Berman continues to be optimistic. Back in 2013 he was forced to find a new home for both the ROBERT BERMAN GALLERY and SANTA MONICA AUCTIONS. Berman said he is interested in watching the impact the train will have on the auction. "After waiting 22 years for the train, it's finally here and we are excited about all the new possibilities," said Berman. "Although I did loose one of my locations (in 2013, Berman was forced to move from the C Building, which was torn down), I now have a larger space and am hoping to stay another twenty two years."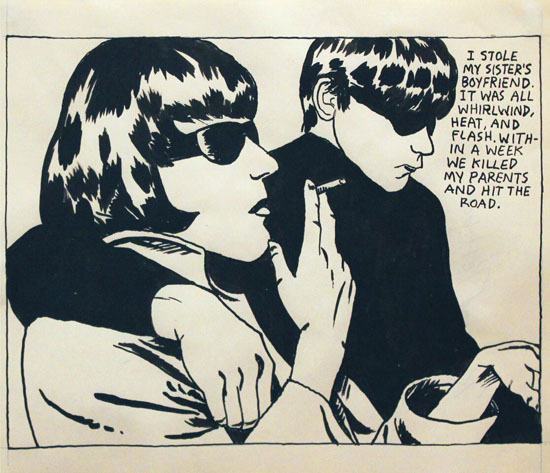 Raymond Pettibon
No Title (I stole my sister boyfriend), 1984
Original artwork used for Sonic Youthss album "Goo" in 1990
Ink on paper
Signed and dated in ink on verso
Sheet: 10.5 x 8.5 inches;
Framed: 13.25 x 11.375 inches
Estimate: $20,000/$30,000
Courtesy of the SANTA MONICA AUCTIONS
It's business as usual at the SANTA MONICA AUCTIONS and its annual event will auction works from an exceptional pool of talent such as Peter Alexander, Charles Arnoldi, Don Bachardy, Banksy, Jean Michel Basquiat, Billy Al Bengston, David Bowie, Judy Chicago, George Condo, Laddie John Dill, Ned Evans, Shepard Fairey, Sam Francis, Joe Goode, Robert Graham, Robert Heinecken, Roy Lichtenstein, Robert Mapplethorpe, Ed Moses, Helmut Newton, Raymond Pettibon, Pablo Picasso, Alex Prager, Robert Rauschenberg, Cindy Sherman, Andy Warhol, etc.
The auction features one of the Andy Warhol prints that recently made the news due to a theft from a Missouri museum just last month. SANTA MONICA AUCTIONS has also acquired a rare print (one of ten) by Robert Maplethorpe titled Maybelle.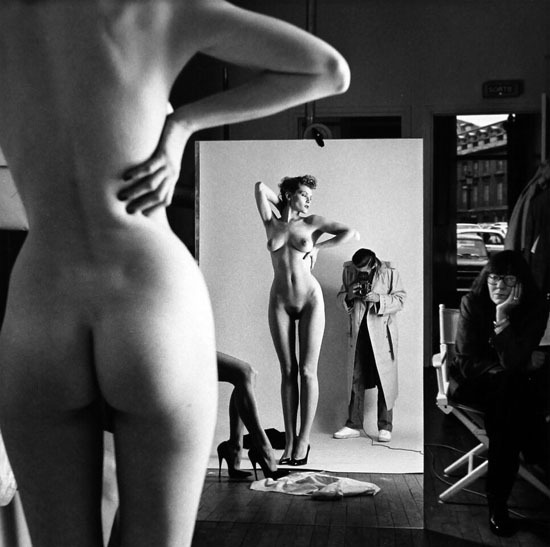 Helmut Newton
Self Portrait with Wife and Models, Paris , 1981
Gelatin silver print
Signed, titled, date and annotated
For Craig Krull in pencil on recto with
Copyright Helmut Newton Monte Carlo Reproduction Prohibited stamps on verso
Image: 11.125 x 11.125 inches; Sheet: 16.5 x 12 inches; Framed
Provenance: Acquired directly from Helmut Newton c. 1994 by Craig Krull
Estimate: $25,000/$30,000
Courtesy of SANTA MONICA AUCTIONS
Three important lots of original photographs will also be up for auction by Helmut Newton. One of the most sought after works by Helmut Newton is Self-portrait with wife and model 1981. "It's a complicated photograph," said Berman. "Really beautiful." The auction will also feature two multiple lots of Helmut Newton with other unique works. Other highlights include: a Robert Heinecken portfolio, a Raymond Pettibon original drawing, a Banksy and a George Condo original painting as well as a Cindy Sherman photo (set to be featured in a solo exhibition at the Broad).
"We have much more original work than before focusing on major California artists," said Berman, who went on to say that several works came from a Santa Barbara collector. "He had a great eye and built a gallery for himself - he sold the building and we were lucky enough to acquire much of the work."
SANTA MONICA AUCTIONS preview is currently on view ROBERT BERMAN GALLERY Tuesdays-Saturdays from 11-6pm. This Saturday, June 4th (one day prior to auction) Robert Berman will be giving an auction preview talk at 1:00 p.m. The gallery will be open for viewing on Saturday, June 4th through 8:00 p.m.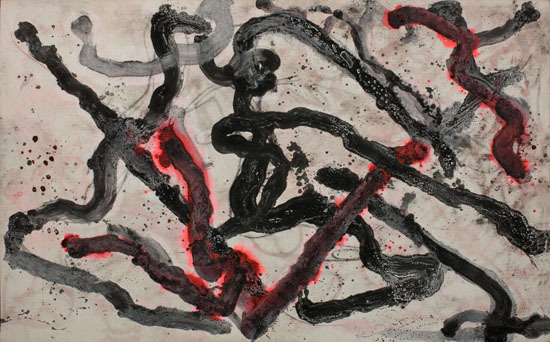 Ed Moses
Cargo-1 , 1988
Oil and acrylic on canvas
Signed and dated in ink on verso
60 x 96 inches
Provenance: Brian Gross Gallery, San Francisco; LA Louver Gallery, Venice CA, tag on verso; Santa Barbara Museum of Art, tag on verso
Estimate: $50,000/$60,000
Courtesy of SANTA MONICA AUCTIONS
On Sunday, June 5th, SANTA MONICA AUCTIONS will host its outdoor annual event outside the B7 Gallery starting at 1:00 p.m. and running through 7:00 p.m. The gallery preview will open at 11:00 a.m. The Bergamot Station Arts Center is located at 2525 Michigan Ave., in Santa Monica‬. Live phone bidding and online and bidding by phone will be available. See current catalogue at http://www.smauctions.com
Calling all HuffPost superfans!
Sign up for membership to become a founding member and help shape HuffPost's next chapter