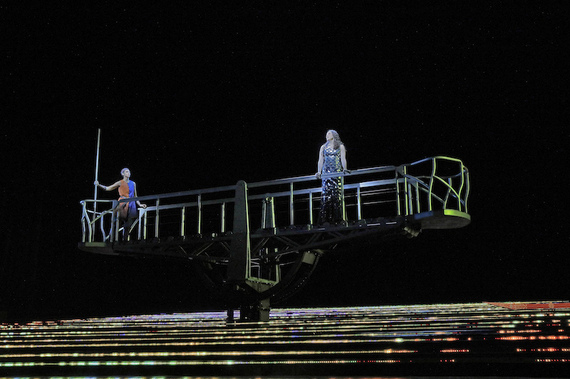 By Joshua Rosenblum, ZEALnyc Contributing Writer, December 23, 2016
It's a little late in the game to weigh in on Kaija Saariaho's much lauded opera L'Amour de Loin, which has been showered with praise since its premiere in Salzburg in 2000, continuing through numerous worldwide productions and culminating in its triumphant unveiling at the Met on December 1. Something of a Johnny-come-lately, I saw the Met's fourth performance on December 14, so I'll try not to be too redundant in my observations (ZEALnyc's review of the opening on 12/1; ZEALnyc's review of 12/6). I promise not to use the word "luminous" to describe Saariaho's score, since I have already seen that one used in at least four reviews. How about sumptuous and shimmering? And the assurance that you've never heard sounds like these coming from an orchestra (with the non-acoustic addition of one synthesizer)? Saariaho's innovative approach is that while the orchestral music floats through a spectral, sonority-driven world in which the usual distinctions of tonal and atonal don't really apply, the sung melodic lines are lyrical, modal, and vocally sympathetic.
The plot, such as it is, is simple: Jaufré, a prince/troubadour, hears from a Pilgrim about a beautiful, virtuous woman in far-off Tripoli, falls in love with her from her description, and begins writing songs in praise of her. The Pilgrim sails to the woman (a countess named Clémence), informs her of the smitten troubadour, and sings some of his songs. The prince, informed by the Pilgrim on his return trip that Clémence has heard his songs and knows that he loves her, decides he must now sing for her in person. On the long journey, however, the prince falls ill, and after a heartbreakingly brief encounter with his beloved, dies. She, somewhat paradoxically, reproaches God for his cruelty and also decides to join a convent.
This seems to be a story of love at its most profound and also its most superficial. He falls hopelessly in love with descriptions of her, and she falls in love with the idea of his being love with her. It sounds deep, mythic, and quintessentially of its era (Amin Maalouf's French libretto is based on a twelfth century legend) and yet it also sounds suspiciously like fifth grade, with the Pilgrim as the appointed go-between who delivers a love note to the cute girl at the end of the row and asks her if she likes you. This churlish observation, however, should take nothing away from the singular achievement this opera represents. The three stars--Susanna Phillips as Clémence, Eric Owens as Jaufré, and Tamara Mumford as the Pilgrim--are all superheroes, giving astonishing, musically and theatrically impeccable performances of difficult, marathon roles. Owens' fine-grained bass-baritone manages to be both dark and glowing, full of tormented humanity. Phillips looked and sounded stunning, with a resplendent soprano befitting a love object. She also displayed impressive acting chops, particularly at the end, in her grief over the Jaufré's death. Mumford, wigged and costumed to look convincingly male, has a luscious mezzo and an appealingly direct delivery. Many of the Pilgrim's vocal lines end with downward motion and a final word or syllable that is spoken rather than sung, a sort of last-minute Sprechstimme. It's a striking technique that Mumford incorporated naturally and expressively.
Robert Lepage's controversial production turns the ocean into a fully-fledged fourth character. It consists of dozens of rows of tiny LED lights, (courtesy, presumably, of "lightscape image designer" Lionel Arnould), which cycle continuously through various groupings and colors, depicting the passage of time and relative levels of calm and storminess. In an instrumental prelude at the top of Act II, the electronic sea undergoes a series of dazzling (and dizzying) shape-shifting transformations, at one point appearing to morph into a giant wall of water. The members of the Met Chorus make aurally beautiful contributions, but when they appear, their heads popping up from beneath the "ocean" surface, the visual impact is slightly comical. The only other set piece is what my companion for the evening described as an "oil rig": a large bridge-like structure that also pivots vertically to form a staircase. It drifts and twists its way across the stage, and during one of Owens's scenes, it rotated to unexpectedly reveal Phillips standing at the opposite end, a striking theatrical effect.
The Met Orchestra gave a transcendent performance of Saariaho's hypnotic score. Conductor Susanna Malkki led the instrumentalists with great authority. Her floating arm movements frequently mirrored the rolling waves onstage, but she was also crystal clear when she needed to be, which was frequently. She obviously knows the sprawling, often amorphous score cold. How does Saariaho come up with these incandescent sonorities? She is literally a magician with the orchestra.
L'Amour de Loin at the Metropolitan Opera through December 29th. Music by Kaija Saariaho with a libretto by Amin Maalouf; conducted by Susanna Mälkki; production by Robert Lepage; set and costume design by Michael Curry; lighting design by Kevin Adams; lightscape image design by Lionel Arnould; sound design by Mark Grey. Susanna Phillips (Clémence), Tamara Mumford (The Pilgrim), and Eric Owens (Jaufré Rudel).
Cover: Tamara Mumford as the Pilgrim and Susanna Phillips as Clémence in 'L'Amour de Loin;' photo by Ken Howard/Metropolitan Opera.
_____________________
Joshua Rosenblum, a Contributing Writer for ZEALnyc, writes on classical music performance, theater, and related topics.
For more ZEALnyc features, read:
Popular in the Community