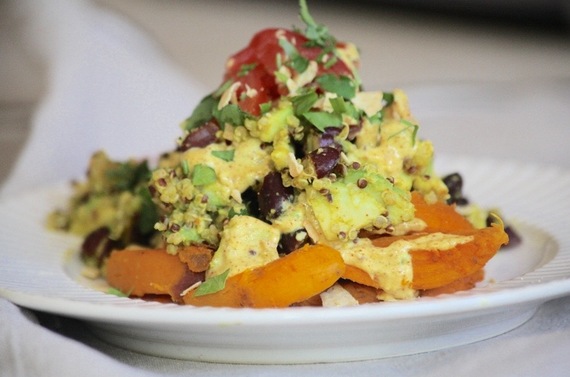 I've always loved Mexican food and often just make a salad with avocados, beans with a Mexican sauce, lettuce and a yogurt topping. So here I've come up with a more hearty Mexican entree which can be layered up and served fresh and hot at a dinner party - and looks deliciously impressive. It is of course super healthy, I like to add a few tortilla chips on the side for an extra crunch, I have used Rice Works Sweet Chilli Flavor, but any brand/flavor will suffice.
Sweet potato
1 medium sweet potato
1 teaspoon coconut oil
¼ teaspoon salt
¼ teaspoon cumin
pinch turmeric

Beans & avocado mix
80g kidney beans, drained
1 avocado, chopped (100g)
¼ teaspoon salt
pinch turmeric

For the sauce
1 tablespoon tahini
juice of ¼ lime
¼ teaspoon salt
1 tablespoon yoghurt
¼ teaspoon cumin powder
¼ teaspoon turmeric

Topping
5 cherry tomatoes, roughly chopped
squeeze of lime
handful coriander or parsley

Start by steaming the sweet potato for 5-7 minutes until cooked. Once the sweet potato is cooked, the skin will easily peel off. Now cut it into long pieces and heat the coconut oil on a flat-based pan and add the pieces of sweet potato. Add the salt, cumin and turmeric and mix, careful not to break the sweet potato. Let this cook for around 10 minutes, turning every few minutes and allowing the pieces to become slightly brown. While this is cooking, mix together all the ingredients for the sauce in a bowl and leave to one side. Next chop the avocados into small cubes and cut the kidney beans in half, or if using pinto beans, you can use the whole beans. In a separate pan, mix the avocado and beans and cook on low heat for 3-5 minutes, adding the salt and a very small pinch of turmeric, as well as a teaspoon of the sauce. When serving, place the sweet potato pieces at the base, add a little sauce here, then pour some of the bean and avocado mixture adding more sauce here, and garnish with a spoonful of the chopped cherry tomatoes, a squeeze of lime and a sprinkle of coriander.