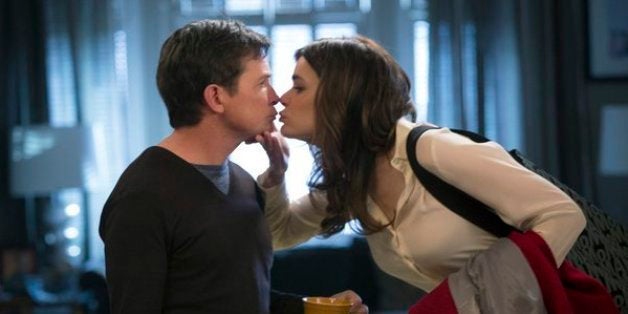 "It's definitely an increased workload but it's a lot of fun," Fox told HuffPost TV about his return to series television. "I can't say I had forgotten how much I enjoyed working, but it reinforced to me that it was something that I really loved and missed and it's been a great experience."
The family comedy takes a page from Fox's real life: He plays Mike Henry, a beloved New York City newscaster with Parkinson's who leaves his job to spend more time with his family. "Breaking Bad" star Betsy Brandt plays his English teacher wife Annie and Wendell Pierce plays his old boss Harris Green -- and they're both trying to get Mike out of the house and back to work for their own reasons.
"I'm just trying to get Michael back on the air because he was a popular anchor ... I, like all news directors, am looking at numbers and ratings," Pierce told HuffPost TV.
"He's not defined by his condition. He is a really talented actor and a very funny man," Pierce said of how the show will handle the character's -- and the actor's -- Parkinson's.
The cast is rounded out with another familiar face and some newcomers: Katie Finneran plays Mike's sister Leigh, Juliette Goglia is daughter Eve, Conor Romero is son Ian and Jack Gore is youngest child Graham. And since the show is partly based on Fox's real home life, Fox admitted he sometimes takes experiences from his family and brings them to the show.
"But I do it in a way, like, 'How can we mutate this in a way to work with the TV family?' So there's plausible deniability," Fox said. "There's nothing we can directly trace [back to my real family] and say that happened to this kid."
His TV kids don't seem to mind -- but are they aware of his TV legend status? And Brandt's darker work?
"It's awesome that Michael is a legend in the comedy world and Betsy is coming from a very serious show and coming into the comedy world," Romero told HuffPost TV. "You get to take things from the two of them, use them, steal them and play off them, which is awesome."
"Michael has this huge career that he's had for years. He's such a legend. It's really awesome hearing stories from the "Back to the Future" set when he was working on "Family Ties" at the same time, and barely sleeping," Goglia said. "And working with Betsy -- like everyone else in the world, I'm a huge 'Breaking Bad' fan and I feel really cool because I get my own special interviews with her because she loves talking about it … it's pretty cool to get insight into some of my favorite pieces of work."
No family sitcom is complete without the somewhat wacky sidekick character, which is where Finneran comes in. The Tony-winning actress said she did some research into the comedic sitcom sidekick. "I love Sean Hayes. We actually got to know each other, we did a show called 'Promises, Promises' a couple of years ago. I got to pick his brain about how he works and what he does. I love great sidekick parts," she said. "I really wanted to make her not too obnoxious, so I've really been working on that. I don't know if I succeeded or not."
One thing's clear about this cast: they genuinely seem to be having fun. "I so love this job and I love this group," Brandt said on the red carpet of NBC's fall TV launch party. "I want it to be a huge, huge hit. I was just saying if we could come out like 'The Cosby Show' or 'Family Ties,' I would be forever happy. I'll probably be forever happy because that's just how I roll."
"The Michael J. Fox Show" one-hour premiere airs at 9 p.m. ET on Thursday, Sept. 26 on NBC and moves to its regular 9:30 p.m. ET timeslot the following week.
PHOTO GALLERY
Critics Picks 2013-2014
Calling all HuffPost superfans!
Sign up for membership to become a founding member and help shape HuffPost's next chapter
BEFORE YOU GO