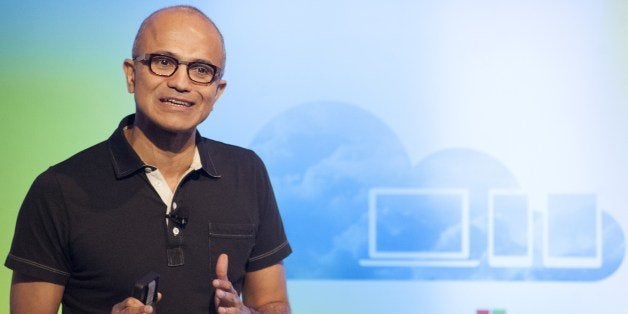 Satya Nadella really blew it. And it's not that he stumbled over an issue. He crashed into the issue for women and negotiation. The Microsoft CEO really stepped in the mud at the Grace Hopper Celebration of Women in Computing. He was asked his advice for women who are uncomfortable asking for a raise. His response: "It's not really about asking for the raise, but knowing and having faith that the system will actually give you the right raises as you go along." Not asking for raise, he added, is "good karma" that would help a boss realize that the employee could be trusted and should have more responsibility.
Asking is the central issue for women! I've been researching the effects of gender in negotiation for years and have advised thousands of women. There is still a 77 percent pay gap between women and men, and in the technology field in particular, only about 29 percent of jobs are held by women. The field is decidedly pale and male. There are many forces working against women as we strive for pay equality. And one of them is our own discomfort with asking for anything, let alone a raise.
Babcock and Laschever, giants in the field of this research, have shown that most young men will negotiate their first salary out of college. Most young women, with the same skills and qualifications, will simply accept whatever they are offered. At the end of a 30- to 40-year career, the man will have over $700,000 more earnings simply because he negotiated that one time. He asked for more. And he will probably continue to ask for more, extending the distance between him and his equally qualified female counterpart.
Not only are women discouraged from negotiation, but we are discouraged to ask for anything. A better table, more vacation, time off to care for children or parents are all seen as things we're not allowed. Overwhelmingly, women feel they must take on all the burden. And in our jobs, we statistically tend to keep our heads down, work hard, and then wonder why we aren't promoted. If you don't take the time to advocate for yourself, it's probably not on someone else's list to do. Women wait, and when they finally confront "the system" confused bosses say, "But I didn't know you wanted a raise!" Conversely, men feel there are always options and that it doesn't hurt to try to get more. And that's great! Women need to lean on male colleagues and friends and learn more about getting comfortable with asking.
Which brings me back to Mr. Nadella. Given the chance to empower women, he told them not to do the very thing that can significantly change a woman's professional advancement. He's apologized and said he learned an important lesson. Good for him. I only hope that this gaffe brings to light the fact that there are so many unconscious, societal and personal barriers for women. It is only through awareness that we can make change happen. And I have one last question to ask Mr. Nadella. If this had been a conference room full of men, would you have told them not to ask for a raise?
Karen Hough is the CEO of ImprovEdge, an Amazon #1 bestselling author and contributor to the Huffington Post. Her second, award-winning book, "Be the Best Bad Presenter Ever: Break the Rules, Make Mistakes and Win Them Over" is available from Berrett-Koehler. She is the recipient of the Stevie International Silver Award for Most Innovative Company of the Year and the Athena PowerLink Award for outstanding woman-owned business. She is a Yale graduate and international speaker. www.ImprovEdge.com
Popular in the Community