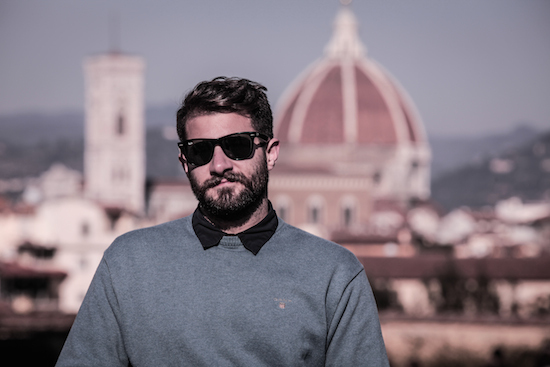 I love, and probably overuse Marcel Proust's quote that goes, "the real voyage of discovery consists not in seeking new landscapes, but in having new eyes." Sometimes I'll find myself looking at something, or someone familiar and realize I've never really seen them before, not the way I view them in that instant. The result is a magical feeling, try it sometimes.
The loveliest way to start this little experiment is by checking out the work of Bahraini-American artist Nasser Alzayani. The UAE-based Alzayani, who studies architecture at the American University of Sharjah, was recently asked by the folks at Middle East Now -- in occasion of the sixth edition of the festival -- to discover the Arab influences in the city of Florence. Through a project titled "Finding the Middle East in Florence," Alzayani compiled a series of notebooks, which have been then combined into a book and feature in a beautiful exhibit at ETRA - Galleria Studio Tommasi.
Personally, I've always felt at home in the Middle East, and subconsciously, have attributed this ease to my upbringing. The cobbled streets of my hometown, the obvious Moorish inspirations in the Brunelleschi landmarks, the smells and sounds of Florence made my travels throughout the Arab world seem familiar. It's a feeling I can't explain without getting abstract, and having Alzayani's work so perfectly illustrate the sensation is a godsend.
I caught up with the kind, thoughtful, wise-beyond-his-years artist inside the Odeon Cinema in Florence during Middle East Now, and it turned out to be a highlight of my festival. After the interview, do check out the slideshow of his work below.
What was the inspiration for this project?
Nasser Alzayani: It began when Lisa and Roberto [Chiari and Ruta, the festival organizers] first spoke to me about the project and told me the theme was "traveling in the Middle East." And the idea of travel has for a long time been a part of what I do with my notebooks. I always have a sketchbook with me, whether I'm traveling or at home and I always record what I see, people I meet, things I find... In all of them they have some kind of influence from my background, where I come from. I think everyone does that wherever they go. So when they asked me to do something for their festival, my idea was to do something that was the opposite of what their intention was -- traveling through the Middle East. In my project it would be traveling from the Middle East and finding it here [in Florence]. And being someone who is from there, for me it might be easier to find the Middle Eastern here. A lot of the places I'd go to I would read a word that would have some resonance in Arabic but wasn't intended to. Like there was an ice cream shop called "Amalo," and "Amal" in Arabic means "hope". And the woman who owns the shop was at the exhibit the other day, which was also fantastic, meeting all these people...
Do you feel as an artist that you have to fit in, or is uniqueness good?
Nasser Alzayani: I think it depends on the time. As an artist, it depends where you are, where you are based. When I'm in Dubai I feel like being different is a good thing.
Everybody's different in Dubai, it's like New York!
Nasser Alzayani: Yeah, so I think it's good to be different but it's also good to be the same. Especially for young artists, it's good to have a community so you can always be in contact with people who can help you, where you can share your own ideas. In that sense I think it's very good to be the same, but having a diverse portfolio, I guess.
Your community in Dubai, for example, they are not all Bahrainis, right?
Nasser Alzayani: No, not at all, I guess I'm the only Bahraini there.
So you find your connection to other people, not based on your nationality...
Nasser Alzayani: I think it's based on our common interests, experience in art, so many, many things. I think even when I travel and meet for example those who are here working for the festival, or in Venice at the Biennale, we share so many things in common and yet they're not from where I'm from.
I think that's the secret of the world, finding something which unites us that is not based on religion or nationality.
Nasser Alzayani: Exactly and I think when I do projects like this, and when people see them... Ultimately they are very personal, but I don't mind showing them to people because of the connection they make with them. So even though they are personal to me, other people can make their own connection to something from their experiences, from their past. That to me is very special, that's why I like to show them.
What film has made the biggest impression on you?
Nasser Alzayani: When I was a kid, the Lord of the Rings movies had just come out and were completely different from anything I'd seen before. At that time, I hadn't read the books, didn't know about the books, so I thought the movies were by someone who was just an amazing director!
How would you describe yourself to someone who doesn't know you?
Nasser Alzayani: I would say I'm an observant person because I like to look at things for a long time when I'm drawing and also when I'm not drawing. And that's why I draw because looking at something long enough, it helps me see it in a different way.
PHOTO GALLERY
Finding the Middle East in Florence
All images courtesy of Nasser Alzayani and Middle East Now, used with permission.
REAL LIFE. REAL NEWS. REAL VOICES.
Help us tell more of the stories that matter from voices that too often remain unheard.