Arab youth are more concerned about fair pay, home ownership, and a decent life than democracy, according to a survey that analyzed data from 12 countries.
The study also revealed that while a majority of young people agreed traditional values were paramount, an increasing number of them said such values were outdated and should be replaced.
Creating jobs for a growing Arab youth population has become an even bigger challenge for decision makers following the outbreak of revolutions in many of the region's countries.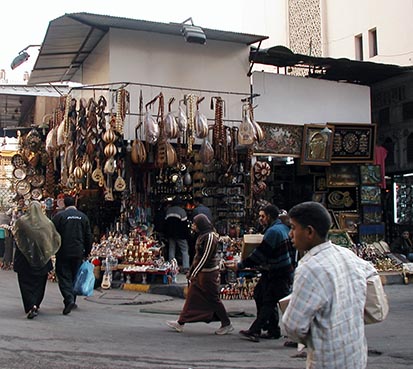 Cairo street (Abu-Fadil)
Demographic issues such as high population growth and pressures on labor markets in poorer countries compound the problem, with young people often seeking work in oil-rich Arab states or wherever they manage to find employment beyond Arab shores.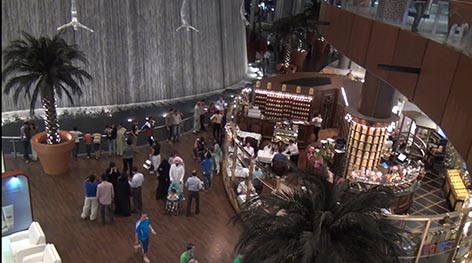 Dubai Mall (Abu-Fadil)
Respondents who said living in a democratic country was "very important" to them declined by 10% in the 2012 survey: 58% said it was "very important," down from 68% in 2011.
They were aged 18-24 in the six Gulf Cooperation Council nations (Bahrain, Kuwait, Oman, Qatar, Saudi Arabia, the United Arab Emirates), Egypt, Lebanon, Jordan, Iraq and, for the first time, Libya and Tunisia.
Interestingly, young Arabs cited the United Arab Emirates as a model nation and saw France most favorably among foreign countries.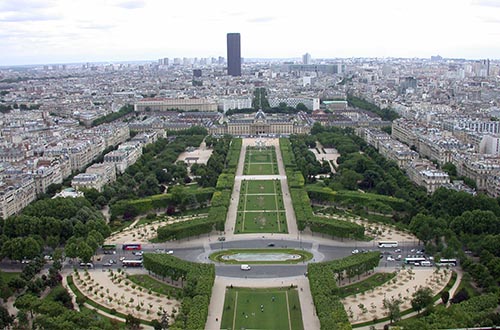 Arab youth viewed France favorably (Abu-Fadil)
Analysts studying the Middle East/North Africa (MENA) region see Arab youth as vulnerable members of society who feel the pressures of poverty, corruption, and human rights abuses, leading them to risk voicing their gripes in public where preceding generations may have been more circumspect.
The upshot: young people contributed to revolutions gripping the Arab world and took to the streets.
Social media played an instrumental role in mobilizing young people to participate in the public expression of their grievances, but such tools were not the definitive influencers in these movements given the high rate of illiteracy and uneven access to the Internet.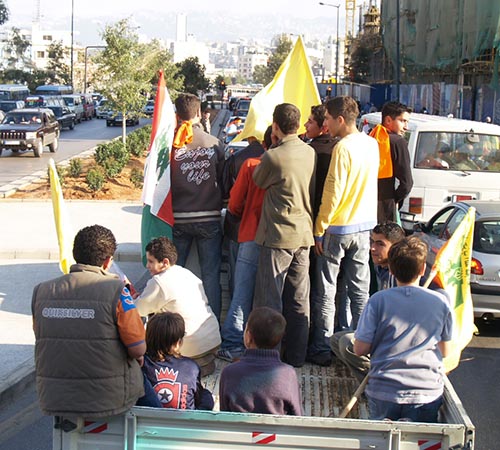 Lebanese young men carrying Lebanese and political party flags (Abu-Fadil)
A paper by the Carnegie Endowment for International Peace entitled "Education for Citizenship in the Arab World" said the link between growth and job creation was weak in the MENA countries - due in part to over-reliance on the oil sector and leading to a bloated public sector, while the private sector remained underdeveloped. Another setback, according to the Carnegie paper, was the mismatch between education and skills needed by the labor market.
It said that in the long run, high levels of government employment would limit economic growth by trapping workers in less productive public sector jobs and by deterring investment in the private sector.
Unless strong political parties and viable civil society structures emerge in most Arab countries, the uprisings that have gripped the region since late 2010 were bound to be part of a prolonged process, the study found. This, in turn, would lead to experimentation with various systems before the political and economic dust settles.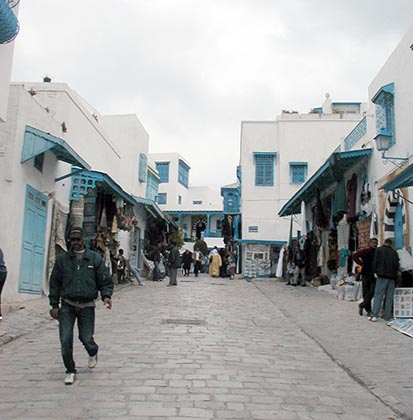 Tunisia's touristic Sidi Bou Said feels financial pinch (Abu-Fadil)
It also means "democracy will thrive only in a culture that accepts diversity, respects different points of view, regards truths as relative rather than absolute, and tolerates--even encourages--dissent," the paper said.
Although prospects may appear dim, education reform could be an answer, with emphasis on critical thinking and the revisiting of school and university curricula to meet employers' requirements.
(This is a summary of a talk by the author who addressed students at the Middle East/Mediterranean campus of Sciences Po - Menton in the south of France).
REAL LIFE. REAL NEWS. REAL VOICES.
Help us tell more of the stories that matter from voices that too often remain unheard.