Over the years, audiences have become familiar with the "Hey, gang, let's put on a show" plot line. Whether one thinks of 1937's Babes in Arms, 1954's White Christmas, 1985's Nunsense, or 1997's The Full Monty, performers have always been willing to chip in so that the show could go on.
One should never, however, underestimate the impact that seed money from the National Endowment for the Arts can have on a small nonprofit arts organization. Directed by Chil Kong, a delightful new movie entitled The Mikado Project does a beautiful job of showing just how important that kind of seed money and validation can be.
I first read about The Mikado Project in one of Jeff Yang's delightful "Asian Pop" columns entitled "Yes we Ken?" As someone who grew up on Gilbert & Sullivan operettas, I quickly clicked through to The Mikado Project's website, which led me one step further to the website for the mythical Angry Buddha Theater Company. It was there that I discovered the hilarious posters for productions of:
Killing Me Soft Lee
Cat On A Hot Pagoda Roof
The Merry Wives of WuShu
The Cherry Blossom Orchard
The Merchant of Malaysia
The Aiya Couple
Sweet Nightingale of Youth
The Vietcong Monologues
Once I saw the following pieces of poster art, I was hooked!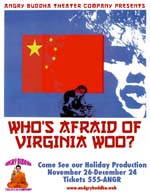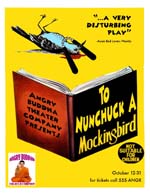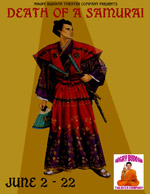 As it turns out, Kong's film is loosely based on a play written by Ken Narasaki and Doris Baizley that was first staged in May of 2007. It focuses on a struggling Asian-American theater company (whose artistic output has been mostly works of "protest theatre") that is now in danger of losing its funding from the NEA.
The company's artistic director (Allen C. Liu) is tired of coping with overflowing toilets and can barely pay the theatre's rent (or afford to print programs). Too exhausted to consider staging a production of A Streetcar Named Manzanar, he understands that, even though Angry Buddha is an Asian-American theatre company, only white people buy theatre tickets. On top of all that, Lance has to deal with a hornet's nest of diva-like personalities:
Cheryl (Ellin Quill) got pushed around by some older Caucasians when she played Yum Yum at the age of six. Now an angry young activist with an acute case of political correctness, she is none too pleased about being asked to grovel and act submissive because Lance is determined to give audiences what they want.
Viola (Tamlyn Tomita) is an extremely attractive woman who is horrified at being asked to play the role of an old maid (the elderly, ugly Katisha).
Ben (Ryun Yu) is the insecure, egotistical actor who has been Viola's on-again, off-again boyfriend.
Sam (Rizwan Manji) is the theatre's shy tech person.
Dennis (Gerald McCullouch) is the group's music director who has grown weary of all the squabbles within the company.
Yuri (Yuri Tag) is a talented young dancer/choreographer who, in her desperation to lose 15 pounds, faints during a key rehearsal.
Teddy (Raymond J. Lee) is a young actor who has only worked in film. An aspiring rapper, he quickly transforms Nanki Poo's first aria, "A Wandering Minstrel I," into a slick hip hop number which he performs in a hoodie.
Jace (David Lee McInnis) is a former member of the group who made it into a TV series. "He who cannot be named" has recently been dropped by his agent and now wants to star in Angry Buddha's production of The Mikado. Jace also thinks it would just be a super idea to update Gilbert & Sullivan's operetta (which was first performed in 1885) to the 1940s and set it in the Japanese-American internment camp at Minidoka, Idaho.
Mrs. O'Malley (Freda Foh Shen) is Cheryl's mother, who has patiently sat by as her daughter dropped out of law school and refused to get married. Her family's restaurant has always provided the catering for the Angry Buddha's opening night parties.
Because many a stage director has tried to put a new twist on The Mikado, a little history might be helpful. Gilbert & Sullivan's comic operetta premiered at the Savoy Theater in London on March 14, 1885. The Swing Mikado opened in Chicago in 1938 with an all-black cast and choreography that included "The Truck" and the "Cakewalk" (this production was subsequently produced at the 1939 Golden Gate International Exposition in San Francisco).
On March 23, 1939, The Hot Mikado opened at the Broadhurst Theatre in a jazz/swing version with an all-black cast, starring Bill "Bojangles" Robinson. On April 29, 1960, Groucho Marx played Ko-Ko opposite Helen Traubel's Katisha in a television production of The Mikado for The Bell Telephone Hour. Here they are singing "Tit Willow" and "There Is Beauty in the Bellow of the Blast."
1962 brought the debut of The Cool Mikado, a British film starring Frankie Howerd, Lionel Blair and Stubby Kaye that transformed the operetta into a comic gangster story in contemporary Japan. In 1975, The Black Mikado was set on a Caribbean island. In 1986, a new version of Hot Mikado premiered in Washington, D.C.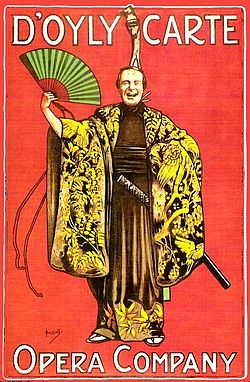 Over the years I've seen many productions of The Mikado by companies ranging in size from San Francisco's Lamplighters to the New York City Opera. I've seen The Mikado performed by the D'Oyly Carte Company and enjoyed Jonathan Miller's interpretation created for the English National Opera (which placed the action in a British seaside resort). My favorite production is the one I saw performed by the Australian Opera in 1985 at the Sydney Opera House, in which director Virginia Lumsden set the action in a London department store (the delightful DVD of this production, filmed in 1987, can be rented from Netflix).
In all those many years of loving Gilbert & Sullivan's operetta, I never once thought about how Asian Americans might react to The Mikado. As the film's creative team explains:
The Mikado has long been the bastion of Caucasians who have tended to ignore its history as a commentary on Victorian social mores, and focus more on acting stereotypes and poking fun at Asians and Asian features. Without intending to, The Mikado has since become one of the worst examples of racism towards another people on stage. Yet it continues to thrive, even in our new politically astute culture.

The story was set in Japan (considered an exotic land to the British during that era), and the 'foreign-ness' allowed Gilbert to satirize British politics. Names such as Nanki Poo and Yum Yum -- who reside in the mythical town of Titipu -- and elaborate costumes that bear little resemblance to feudal Japan, were meant to lambaste Victorian England. The result, however, has been one of cultural insensitivity to Asians and Asian Americans, no different than the prosthetic Asian eye makeup and 'yellow face' donned by Jonathan Pryce in the Broadway production of Miss Saigon.
One of the things that fascinated me while watching The Mikado Project was how shrewdly Sullivan's music had been adapted to be used as incidental music in many scenes. The ensemble cast has strong appeal, with some of the most enjoyable work coming from Raymond J. Lee as Teddy/Nanki Poo. Quan Phung (the film's Executive Producer) wisely stresses that:
We are using the story of this Asian American theater company in the same way Gilbert & Sullivan used a Japanese story to comment on their society. Hopefully, we can laugh at ourselves while shedding light on the challenges facing Asian American actors -- or any actor of color in Hollywood today.
The Mikado Project offers viewers a tender, mocking backstage look at the dynamics of community theatre (its director spent several years as one of the artistic directors of the Lodestone Theatre Ensemble in Los Angeles). He explains that:
This film came out of my personal experiences. We had 10 years of introspection about the landscape of Asian Americans in arts and cinema. The one thing I know for sure is that our history is evolving and my goal was to create an entertaining story. This film is a valentine to the various generations of Asian American artists and the small theater companies around the country that continue to operate in this economic climate. For me, musical comedy was the best way to go to address anything we had to say about being Asian American or The Mikado.
Devout Savoyard fans need not worry about any sacred cows being slaughtered. If anything, most will relish the chance to rethink The Mikado through a radically different lens. Here's the the trailer:
Related
Popular in the Community