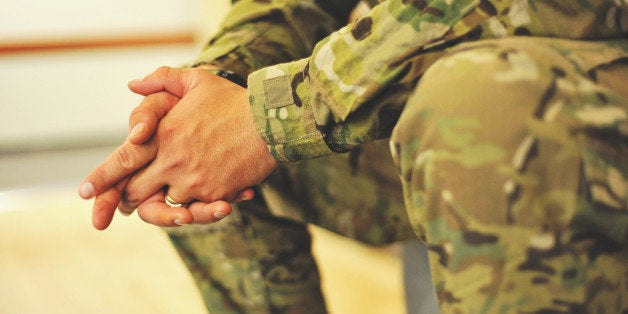 Thanks to several large bases in the city, the most well-known country-and-western bar in San Diego is a popular hangout for members of the Navy and Marine Corps. Every night of the week, it's as easy to spot a front-windshield military decal outside as it is a high-and-tight inside.
Still, though, it was jarring to see not cowboy boots, but military boots, carving up the dance floor during a Labor Day Weekend promotion themed "Drunk on a Plane." Named for a current hit song by Dierks Bentley, the event encouraged attendees to wear flight suits and other military-aviation-related attire. Sadly, many did, showing yet again that the military uniform has become little more than a prop in a culture that since 9/11 has learned to simultaneously celebrate and mock it.
During my three-plus months at the Navy's Officer Candidate School, one of my classmates expressed dismay at being issued a wash-khaki uniform, and asked why he would have to wait until graduation to wear the same khakis with a sharp crease typically worn by commissioned officers. "You have to earn that crease," a uniform-store clerk responded, instilling in me from that moment forward a respect for the uniform that has remained intact in spite of seeing it used less than honorably time and time again in the decade or so since.
Nowadays, 13 weeks of training is not seen as a ticket to the privilege of wearing the uniform; instead, the uniform has become commonplace in non-military settings as a ticket for the wearer to get things for free. For today's troops, finding ways to cash in on the uniform isn't just a job, it's an adventure. Perhaps the only thing more surprising than the boldness with which abuse is routinely carried out is the fact that no one seems to mind, including the taxpayers footing the bill for the grift.
In the first few years after 9/11, service members were instructed to avoid wearing their uniforms in non-military settings whenever possible. Airports, for instance, were off-limits for any military travelers who would otherwise have time before or after their flights to change their clothes, because for would-be terrorists, the military uniform is basically the same as a bull's eye. But for the past decade or so, service members have learned that if they show up in uniform, they will reap self-serving benefits that go against the modest, humble and team-oriented spirit of the military. Whether they are even traveling on official orders or not, they know there is a chance of being given first-class seats. They will be able to publicly bully airlines into allowing them to violate the same baggage-claim rules that other passengers must obey. And, while other passengers wait in sometimes-lengthy lines, they can enjoy relaxed screening requirements at security gates.
Airports are hardly the only place where this shameful exploitation of the uniform occurs. Active-duty military personnel are often given free tickets for pro wrestling and mixed martial arts events; though merely presenting an ID card is the minimum requirement, World Wrestling Entertainment frequently grants prized front-row seats to those who show up in uniform. Service members have also learned that wearing their uniforms to TV show auditions and other live events will make them all but a lock to be selected to make the cut to appear on camera or on stage.
The disrespect of the uniform is egregious enough when our troops are the ones doing it, but the fact that it has gone unchecked for so long has allowed profit-minded civilians to see the commercial value of denigrating it and other iconic images of our nation. Rock band Blink-182, for instance, used the Labor Day holiday to tastelessly market an American flag that features the band's logo in place of stars. Perhaps we should not expect musicians to show the same respect for our patriotic symbols that should be expected of a military member - and by the way, how does this item not violate 18 U.S. Code §700 on flag desecration? - but when the troops have learned to place self-gain over respect for a symbol as sacred as the flag, why would anyone else resist doing the same?
Earlier this year, the Nigerian government issued an open letter warning entertainers in that country to not wear its military's uniform in music videos, photo shoots and concerts. Referring to this abuse as a "shameful act," the letter reminded celebrities that "the military camouflage is not meant for the entertainment industry." Though Nigeria's government may not be one that other nations should seek to emulate, it made a valid point in not tolerating any mockery of its military uniform. It has become easy to use the uniform to fulfill one's own agenda, and more emphasis needs to be placed on maintaining the honor, courage and commitment that should reflect the privilege of wearing the uniform without the expectation of a seat upgrade or free meal.
More than a half-century has passed since President John F. Kennedy implored Americans to ask not what their country can do for them, but what they can do for their country. Unfortunately, when it comes to today's military personnel no longer bothering to wear the uniform for strictly official purposes, in the process reaping personal benefits while breaking the long-held rules of operational security, his message has fallen on deaf ears.
Popular in the Community