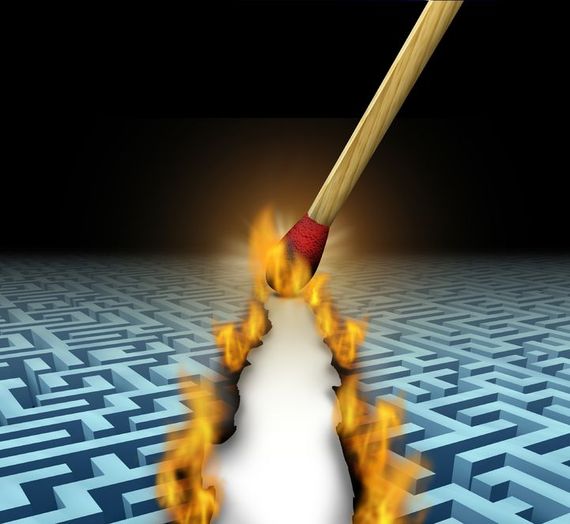 Much has been written on the generational shift taking place in the global workforce. As Milllenials, or Gen Yers, stream into the workplace, and Gen Xers reach the next rung on the corporate ladder, the baby boomers are being steadily displaced. Running parallel with this youth movement in the labor market is the increase in Millenial entrepreneurs, those who want to affect positive change in the world on their own terms. Refusing to conform to a prefab order of things, these wide-eyed risk takers aspire to innovate, build their own empires, and become known as trailblazers.

In demographic cohort terms, I classify as a baby boomer. Born in Chicago during the Post-World War II Era, I was raised in the so-called heartland of America. Evidently, I have Midwestern sensibilities. As a boomer, I supposedly have attained a certain maturity, socioeconomic status, and hairline that younger generations can use to identify me.
Back in the day (man, that sounds old!), the plan was to study hard, get into a good college, keep studying, graduate, land a high-paying job (with benefits) with a great company, and hold onto that job for, oh, forty years or so. Such was the lunch-pail work ethic that was instilled into me by my parents, both of whom grew up during the Great Depression. They rode me hard to pay attention in class and not cram for exams.
Make no mistake; parents are still raising their children with those same values and lofty expectations. But things are different in today's Digital Era. Innovation and the Internet have fueled ideation, immense creativity, and changes in mainstream attitudes. That much-talked-about "next generation" has completely broken the barrier between the real and virtual worlds, and taken to expressing itself in profoundly unique ways.
Affirming the Rise of the Millenial Trailblazer
My career as a LinkedIn strategist led to an appointment as an adjunct professor at my alma mater, the Illinois Institute of Technology, and has afforded me opportunities to speak on many other college campuses on the topic of social media marketing. These audiences are comprised almost exclusively of Millenials, or Gen Yers, those people who, give or take, were born between 1982 and 1996. (There are discrepancies reported in the literature on actual birth years for this cohort. This range was sourced from Wikipedia.)
Soon after conducting my first class for MBA candidates in 2011, I was keyed into the notion that not everyone in the room was interested in taking the typical corporate path after receiving their degree. A percentage of my students were bent on shaping their own destinies. As the sons and daughters of successful entrepreneurs, they already got the inside track on what goes into building a business from scratch, and envisioned themselves as founders, innovators, and trendsetters.
In early 2013, I attended an event at 1871, Chicago's tech mecca and one of the top startup incubators and accelerators in North America. The space was teeming with fresh-faced dreamers--undoubtedly on mommy and daddy's dime--crowded around tables, tethered to their laptops, and bringing ideas to life. One thing that struck me was the overwhelming percentage of really young folk, many appearing to be high school age.
I found the hustle and bustle of the think-tank environment quite intoxicating. It quickly became clear to me that these "kids," these digital natives, these trailblazers, did not follow the same roadmap growing up as I did. And they were certainly not building castles in the air. I realized right then and there that I was witnessing the future of work.
Portrait of a Millenial Trailblazer
Ryan Goldsher, born in 1996, would be considered by some a Millenial, by others a Gen Zer, echo boomer, or part of the iGeneration. But Ryan does not pay attention to generational labels. This Northbrook, Illinois native pays attention to celebrity voices, fine-tuning an ear and eye that is capable of detecting the slightest nuances in his subject's communication patterns.
An aspiring comic actor and voice-over artist, Ryan is poised to take his place in the pantheon of great celebrity impressionists. But first, there is college. At the time of this writing, he is a sophomore at the University of Southern California, majoring in political science. Let's face it: the entertainment industry is a tough nut to crack. Having a safety net in place is imperative. To his credit, Ryan has his proverbial ducks in a row.
After discovering Ryan when he guested on a local news broadcast, I reached out to him via social media, and invited him to join me on camera. Yes, I wanted to expose my online community to his remarkable talent. But I also wanted to show that Ryan's pursuit of his dream, painstaking dedication to his craft, and commitment to excellence are on a par with anyone in his age bracket developing skills that will enhance their marketability to a prospective employer.
For the trailblazing Ryan, it all comes down to mindset. Choosing not to be associated with the tech-crazed "Millenial stigma," he is following the beat of his own drum. He draws a fine line between business and performance art, identifying growth as the endgame. This young man has a clear and compelling vision of his future, one that may someday be narrated by the great Morgan Freeman himself. If there is anyone who can make a vision clear and compelling, it's Mr. Freeman.
(For more information on Ryan Goldsher, Google him. You will find a wealth of wonderful content that showcases his immense talent.)
♦ I am by no means an expert in generational kinetics. As the father of two self-confident, technology-driven Millenials, I can attest to the changes taking place at their level of society. Being in the social media trade has also provided me with valuable insights into how this cohort is leveraging the platforms to drive their professional goals forward.
♦ Many have weighed in on the job-hopping tendencies of Millenials, claiming that they can't sit still in a position for very long. Millenials, though, are not the only ones with fractured career trajectories. Nowadays, businesspeople of all generations are more nomadic, moving from company-to-company in a continual search for the greenest pasture.
♦ Whereas securing a good entry-level corporate job after college is still the ideal, it is evident that many Millenials measure professional success differently. In forgoing the traditional corporate route, more of these young trailblazers will unquestionably play to their strengths, up-level social entrepreneurship, and make their marks.
Popular in the Community