Steakhouses are no longer just an old boys club. The growth of Chicago as a food destination has led to a boom in variety and today, you can find something for everyone (including vegetarians and Celiacs ) - and millennials are taking note. 
And, according to Ad Age: 'millennials are the largest consumer generation in history, and will spend more than $200 billion annually starting in 2017, and $10 trillion in their lifetimes.'
Here are the steakhouses who are tapping into the millennial psyche and getting them to pony up a hefty amount of dollars for a good meal.
The steakhouse built for millennials
Nothing screams 'millennial' more than f-bombs on your menu, pretty cocktails, outrageous desserts perfect for racking up likes and views on Instagram and Snapchat (i.e. the giant macaron with a carrot cake baked in plus the natural lighting from their dining room atrium equal the perfect combination for 'made for the gram' pics) and expense caviar served with potato chips. Whether or not Maple & Ash knows it, they have the millennial market cornered. 
For the millennial who wants to Be Like Mike 
Head straight to Michael Jordan's Steakhouse. Am I being serious? Hell yes. The food is outstanding and if you grew up on six MJ championships, you can't help but love the place. It's full of riffs on Mike including a 23 chocolate layered cake, Jordan's table (the table he dines at when he's in the house) other references to the GOAT. If you're an Empire fan, you'll also recognize the walkway used in nightclub scenes. 
For the interactive diner
Head to Prime and Provision's and start with the s'mores dessert. The chocolate ball is presented by a server who pours hot, liquid chocolate over the top. The liquid melts the top and reveals a ball of ice cream and marshmallow hidden in the center. Because it's a Fabio Viviani restaurant, you know it's worth sticking around and trying actual food items from the menu.
For the millennial on a budget
There's no better place to go than Tango Sur. It's BYOB and the portions are large enough to split with friends. It's a great spot for dates, ladies nights or group outings (they don't take reservations unless your part is larger than six). The food is tasty and has one of the best chimichurri sauces in the city. 
For the wine enthusiast (and fans of the 'members-only' concept)
At Morton's Steakhouse, a select group of regular diners and wine lovers have private lockers bearing plaques with the owners' names. There they can store a couple of cases of wine (usually red) to enjoy with meals at the restaurant.
The wine lockers are free and can be acquired through establishing relationships with the local managers. However, there is a waitlist and the wine lockers are given out by invitation only. It's like Soho House for wine lovers.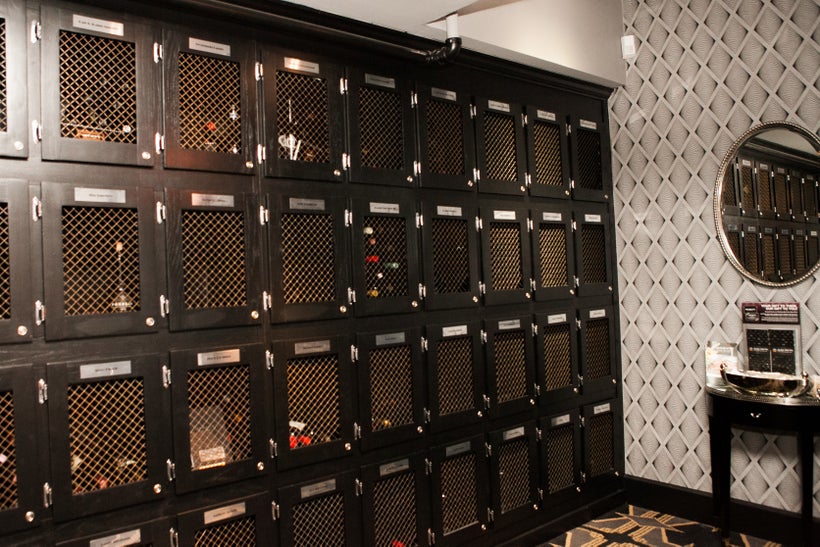 For the feminists
Kinzie Chop House is owned and operated by Susan Frasca. As far as I can tell, it's the only steakhouse in Chicago with a woman at the helm. My husband shared this exciting tidbit after a delicious meal there. 
For a neighborhood spot that has something for everyone
Las Tablas, a Colombian steakhouse in Lakeview, has a dog friendly patio, an extensive vegetarian menu and killer cocktails. You might even spot Nicole Suarez there. Her family owns the restaurant, and she can often be seen helping out on busy nights.
Last time I visited RPM Steak, NBA star Derrick Rose and a few other of his former teammates were seated in nearby tables. It's a great spot for a date, birthday or group outing (ask for Alhadji or Jourdan). Expect to see Giuliana and Bill Rancic among the frequent diners at this Lettuce Entertain You spot. They are co-owners after all.
For the millennial who loves dinner with a view
It's no surprise seeing Chicago Cut on any 'best of' list.The food, service and ambiance is arguably the best in the city. Beyonce and President Obama are some of the restaurant's most notable fans. What gets them on this list is its riverside patio which is perfect for Instagram and Snapchat stories. 
For the millennial who loves Vegas
Nothing beats a fancy steak dinner in Vegas. But, when you can't make it out there, visit STK here. The crowd is beautiful, the scene is flashy and it's where you go if you need a Vegas fix. Expect a loud crowd and club feel.
Calling all HuffPost superfans!
Sign up for membership to become a founding member and help shape HuffPost's next chapter
This post was published on the now-closed HuffPost Contributor platform. Contributors control their own work and posted freely to our site. If you need to flag this entry as abusive,
send us an email
.