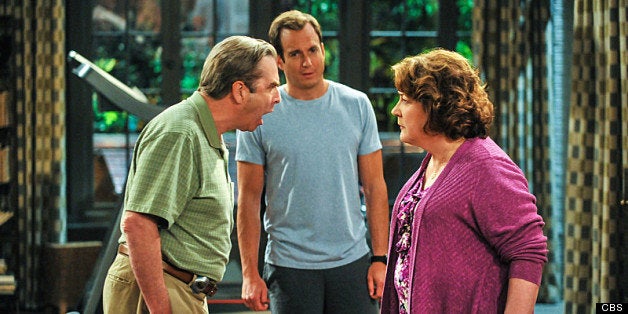 Will Arnett is leaving behind the single-camera comedy world for CBS's "The Millers." He hasn't left the family comedy angle though. The show co-stars Beau Bridges and Margo Martindale as his parents, who are going through a bitter separation and Arnett's character, a local news reporter, is recently divorced himself.
"['The Millers'] is a way to tell a different version of a family, but in a really fun environment," Arnett told The Huffington Post at the CBS 2013 upfront. "It's not dark -- it's just like this really fun family that people can relate to and there are dark moments, but we really make light of it. It's a pure comedy."
Arnett, who will reprise his "Arrested Development" role when the show returns with new episodes on Netflix May 26, recently spent two seasons on NBC's "Up All Night." The show made headlines when news broke of a dramatic overhaul -- turning the show from single-camera into a multi-cam -- and series star Christina Applegate announced he was leaving the series.
"Yeah, I think that, for a lot of reasons that were beyond anybody's control, the show kind of went on its own path," Arnett said. "It ended up where it ended up and ['The Millers'] presented itself to me and I really wanted to work with Greg Garcia. I love Greg -- known him a long time and he's so consistently funny. I thought here's an opportunity to do a show that's about a family that will be really fun and it won't be a bummer it'll just be ... classic TV comedy. We can still have a chance to do that. We can maybe be the last classic TV comedy. The idea of doing it in front of an audience and all that, it just seems so much fun to me."
Bridges also praised "The Millers" creator Garcia, whose other TV credits include "My Name is Earl" and "Raising Hope." As Tom Miller, Bridges is joining the ranks of sitcom fathers. His favorite? Archie Bunker from "All in the Family." "I love Carroll O'Connor. He was a buddy of mine," Bridges said.
Martindale, who won an Emmy for her performance on "Justified" and recently appeared on the FX spy drama "The Americans," said Garcia was also what drew her to the project. "And maybe it's time for me to stop killing people," Martindale said of her switch from dramas to comedy. "I just hope it's funny in a belly-laughing kind of way."
"The Millers" airs this fall on Thursdays, 8:30 p.m. on CBS.
PHOTO GALLERY
CBS New Shows 2013-2014
Calling all HuffPost superfans!
Sign up for membership to become a founding member and help shape HuffPost's next chapter
BEFORE YOU GO