The setting of the recent vice presidential debate—Farmville, Virginia—brought attention to educational opportunity in a way that is less familiar than the lawsuit filed in the 1950s for my father, Oliver Brown, and other African American parents against the Topeka, Kansas, Board of Education on behalf of their children.
In Farmville 65 years ago, a 16-year-old girl named Barbara Johns organized a student strike at her racially segregated high school to advocate for better schools for African Americans in Prince Edward County. The students sought the assistance of civil rights lawyers from the National Association for the Advancement of Colored People (NAACP), who ultimately appealed their case to the U.S. Supreme Court. The Court consolidated it with four others, including the Brown v. Board of Education suit from Kansas that my family took part in. After the Supreme Court outlawed racial segregation in public schools, Prince Edward County shut down its public schools for five years rather than allow African American and white children to be educated together.
I will always be grateful to the NAACP for their leadership more than six decades ago. Their support ensured parents like mine would no longer face barriers to educational options for their children. Today, though, the civil rights giant is moving toward a policy that would restrict parents' choices.
This week, the NAACP's board is taking the final step toward endorsing a moratorium on new charter public schools across the country. Hoping to change their mind, more than 1,500 African American parents along with other civil rights organizations and leaders have asked the NAACP to table their resolution and join a dialogue with us about excellence and equity in education.
Research confirms the benefits and merits of having charter schools among the choices for families. In 2015, a Stanford University study found that African American students in charter schools, which have greater independence to innovate and tailor their programs, gained the equivalent of 36 extra days of learning in reading and 26 extra days of learning in math per year compared to traditional models of public schooling. More than a quarter of the schools on "Best Schools in America" lists are charter schools, and there are many charter schools where 100 percent of the students graduate from high school and are accepted into college.
A moratorium would halt the opening of more charter schools, which now number 6,800 enrolling three million students in 43 states and the District of Columbia.
Tuition-free and open to all, charter public schools tend to provide viable educational options and increase access to educational innovations for families living in low-income, racially isolated neighborhoods, particularly African American and Latino families. In short, students attending charter schools are a lot like Barbara Johns – looking for an opportunity to excel.
The Brown case made great strides toward my parents' hopes for educational equity and academic success for all children, but we still have a ways to go. I am disheartened by continued resistance to policies intended to desegregate classrooms and expand opportunities. What has emerged instead are racially segregated housing patterns, transportation limitations and other factors that extend beyond our education system yet have an adverse effect on schools and families. Where traditional schooling has left some children behind, charter schools represent an opportunity for new ways of serving students' needs, unconstrained by neighborhood boundaries.
Parents, organizations and civil rights leaders in support of charter schools have made a simple request of NAACP leadership to talk with us and share information to reach a shared understanding of the true barriers to educational excellence and opportunity for all. We should be able to work together when the future of the next generation is at stake.
As we remember Barbara Johns and her classmates who walked out of Robert Russa Moton High School in Farmville, Virginia, the names of a million students are on waiting lists to get into America's charter schools. Let's not lock them out. Let's let them in.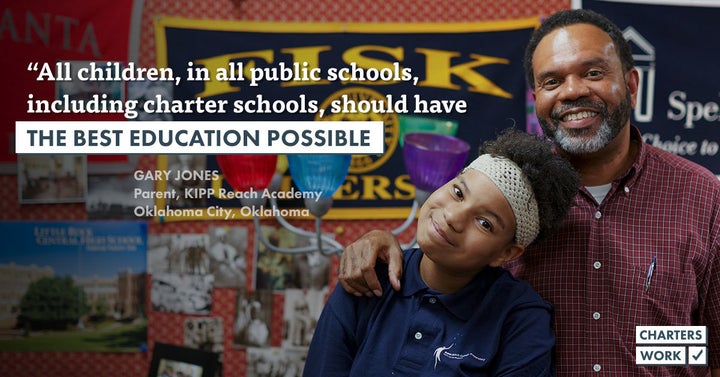 REAL LIFE. REAL NEWS. REAL VOICES.
Help us tell more of the stories that matter from voices that too often remain unheard.