"Do you know how to play Golf?" she asked.
"Yes, but not very well." I replied.
"But you know the rules?"
"What is that thing they call, the trap, to the side of the main grass?" She probed.
"Yes. That is the name. It is filled with sand."
"You know, Aun, I once did a report on a golf course that was like an entire bunker. There were these poor kids in Namibia who wanted to be like Tiger Woods. They hardly had clubs and they played in the Namibian desert."
"I watched it," she said. "It was very informative."
I went to North Korea. I saw the sites they wanted me to see. I ran (quite pathetically) in their marathon and we made a documentary along the way.
I was joined by my Newsmakers colleague, shooter-director extraordinaire Jerome Evans. As a two man team we promised to focus on the marathon and "tourism", a term that had a more loose interpretation for us than for them. The North Korean government, to our utter shock, gave us visas. We were subject to strict conditions. We were also under contractual obligation with the tour group that helped get us in not to be overtly political. The risks were severe and we didn't want their business shutdown, or worse. In a country where everything is political, threading that needle proved to be one of the most daunting challenges of our careers. The North Koreans were clearly going to keep a close eye on us.
I deactivated Facebook and went on a Twitter deletion spree in the days leading up to the trip. I was a little sad that I had to remove many tweets, including my, "Kim Jong Un's uncle, once removed!" quip on the occasion of the latter's execution. But precautions had to be taken.
We were unsure of the amount of access they would have to our prior work, and how thorough they might be. Entering the hermit kingdom was always going to be a giant leap into the unknown.
So when one of our two full-time minders showed intimate knowledge of a report I'd done nine years ago, I was impressed.
We didn't get much sleep during our trip. Neither did they. The schedule was tight and the sites were many. Aun and Lee were under instruction to accompany us every step of the way. We weren't allowed to leave the hotel or even go for a meal within the hotel without them. Every waltz in this symphony began with meeting our minders outside the ground floor elevator of the hotel. When we moved they moved, and we didn't move without them telling us where to move. They also instructed us carefully and usefully.
They told us where to buy flowers (for a leader who has been dead for more than twenty years) and informed us when and how to bow in front of said leader.
Gave us tips on how and when to take photographs in the DPRK -- be sure to always frame the entire statue of the leaders.
We were advised to be economical in our gestures to ensure we were not perceived to be imitating the poses of the idols in the background.
We had the choice to show indifference or to show a hearty but natural appreciation of the propaganda signs but in no uncertain terms were we allowed to take them. If you're patient in North Korea you'll be taken to places where you can buy some. Unless you want to end up in prison.
I also got a helpful glare instructing me to muzzle it during a conversation about North Korea's traveling artists. They make those amazing bronze statues and are now doing jobs in some African countries to earn the government foreign currency. For me the chat took a logical turn as I casually mentioned how the Koreans also sell weapons on the black market in Macau for the same purposes -- foreign currency. I stopped immediately.
We were informed about how to refer to Kim Il Sung -- Dear Father, President, and a range of other nice grand things.
How to refer to Kim Jong Il - Dear Leader. How to refer to Kim Jong Un - Marshal. How to refer to them all if you like - Supreme Leaders.
Aun and Li would hurry us away when I began to strike up conversations with any locals who spoke some English. They'd often record my pieces to camera on their own devices and refused to let us wander off even ten yards from the designated tour grid.
In essence, Aun and Li did what minders did.
I had been to countries such as Sudan and Saudi Arabia where government minders were the norm for foreign journalists. But those experiences always had a cat and mouse element to them. We could sneak off and get away with things. There were lapses from the minders, sometimes friendly and deliberate, that allowed us to squeeze in a couple shots here, an interview there. In North Korea there was no cat and mouse game. We were fully in the cat's mouth, wiggling our tails out of its lips trying to gauge what the hell was going on outside. Everything was controlled. 1984 for them. The Truman Show for us.
But here's the thing, I liked them...
Aun is in her late twenties and at around five feet nine much taller than average for a North Korean, which she confessed was a problem for men here. She peppers her conversation with quotes from a variety of sources including Dickens and Disney's Frozen. Unsolicited, she told me the exact square meterage of her country. She was also glad to educate me about the population too: "Our nation has 75 million Koreans."
North Korea's population is 25 million. South Korea's is 50 million.
Aun thinks Messi is a better player than Ronaldo and supported Germany in the last World Cup. The German teamwork and efficiency appealed to her. She'd been to China once and disliked it, because life there was too commercialized and chaotic. They had forgotten their roots, she told me. I asked Aun what makes North Koreans happy. She threw it back at me.
She smiled and looked as if she was about to give me an answer, then checked herself and said it's a difficult question that she will be able to answer at a later time.
Li, too loved football and preferred Messi to Ronaldo because, "He is little like us and I like the way he does his mazy runs." Small, sharp-featured and sharply suited, Li is possibly the son of a high-ranking party official. The 30-year-old spent some time growing up in Nigeria where his father "did work". I asked him if he'd seen much of the world.
"Yes of course," he replied. "I went to Benin."
"Yes, as I said, Benin and Nigeria. But they are no good. DPRK is better."
The conversations I had with them were moments that gave me a tiny sliver of insight into the minds of North Koreans. Ordinary North Koreans clearly don't get to watch Frozen or the World Cup very often, but the privileges Aun and Li got, which they explained as a part of their job to help them understand western culture better, allowed us to have more common ground, more varied cultural references and mutual baselines of communication than I had expected.
Our football chats reminded me of an encounter with a morose, middle-aged cleric in Mecca, Saudi Arabia. He was a little intimidating. However, knowing he was originally from Guyana, I brought up cricket. His English-speaking accent immediately shed its Gulf tones and the Guyanese twang was back. The poor guy probably didn't have anyone to talk about cricket with for decades. His eyes lit up and he burst into life.
"I know the guy, who bribed Richie Richardson to get Chanderpaul into the team!" He boasted.
"And Brian Lara...he's a punk!"
I was delighted. However, aware of his momentary inelegance, the old accent came back and he changed the subject, exhorting me to do my prayer to the exact methods prescribed by the school of jurisprudence I was brought up with, lest I be guilty of a grave sin.
Like the Saudi cleric, Aun and Li showed us a hint of the real person inside, and like him, this all too often appeared momentarily before the shutters came up and the automated responses resumed.
We were never going to get access to the internment and concentration camps to the north of us in Kaechon, well documented by defectors who have witnessed and experienced their horrors. Or Yongbyon Nuclear Reactor. Nor were we ever going to be able to get an accurate assessment of just how much want there is in the countryside. The people I got to meet in Pyongyang, a bold Soviet style city with granite monuments that command every corner, seemed well fed. Electricity was not a problem. Some people drove Mercedes Benzes. If I told you I spent three and a half days in North Korea and I saw no starving people therefore there can be no starvation in North Korea would be moronic. We were on a carefully managed journey and the UN, which I have no reason to disbelieve, says according to the best available estimates 18 million people are currently in need of food assistance.
There was undoubtedly a disastrous famine in the 1990s. North Korea is also undoubtedly doing much better now, mainly because China helps out, not wanting a flood of refugees and a cauldron of instability on its border.
I kept wondering if the nature of the regime is indeed as ominous as it appears on the surface. Sometimes, in life, the caricature is the character.
Threatening America and South Korea with their nuclear weapons and launching new ballistic missile tests. Claiming self-sufficiency and prosperity -- the propaganda papers were filled with the opening of new schools, factories, military installations on a weekly basis, Supreme Leader Marshal Kim Jong Un inspecting them to the delight of his sycophantic subjects in saccharine photo ops. They hold massive public spectacles and coordinated dances that we witnessed people rehearsing for on a daily basis, months in advance of the event.
All of this while many of the people are likely to be starving.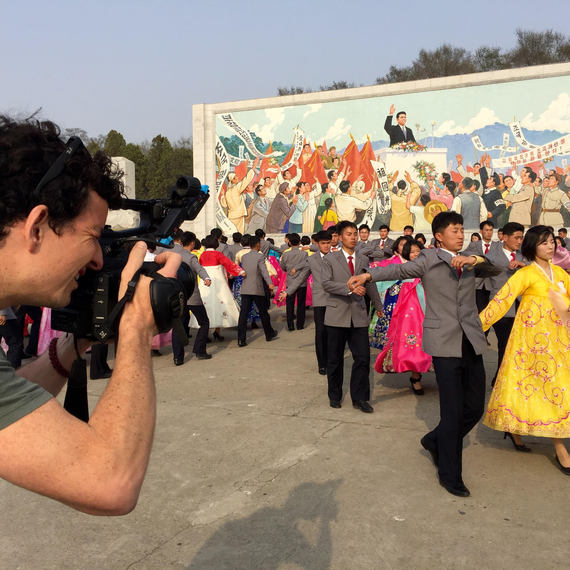 Jerome Evans filming North Koreans practicing ballroom dancing ahead of the Workers' Party Congress. (Imran Garda)
Paradoxically perhaps, why are they now opening up and letting in journalists? Why did they let us in and give us access, however limited? After all these decades, are they saying they're finally ready to meet the rest of the world?
Along the highway on the drive to the DMZ (the demilitarized zone on the border with South Korea, where tens of thousands of North Korean, South Korean and US soldiers face each other each day), we got fleeting fragments of the countryside. We saw some rudimentary farming equipment, farmers ploughing the fields with their oxen, sometimes soldiers helping farmers, men on bicycles rolling along the country roads. Men and women grabbing wheat heads by hand. Sometimes people just chilled out on little hills and sat down overlooking the land. We couldn't stop and get out, we couldn't film (although we managed a few sneaky shots on the iPhone). Therefore we couldn't get anything close to a reading on the economic situation outside of the capital. But what I could get a reading on was Aun and Li.
They were unlike the hundreds of men, women and children I high-fived while running in the marathon or the people who shook my hand in the subway. Those interactions, while memorable and in context extraordinary, were fleeting. The people seemed happy to meet me, but were they happy to be there? I can't be sure.
During all those hours in the car, shuffling between everything from military museums to the marathon, and as we walked around murals, statues and towers, getting North Korea's story from the North Korean government, snaking between monuments of immaculate bronze and ceramic, it was during those moments that I got to know Aun and Li.
When we drove by a few blocks of new apartments that looked really good, I asked who lived there. Li told me it was "ordinary people". I asked if they were being rewarded for anything special that they might have done. He elaborated, "It's for professors." I asked if the professors had a choice. Say, for example, you live in a different neighborhood and liked it and your kids made friends and you were comfortable and didn't want to move here. What then?
"No, this doesn't happen here." He replied.
Aun weighed in, in DPRK all citizens get quality free housing, free healthcare and free education. I used the opportunity to complain about my $4000 rent when I lived in San Francisco. I asked if they both liked their pads. They said they did. And then Aun expanded on Li's point. All citizens are ordinary citizens, there are no elites, but sometimes as reward for service to the success of the greatness of DPRK, you are rewarded with an apartment in a new housing project. She was always the ideological petitioner, he was always the cold bureaucrat.
All ordinary people are ordinary. But some ordinary people are more ordinary than others.
As we drove to the DMZ I offered Li some dark chocolate from my bag. As he munched, he warned Jerome, whose wife is pregnant, that pregnant women shouldn't eat dark chocolate.
"Because you will have black babies. Black and ugly."
I asked him how he knows that.
"My girlfriend is a nurse and my friend is a doctor in the biggest hospital in the city, it is proven."
Suddenly this whole free healthcare thing didn't sound so great to me.
I then redirected the question, asking what was wrong with having a black baby.
"Nothing, nothing at all," he ironed out non-existent creases in his suit. There are some good ones, black people. Like that King guy."
I knew what he meant, but I asked anyway. "What King guy?"
"King King something. I have a dream, you know?"
"What color are you, Li?" Jerome asked.
Jerome asked Li and I to hold up the backs of our hands side by side. The same.
"What color are you, Imran?" Jerome asked.
I said I consider myself brown.
He thought about this for a moment, "Well, maybe I'm white with a bit of yellow."
He laughed, then wagged his finger and turned his attention away from us.
Pride of race is central to Juche ideology, Kim Il Sung's philosophy.
In Rungrado 1st of May stadium I saw North Korean kids giggle, then pull their noses like Pinocchio, to mock a white western runner as he passed. It was the Pyongyang inverse of white kids making slanted eyes at an Asian passerby.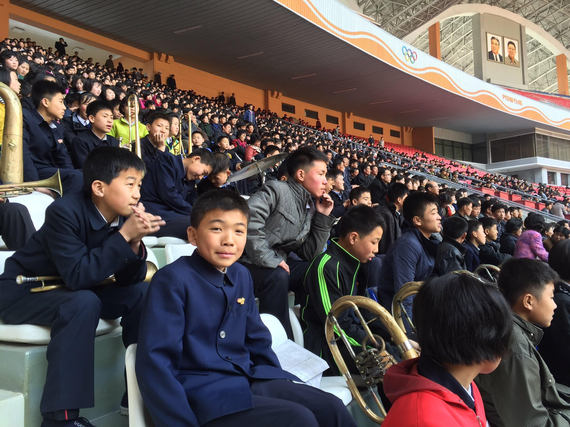 Children in Rungrado May Day Stadium, watching and playing music for Pyongyang Marathon runners. (Imran Garda)
From the propaganda posters I saw, and bought, I got a sense of where it came from. The North Koreans depict the American imperialist aggressors as a sort of cross between Lyndon B Johnson, George W Bush, Gary Busey and 20th century Nazi caricatures of Jews, with long noses and long devilish fingers at the ready to do evil.
When the government gives you a tour of North Korea you enter a world of perpetual reliving of past injustices, many real, many perceived, mainly at the hands of the Japanese and the Americans. The North Koreans have had a history of subjugation and humiliation. Bad things happened to them, but they endured and they won, that's what they want you to know. A major feature of The Victorious Fatherland Liberation War Museum was an installation involving life-sized Madame Tussauds-style American soldiers defeated in battle. One stood out for me. He was dead on the floor, his army fatigues ripped open at the chest, a mechanical wind machine somewhere nearby ensured it flapped. Fake blood oozed out, and a lifelike crow feasted on his remains.
KAAA. KAAA. The speakers above us bellowed. I had to cover my mouth. It was the necessary containment of a sort of cackle, disgust and laughter both trying to force their way through. I looked to Aun and Li. She stood there, poker faced. He pointed at the body on the floor. "American soldier, defeated." I prompted, "And the crow, feasting on the carcass, wow..."
"Yes." He nodded. "Americans cause all the problems in the world."
I was slowly learning that it wasn't just 20th century communism in its purest form that was squeezed into its most distilled form in this country. Mao and Stalin were not the only ideological fathers of Kim Il Sung and his children. The xenophobia, the hostility towards foreigners, the Songun military first system. A little bit from former occupying power imperial Japan here, a bit of Nazism there. The hermit nation was hermetic for hundreds of years before the convulsions of the 20th century left this place in many ways a monument of just how pathological that century was. "Man is the master of everything, he controls everything and he is the master of his own destiny." That was the translation Li gave me of one of the stanzas of a poem dedicated to Kim Il Sung at the foot of the mammoth Juche Tower.
"See," Li educated me, "some people will say, I need food. Oh, where can I get food? Oh let me pray to God. But there's no God and then no food. Man needs to work for his food. He is the master of his destiny."
Hold on. Was this Nietzsche?
Rather than North Korea being the last place on earth of the political far-left, it seemed to me to be the place at that spot on the political circle where the far-left and the far-right come perfectly together in harmonious absurdity. Hammers and sickles tell but one part of this fascinating story.
I asked Aun, very carefully and with a long and polite buildup, how could a nation so devoid of religion, so anti-religion have such a religious devotion to one family? How could a nation that champions absolute self-reliance be so reliant on one man?
"All this love you see for our father Kim Il Sung, leader Kim Jong Il and Marshal Kim Jong Un is from the heart. They never asked for it. It is because of what they have done for our great nation and how they have saved us and continue to guide us."
I also asked if there might be much traditional Confucianism built into the Juche philosophy. Respect for elders and honoring tradition being of utmost importance. I was slicing my strokes into the bunker now. I needed to be careful not to be trapped in the sand for good.
She responded, "Our Dear Father President Kim Il Sung successfully combined the best of Korean traditions with the communist philosophy of Marx. Confucian thinking is based on a feudal system. Respected father Kim Il Sung destroyed the feudal system and replaced it with equality. So this is wrong. Maybe there is some part of the Confucius thinking in our culture, but only a small part, the good part that we retained. Everything bad, like the Chinese have, is gone."
This seemed to irritate her a little and set the tone for an encounter later on that I still can't fully comprehend. I asked a simple question:
"Where does Supreme Leader Marshal Kim Jong Un live?"
Li gave me the eyes. Aun was curt, "Don't you have a better question?"
I explained, diplomatically, "Usually it's important, as a foreigner, to know where the leader of the nation lives. Like in America there's the White House, other Presidents and heads of state have palaces, it's just a point of interest."
She replied, "Our Supreme Leader Marshal Kim Jong Un spends all his time as the First Secretary of the Workers' Party of Korea in service of the people of this great nation."
I probed further, "Got it. But when he sleeps, where would he sleep. Is there a house? A particular place? A favorite place?"
"As I mentioned to you before, our Supreme Leader Marshal Kim Jong Un spends all his time as the First Secretary of the Workers' Party of Korea in service of the people of this great nation. To improve the condition of his people. Not for his own comforts."
I made a joke, but in my head, something I was getting used to in North Korea. "Work must have a great canteen." I thought.
Li was seated in the front seat of the car, through the rearview mirror, he wagged a finger at me, shaking his head. I didn't ask her again. We drove on in silence.
As we prepared to leave North Korea, I felt sad. There was something extremely intelligent about her, and roguishly likable about him. Aun wanted to learn about the world, wanted to do her job as best she could. She was earnest and professional and had a kindness to her. Li was a bit of a show-off and loyal civil-servant of a frightening regime, but he still appeared somewhat harmless. He even insisted on carrying our camera tripod for much of the trip. Two thoroughly interesting people in a thoroughly impossible system. I asked Li how we could stay in touch once I left.
"How would it work?" I asked. "Where I'm from, see this iPhone (which was disconnected in North Korea), I can just Whatsapp or send pictures, or check the football score at any time on it. I can email you from this. How would you email me?"
"I just go to the communications ministry." He said simply.
"I just sign a form before, say who I will email, and what will be in the email. Then I can send it." I asked him how often he's done this before.
"Maybe two, three times."
As we stood in front of the Arch of Reunification that hangs over a main road in Pyongyang, depicting two women rooted on opposite sides of the street leaning over and holding together a map of a Korea without divisions, Aun spoke:
"I think I am now ready to answer your question."
"Do you think those two women look happy?"
"That is the answer to your question. No Korean can ever be happy until the successful reunification of our nation."