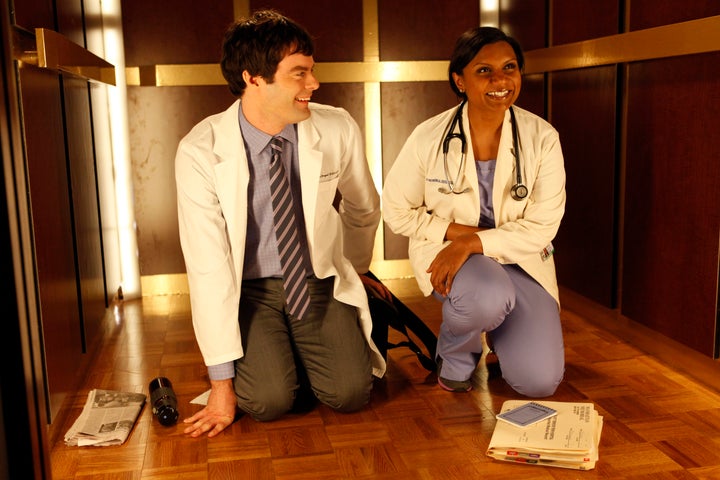 The trailer for Mindy Kaling's new Fox comedy "The Mindy Project" has hit the web, so you can now officially dry your tears about Kelly Kapoor's departure from "The Office."
In this first look at "The Mindy Project," Kaling's character Mindy Lahiri is a Meg Ryan movie devotee who is looking for a man with "the wealth of Mayor Bloomberg, the personality of Jon Stewart, the face of Michael Fassbender ... the penis of Michael Fassbender." Look out for guests stints from "Saturday Night Live" star Bill Hader and Kaling's former "Office" co-star Ed Helms in the trailer below.
"The Mindy Project" (Tuesdays at 9:30 p.m. ET on Fox in the fall)
"Ben and Kate" (Tuesdays at 8:30 p.m. ET on Fox in the fall))
On "Ben and Kate," an exuberant, irresponsible dreamer who always says "yes" moves in with his overly responsible little sister to help raise her five-year-old daughter in this new single-camera young ensemble comedy. Odd-couple siblings, troublemaker Ben (Nat Faxon) and Kate (Dakota Johnson) -- who always followed the rules until an unplanned pregnancy forced her to drop out of college -- push each other out of their comfort zones and into real life. Now, Kate works as a bar manager to make money and maximize time with her now five-year-old daughter Maddie (Maggie Jones). When Ben comes to crash on Kate's couch for a few days, he realizes that, for the first time in their lives, Kate needs his help. Also around are Ben's partner-in-crime, Tommy (Echo Kellum), who has a serious crush on Kate, and Kate's hot mess of a British best friend, BJ (Lucy Punch), who's a cocktail waitress at the bar Kate manages. "Ben and Kate" comes from writer/executive producer Dana Fox and executive producer/director Jake Kasdan (both of "New Girl").
"The Goodwin Games" (midseason premiere Tuesdays, TBD on Fox)
From the executive producers of "How I Met Your Mother," "The Goodwin Games" is a single-camera comedy about three grown siblings who unexpectedly find themselves poised to inherit $20 million after their father's death ... if they adhere to his wishes. Henry (Scott Foley), the eldest child and a surgeon, thinks he deserves the money since he sees himself as a role model for his less successful siblings. But when he returns home in the wake of his father's death, Henry's beliefs and past choices are challenged, especially as he reconnects with his first love (Felisha Terrell). Middle sibling Chloe (Becki Newton) was a child prodigy in math, but she gave up academics in favor of being the popular girl. The youngest, Jimmy (Jake Lacy), is the family screw-up and he could use the inheritance the most: He's a small-time ex-con and guitarist who's deep in debt to a loan shark, but he has more heart than anyone. When he returns home, he'll see his eight-year-old daughter. Their late father Benjamin (Beau Bridges) is pulling the strings from beyond the grave due to guilt over not being a better parent. His challenges -- enforced by his estate attorney (Melissa Tang) -- will hopefully help his three children learn the lessons he failed to instill in them while he was alive. If they succeed, they could win more than $20 million, which they never knew their math professor dad had.
"The Mob Doctor" (Mondays at 9 p.m. ET on Fox in the fall)
"The Mob Doctor" follows a brilliant young female cardiothoracic surgeon, Dr. Grace Devlin (Jordana Spiro), who struggles with her promising career and her lifelong debt as a doctor to Chicago's Southside mob. To pay off her brother's life-threatening gambling debt, she makes a deal with the mafia and agrees to work "off book" for them, from removing bullets from dead bodies to hiding incriminating evidence and covertly helping an aging mobster with his erectile dysfunction. Grace must keep her dual life a secret from her protective best friend and nurse, Roberta "Ro" Angeli (Floriana Lima), her handsome, blue-blooded boyfriend, Dr. Brett Robinson (Zach Gilford), her boss Dr. Stafford White (Zeljko Ivanek), her rival, Dr. Olivia Watson (Jaime Lee Kirchner), her brother, Nate (Jesse Lee Soffer), and her overly dramatic mother, Daniella (Wendy Makkena). The only person who knows what Grace is up to is the man to whom she owes her debt: the charming and diabolical Southside mob boss Constantine Alexander (William Forsythe), who is recently released from prison. He wants to reclaim his mob power with the help of his right-hand associate -- and Grace's ex-boyfriend -- Franco (James Carpinello).
"The Following" (midseason premiere Mondays, TBD on Fox)
What if U.S. serial killers were able to work together and form alliances across the country, thanks to one psychotic serial killer who brought them all together? That's the premise of "The Following," the terrifying new thriller from Kevin Williamson. Notorious serial killer Joe Carroll (James Purefoy) escapes from death row and strikes up a new killing spree, leading the FBI to call on retired agent Ryan Hardy (Kevin Bacon) to help with the case since he was responsible for Carroll's capture nine years ago. Hardy works closely with an FBI team, which includes Jennifer Mason (Jeananne Goossen) and Mike Weston (Shawn Ashmore). Their investigation leads Hardy to Claire Matthews (Natalie Zea), Carroll's ex-wife and mother of the criminal's 10-year-old son (Kyle Catlett). Can she help Hardy get a second chance to capture Carroll, as he's faced with not one but a cult of serial killers?
For more of Fox's new series, check out photos below: