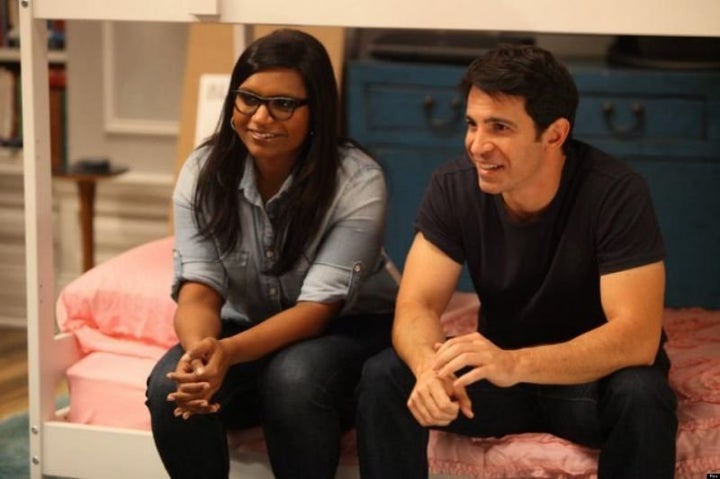 "The Mindy Project" wraps up six seasons of Mindy Kaling's sitcom with "It Had To Be You," the final episode, which started streaming on Hulu on Tuesday. The last episode was constructed around a business crisis (Mindy's business might fold because partner Jody has withdrawn his equity) and a marriage (between Morgan and Tamra). (Warning: Spoilers follow for the series finale of "The Mindy Project.")
Let's cut to the chase. In the long history of Mindy and Danny (Chris Messina), it has seemed for what seems like an equally long time that, duh, of course Mindy and Danny belong together forever. This, it turns out, is what happened. Danny puts his money where his heart is and invests in Mindy's business, thus saving it, and the duo reunites in romance. Along the way, there were some funny moments during Morgan and Tamra's wedding and reception, including a very nicely staged musical number involving most of the current cast.
Much of "The Mindy Project" over the course of the show's history has been concerned with Mindy finding The Right Guy. Potential candidates have included characters portrayed by Mark Duplass, Seth Rogen, B.J. Novak and series co-star Ed Weeks as Jeremy. But none of them ever seemed likely to surpass Danny in being the right guy for Mindy. In fact, most of them seemed so wildly off the mark as to make a viewer impatient: Let's move on, you may have muttered to yourself. This storyline with this dude is never going to survive the season. I'd count this as a flaw in "The Mindy Project" — the show should have been written in such a way as to make Mindy's choices seem potentially decisive.
But overall, Kaling achieved what she set out to do with this series. It started out as the vehicle that would demonstrate how Kaling could graduate from breakout supporting player on "The Office" to headliner status. When the show premiered on Fox, it was the first sitcom created by and starring an Indian-American performer, and Kaling was well on her way to being a pop-culture influencer, thanks to her 2011 bestselling comic memoir Is Everyone Hanging Out Without Me? (And Other Concerns) and a series of killer talk-show appearances. "The Mindy Project" was conceived by Kaling to be the sitcom equivalent of a '90s rom-com brought up-to-date and up-to-the-minute, packed with pop-culture references and a knowing irony. It succeeded despite never becoming a huge hit, and survived after being canceled by Fox in 2015 and moving over to Hulu.
"The Mindy Project" churned through many characters and many shifts in tone, including occasional dips into seriousness and child-rearing. The character of Dr. Mindy Lahiri as an intelligent but willfully ditzy woman was itself a feminist statement — a claiming of the idea that a woman could be frivolous and a high-achiever; a responsible physician and a devotee of the "Real Housewives" franchises. Sometimes it seemed as though the pacing of the show — its rapid turnover of characters and plot — was a structural echo of Mindy Lahiri's short-attention-span energy.
In the end, Kaling chose to conclude "The Mindy Project" as a defiantly old-fashioned TV show: The girl gets the guy she was destined to be with, and they will live, presumably, happily ever after.
"The Mindy Project" is streaming now on Hulu.
Read more from Yahoo Entertainment:
Calling all HuffPost superfans!
Sign up for membership to become a founding member and help shape HuffPost's next chapter