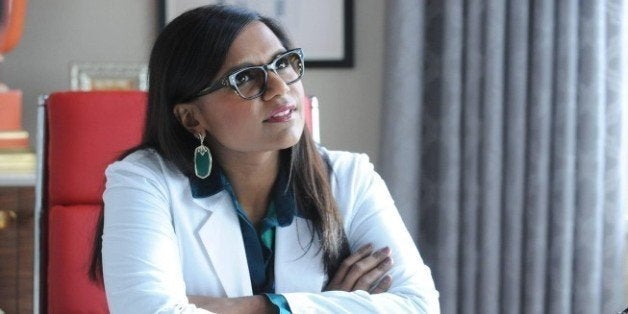 Last Tuesday night at 10 p.m., I was having a lot of feelings. I had just finished watching the final episode of Season 2 of "The Mindy Project," and I couldn't get over how brilliant it was. I laughed, I cried, and I eventually had to write about it. As my friend Liat and I fired texts back and forth full of exclamation points and declarations of Mindy's brilliance, I started thinking about the general reputation of "The Mindy Project."
It's often dismissed as a goofy comedy with too many rom-com references and underdeveloped backup characters. But two seasons in, I can confidently say that "Mindy" is one of the smartest comedies on TV. So why, after proving itself time and time again, does it get such a bad rap?
It's not on NBC. Historically, NBC has been the home of the smart comedy. "Seinfeld" was an NBC show, after all, and more recently the network has boasted comedies like "The Office," "30 Rock" and "Parks And Rec." Even the notoriously low-rated "Community" (R.I.P.!) was considered brilliant.
Although "The Mindy Project" got off to a rocky start -- I'm the first to admit that I was considering giving up halfway through Season 1 -- it really hit its stride in Season 2, as have many of the best comedies.
At this point, not a single episode of "The Mindy Project" lets me down. Every character has become lovable -- who can resist Morgan and Tamra's unexpected-but-it-totally-works romance? -- and the pacing, dialogue and jokes are on point. But other than to those paying very close attention, "Mindy" is just another Fox comedy that may as well be "Dads" (good riddance!).
There's not enough star power behind it. No Amy Poehler, no problem? Not exactly. These days, "Saturday Night Live" players and alums are often the force behind TV's "smart" comedies. It certainly isn't a coincidence that "SNL" favorites Poehler ("Parks And Rec") and Tina Fey's ("30 Rock") shows took off the way they did.
Although "Mindy" has seen a slew of impressive guest appearances from funny guys Bill Hader, Seth Meyers, Seth Rogen, James Franco and more, they never stick around long enough to make any real impact. And sadly, Kaling herself has yet to be considered one of the great comedians of her time. Even though anyone keeping an eye on her Twitter feed or watching "Office" reruns -- she wrote some of those episodes, by the way! -- can tell you that she absolutely is.
It's lumped in with "New Girl." As much as it pains me to admit it, I'm no longer a "New Girl" fan. I was on board the first two seasons, but at this point there's no denying that it's lost its magic. Because "New Girl" and "Mindy" air back-to-back and both Zooey Deschanel ("New Girl's" leading lady) and Kaling had some hand in creating their shows, they're often thought to be comedies of the same caliber.
Perhaps once upon a time they were, but at this point the genius of "Mindy" has surpassed "New Girl" in a big way.
It has that whole rom-com feel to it. The whole premise of "The Mindy Project" is that its main character, Mindy Lahiri, is obsessed with romantic comedies and is searching for love in an unrealistic way. Because rom-coms are pushed aside as guilty pleasures with no real smarts behind them, "Mindy" inevitably fell into the same category on day one.
What people don't realize, however, is that Kaling is often slyly poking fun at some of the best rom-coms of all time. In fact, the Season 2 finale combined bits from "When Harry Met Sally," "You've Got Mail" and "Sleepless In Seattle" in the span of half-an-hour. If that isn't impressive, I don't know what is.
REAL LIFE. REAL NEWS. REAL VOICES.
Help us tell more of the stories that matter from voices that too often remain unheard.
BEFORE YOU GO
PHOTO GALLERY
"The Mindy Project" Season 1