My husband and I are on a year+ journey traveling the world, and, for the past five months, we've been riding motorcycles in SE Asia, namely Vietnam and Laos. Trust me when I say that traveling via motorcycle takes minimalism to a whole new level.
Very little makes the cut in a 40L backpack that carries both winter and summer clothes, riding gear, all manner of technology, and a year's supply of various things like contact lenses.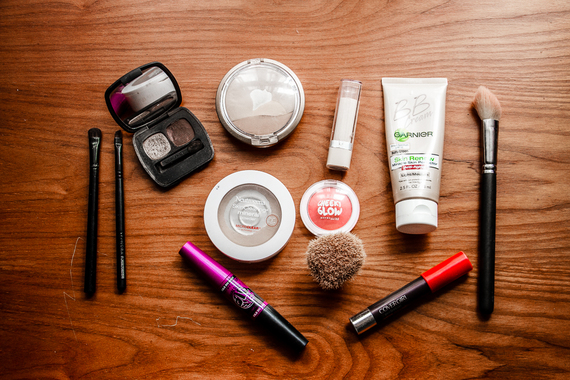 Though I used to be very into makeup, I've been steadily evolving into a beauty minimalist as I age. I tell myself that I'm purposely cultivating a look that is "undone" -- not too perfect or polished. The truth is, I am really lazy when it comes to this stuff.
That said, I'm not a bare-faced kind of gal either, much to the chagrin of certain motorcycle fanatics who think that wearing cosmetics is akin to apostasy.
Makeup, no makeup, who cares? Do what makes you feel good.
For me, that's a little something most days, but not all. These minimalist tendencies made it very easy to prepare for life on the road, and my routine is virtually the same as it was at home (minus some special eye creams -- bring on the wrinkles, baby).
Here's a look at what's in my makeup bag right now:
Garnier BB Cream in Light/Medium. This was one of the first BB creams on the market, and I think it's the best one out there (disclosure: I have only tried drugstore brands -- yes, I am a cheapskate). This stuff serves as a lotion, sunscreen, and light makeup. 3-in-1 products like this are a dream come true for the minimalist, traveler or not. Note that if you are in the direct sun during hot parts of the day and/or extended periods of time, you should supplement with a real sunscreen.
Maybelline Cover Stick Concealer for dark circles as well as the occasional blemish.
Maybelline Cheeky Glow Blush. Thanks to my pale heritage (Irish, Dutch, German, and Belgian), I need a little pick-me up for my face. I bought this one in Đà Lạt, Vietnam, after the blush I brought from home broke all over my bag. When it runs out (or more likely breaks in my bag again), I don't plan on replacing it -- I'll just use the red lip crayon I brought and rub a little of that into my cheeks.
Physician's Formula Solar Powder bronzer. In addition to its intended purpose (providing a little color and contour to the face), I use this as eyeshadow.
Neutrogena SkinClearing Mineral Powder for my shiny T-zone and to set concealer where used.
bareMinerals READY Eyeshadow duo in "Epiphany". This stuff is fabulous and more luxurious than anything else in my bag. I reserve this for special occasions/when I feel like getting dolled up.
Maybelline Falsies Big Eyes mascara. Maybelline makes the best mascara ever. I have been using Big Eyes for a while, but I've tried almost every other mascara they make. They're all good.
COVERGIRL LipPerfection Jumbo Gloss Balm (#245). This wonder stick provides a bit of color and moisture to pale lips, can be layered for a more dramatic red lip, and can also be rubbed into cheeks instead of powder blush.
Makeup brushes: big fluffy brush for powder and bronzer, blush brush, eye shadow brush, and angled brush (used to both fill in brows and line eyes).
What's in your travel makeup bag?
Courtney and H.J. Derr are travel junkies currently on a year+ journey motorcycling, photographing, and eating their way through SE Asia. Read about their adventures at www.wanderrlust.com, and channel your inner nomad on Twitter, Facebook, Instagram, and Flickr.