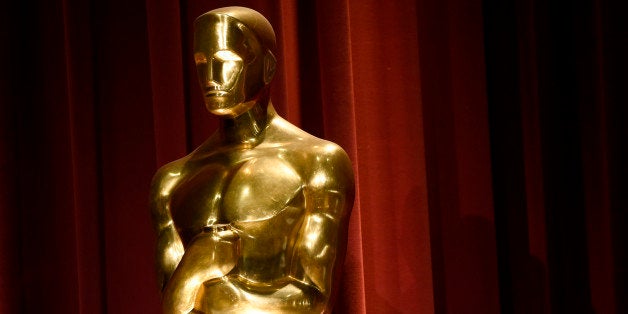 I'm not comfortable taking issue with the hubbub surrounding the lack of minorities in major categories in this year's Oscar race. Indeed, it's unfortunate in the past two years there've been none in the four acting races, but the omissions belie a number of factors and, if there is criticism to be directed, it should not be the Motion Picture Academy.
There've been 97 minority actors nominated since 1939 when Hattie McDaniel became the first Black Oscar recipient for playing a servant in Gone With The Wind. And that is part of the problem, because for many, many years Blacks and other minorities were relegated to roles not only of a supporting nature but indicative of the racist times when their lots in major professions were limited. Film icon Myrna Loy of Thin Man fame is said to have asked MGM's hierarchy, "Why does every Black person in the movies have to play a servant? How about a Black person walking up the steps of a court house carrying a briefcase?"
But sadly the next Black actress nominated was Ethel Waters in 1949 for playing a laundress in Pinky. In 1954, Dorothy Dandridge became the first Black Best Actress nominee as a factory worker in Carmen Jones and after that, in 1959, Juanita Moore got a supporting nomination for her role as a housemaid in Imitation of Life.
It's not necessary to cite the obvious, that Blacks were consigned in most instances to less important characterizations, yet still in those earlier times they were occasionally recognized, leading to the first such major star, Sidney Poitier, nominated twice, for The Defiant Ones in 1958 and his winning role in 1963's Lilies of the Field.
Clearly, when the movies and roles therein were deemed terrific the Academy has "discovered" the talents of Blacks, Hispanics and Asians, witness Miyoshi Umeki's win for Sayonara, and, in 1972, they nominated a Black woman twice in one year for Best Actress: Diana Ross in The Lady Sings the Blues and Cicely Tyson for Sounder.
All this, even in an era when racial progress hadn't evolved to where it is today, though there is still much room for improvement.
Without going into a litany of all the nominees, in the past 15 years alone, 13 Black men were nominated for Best Actor and four for Best Actress. In 2001, the top lead actor awards went to Black performers, Denzel Washington in Training Day and Halle Berry in Monster's Ball. How could this be possible with a misguided and prejudiced membership?
In the particular case of the Best Actor category, there were two Blacks nominated in one year, 2001, 2004 and 2006, with a Black actor winning against a field of mostly white men. In 2001, as stated, Denzel Washington was nominated for Training Day and Will Smith for Ali, with Washington the victor, gaining his second Oscar after scoring as supporting actor for Glory in 1989.
In 2004, Jamie Foxx in Ray and Don Cheadle in Hotel Rwanda were nominated, and Foxx won with three white men in contention.
In 2006, Forest Whitaker in The Last King of Scotland and Will Smith in The Pursuit of Happyness were nominated. Whitaker won even though three white men were in the equation. Black men were nominated in this category on seven other occasions during that period.
Women didn't fare as well with lead actress but won once in this time frame and were nominated ten times during the Academy's history. They have, however, done exceedingly well in the supporting category, as have the men.
In the past 15 years, women have been nominated nine times, winning on four of those occasions: 2013 -- Lupita Nyong'o for 12 Years a Slave, (also Best Picture); 2011 -- Octavia Spencer for The Help; 2009 -- Mo'Nique for Precious; and in 2006, Jennifer Hudson for Dreamgirls. In 2008 two Black women were in the race, Viola Davis in Doubt and Taraji P. Henson for The Curious Case of Benjamin Button.
For the men, six were nominated in this period: 2013 -- Barkhad Abdi for Captain Phillips; 2006 -- Djimon Hounsou for Blood Diamond and Eddie Murphy for Dreamgirls. There were also two nominees in 2004, Jamie Foxx for Collateral and winner Morgan Freeman in Million Dollar Baby. In 2003 Djimon Hounsou for In America. And just a bit earlier, Cuba Gooding was the winner for Jerry Maguire.
Hispanics and Asians have been nominated less often, but their ranks include not only Umeki but also among the twenty-two minority members who won Oscars were Rita Moreno for West Side Story and Penelope Cruz for Vicky Cristina Barcelona. For the men, Jose Ferrer winning Best Actor as Cyrano de Bergerac and for support Javier Bardem in No Country for Old Men and Benicio del Toro for Traffic. Not to mention Haing S. Ngor for The Killing Fields, among many others Asians also nominated.
Do these statistics match their percentages in America and/or those who work in the film profession? No, but it shows that a lot of people were recognized over the years and that, were racism inherent in a typical Academy Member's character, it would not have happened to the extent that it has.
Black people make up 13.2 percent of Americans and roughly an equal percentage are cast in SAG-AFTRA productions, according to 2007-2008 Casting Data Reports. About 17 percent of Americans are Hispanic, with 6.4 percent of those cast. That is a far greater disparity. A bit closer to their numbers is the Asian community, making up 5.6 percent of Americans and 3.8 percent of selected roles. Seventy-two percent of the parts go to Caucasians.
There are 20 acting nominees each year. Forgetting the national census totals and simply considering those who are cast, should we have a quota? Should 15 nominees be Caucasian, three Black, one Hispanic and one Asian? Almost no one wants quotas. Most say awards should be based on merit, but even examining the numbers of people cast doesn't take into account that most non-white dominated movies aren't the sort which usually attract critical acclaim. That's true of white-dominated films, too, but the pool is so much larger.
Who's to blame for that? There's little doubt those at the studios and production companies who package feature films create more opportunities for white-dominated films, and if there are that many more white-dominated films, even granted that many suck, the greater number released has more potential to draw the sort of attention that earns Academy approbation.
Some of the outcry this year is because there were movies and performances, most notably Straight Outta Compton and performances by Will Smith in Concussion and Michael B. Jordan in Creed which drew terrific notices, and there certainly could be an argument as to whether they should be nominated. One question, though, is who, among the nominees, would you erase to make room for these choices?
Aren't there always great films and performances left out? Indeed this year, Maggie Smith in the little seen The Lady in a Van and Johnny Depp in Black Mass were outstanding. As was Jason Segel in the apparently forgotten The End of the Tour. Also Helen Mirren in Trumbo.
What of other years when, for example, Leonardo DiCaprio wasn't selected for J. Edgar or Django Unchained? It happens, just as it's happened there've occasionally been multiple African Americans nominated in the same category in one year.
The only solution I see is to make a greater effort to find filmmakers and film content highlighting minority talent and give them the money to produce films. This would level the playing field to give minorities a chance to sit as nominees during the Academy Awards at the least representing their numbers in society and in the industry.
But it isn't the Academy's fault. Members can only vote for what's out there, and it's difficult enough with so many good films from which to choose. It also doesn't behoove well for the likes of Spike Lee who the Academy honored with a career Oscar only last autumn or Will Smith, nominated twice previously, to gripe as they have, in particular Smith whose comments demonstrate more a case of sour grapes rather than for the problem as a whole.
Popular in the Community