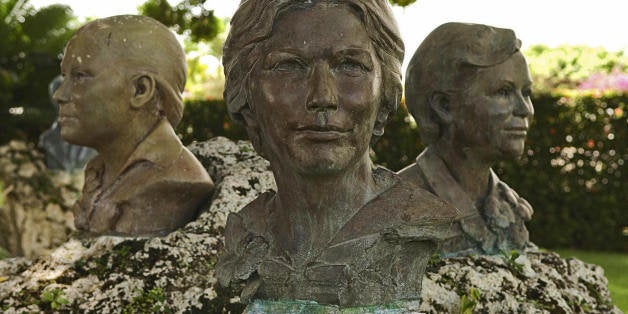 We don't hear enough about women leading rebellions or as the vanguard of political transformation. Too often, we're portrayed as victims of history. We don't do things but instead things are done to us.
Today on the International Day for the Elimination of Violence Against Women las hermanas Mirabal of the Dominican Republic are honored by the United Nations. These sisters bravely gave their lives 55 years ago in the struggle against the Dominican Republic's notorious dictator Raphael Trujillo. Many Dominicans credit the sisters for bringing down the brutal dictator who terrorized the nation for approximately 30 years.
Growing up I imagined las hermanas Mirabal displaying fierceness on par with that of dragon slayers. I pictured them as if an old grainy, black and white movie, tough women leading the resistance movement against a twisted dictator. By night, in shadowy spaces, under the code name of las Mariposas they'd plot and plan the sinister dictator's end while by day they lived their lives as mothers and wives. Strong, courageous and undeterred by the macabre horrors perpetrated by Trujillo the sisters battled the regime.
Las Hermanas Mirabal's image looms large for me as well as many Dominicans and when I think of them, the word victim does not come to mind. In fact comparing their acts to those of the greatest heroes of fiction is about the only way I can conceive of their courage.
Trujillo's decades of oppressive rule consisted of torture, rape, kidnapping, violent killings and most gruesome of all, a genocidal massacre of Haitians. In this world of savage cruelty, the sisters risked everything to stop the crimes. Sadly, three of the four were assassinated: Patria, Minerva and María Teresa. Only Dede remained. The outcry over the sisters' murders sealed Trujillo's fate. He was killed six months after their deaths.
Having worked for years in the field of international development, I believe the narrative regarding women affected by Gender Based Violence (GBV) does not bring to mind images of brave women. Las hermanas Mirabal and activists such as Malala appear to be the exception and not the rule.
GBV invokes oversimplified ideas of marginalized women with little voice or influence. I'm afraid we think of vulnerability as the defining characteristic of women besieged by the Taliban or rape victims during war in places like theDemocratic Republic of Congo. Unfortunately the stories of GBV victims are mostly told through numbers but when we consider any group in mass a great deal is lost. So it is with GBV. It's a global problem affecting women in all regions including the US but is most commonly understood as a problem plaguing the global south which stereotypically exists in a perpetual state of disaster.
I don't mean to downplay the problem. It's big. Women suffer rape, domestic violence, genital mutilation, female infanticide, child marriage and human trafficking to name just some of the forms of violence. GBV statistics paint a grim picture. Women and girls make up 70% of human trafficking victims, 35% of women globally have experienced physical or sexual abuse, and more than 700 million women presently alive were married as children. Awareness of this and serious efforts to end it are very much needed.
Still, viewing women only through the lens of victimization means that we risk losing sight of the diversity of their experiences, identities and the many ways in which they act on their worlds. This is especially troubling. We must recognize their agency in order to overcome the inequities they face. Most women are not waiting for a savior to come from the outside; they act every day to drive change themselves even in the most impoverished or patriarchal societies. Women need solidarity rather than disempowering charity.
GBV victims have more in common with the sistersthan conventional images convey. I've seen firsthand the courage of every-day women during war and how they work, sustain their families and guide their communities. We need to hear about women in places like Afghanistan or Sudan who lead protest and actively fight for justice. Women take part in just about every type of struggle. They promote peace, but also war and sometimes the very laws and traditions that oppress them. They are neither passive, nor are they saints and they carry many identities simultaneously.
Subordinate images of women keeps us from positions of power and in countries with some of the highest rates of GBV these images relegate women to subservient roles. For this reason the GBV elimination campaign requires a delicate balance, one that leans towards empowerment.
I sincerely wish the focus of las hermanas Mirabal 's commemoration was their courage and sacrifice rather than their victimhood. We need women role models to affirm our struggles and to show that our place as leaders is natural and not an aberration. This is why I'll continue to celebrate las hermanas Mirabal for the dragon-slaying force they were as I urge everyone to stand in solidarity with GBV victims all over the world.
Key words: International Day for the Elimination of Violence Against Women, Orange Day, Gender Based Violence, Mirabal Sisters, Raphael Trujillo
Belkys López is an independent peacebuilding and international development practitioner/researcher working in South Sudan.
Calling all HuffPost superfans!
Sign up for membership to become a founding member and help shape HuffPost's next chapter