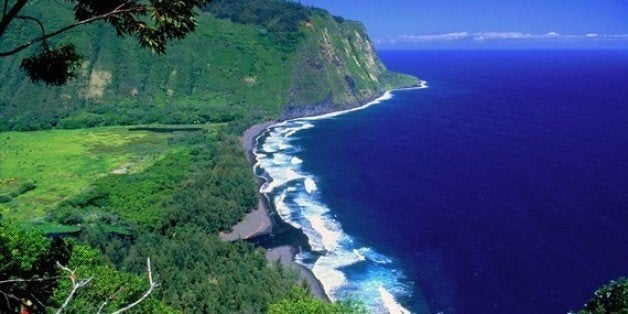 My story today begins with a little background of how it felt for my girls to move from Honolulu to Chicago. But first, an emotional history of their move.
Moving to Chicago from the Hawaiian Islands was not easy for my daughters. They had lost their father. They had spent most of their lives with the trade winds calmly flowing throughout our home... living in their flip-flops, always left outside the front door as they entered their home (a Hawaiian custom), munching on mouth-watering fresh fruit year round, wearing leis and never a warm coat! If the weather dropped into the low seventies, they got strep throat!
A year after my husband, the girls father, passed away we moved to Chicago because of our family roots.
We moved into a charming apartment located in the middle of an energized city and plopped ourselves into a building with a grocery store, dry cleaner and underground parking. I wanted to protect 'my girls' as best I could from the cold Chicago weather, because I knew it would be hard for them to learn to live in an airtight, enclosed concrete building, navigate a new city, make new friends and get used to being confined in winter coats, hats, boots and gloves! It was a frenzied time even for our cat, Fievel Mousekewitz, who enjoyed lounging in the windowsill until one day the screen fell out and he fell 23 floors into a tree then into bushes and then onto the ground that was wet from a rainfall that morning and lived to tell his story! Our family situations were never boring.
The girls enrolled in college to complete their degrees. With college came new friends. Lizzie's friends were Israelis! Because of her friendship with an Israeli girl, Fanny, Lizzie's life changed in a most miraculous manner.
It all started one summer day 15 years ago.
"Mom, I have a burning desire to visit Israel for two weeks."
"What?" I replied in shock.
"Mom, I want to visit and experience the country. Please, please let me go!"
This daughter of mine got her way and off she traveled to Israel with all of Fanny's verbal and written instructions of places to visit on her journey.
Before she flew off to Israel, Fanny made her promise she would not forget to visit the tomb of the famous Rabbi Jonathan, who lived 2,000 years ago. He was known as the biblical Rabbi who granted wishes!
"Go and visit the Rabbi, Lizzie," she said in her accent.
Lizzie followed Fanny's advice traveling to the Northern part of Israel near the town of Safed to visit the Rabbi, pray and ask for her wishes!
This is her story as told to me...
As she knelt in front of the tomb of the Rabbi she prayed.
Rabbi Jonathan, I am praying to you today to grant me four wishes... not one! I believe in God and observe Jewish traditions. I celebrate Shabbat. I keep a kosher home. I am proud to be a Jewish woman and I love Israel. I truly believe you will hear me and bless me, if you can, with my wishes.
Dear Rabbi, I would like to meet a wonderful man and marry. I would like to marry an Israeli. I would like him to have children. A very successful husband would be my choice because he would have an intelligent mind!" (I smiled at that one; actually I started to laugh!)
"Before I leave you, I promise if my wishes are granted I will come back with my new Israeli husband to thank you and if I have a son, I will bring him to you and name him Jonathan in your honor."
Fast-forward three months, when Lizzi and I met to take a walk together in the park.
"Mom, you won't believe this, I think the Rabbi is granting my wishes... I met a handsome Israeli! I was walking to Gittel's Bakery on Devon Street with Bear (her dog) to buy a Challah for Shabbat. He was across the street with one of my friends who called me over and introduced us. He has called me three times for a date, Mom, and I turned him down because I noticed he was wearing a wedding ring!"
"Were you attracted to him?" I asked smiling at her.
"Yes, Mom, but I think he is married. What would you do?"
"Well, if he is persistent and calls back a fourth time, I would ask him if he is married. I am surprised you didn't because you are certainly not a shrinking violet!"
"OK, Mom, I will! Guess what his name is?" It is Adi, which means, 'gift' in Hebrew!"
I felt chills run up and down my arms.
A few days later, my phone rang. An excited 'Lizzie voice' on the other end of the phone said,
"Mom, he called back! He is not married. We have a date. I am so excited."
I was very excited for this daughter of mine!
The first date led to the second date that led to their engagement and marriage in Honolulu on the beach at sunset at the Kahala Hilton Hotel.
My daughter Lizzie's four wishes came true.
Adi is Israeli! Adi has children! Adi is successful!
After their marriage, they traveled to Israel to Rabbi Jonathan's grave and gave thanks for bringing them together.
Two years later, they traveled back to the Rabbi's grave with their baby Jonathan to thank the Rabbi.
And a few years later, they traveled back with their entire family of eight children so all of the children could thank the Rabbi for their blessed family!
I am a believer in fate, the developments of events in our lives. I also have my faith, a belief in the supernatural. I consider my daughter Lizzie's true story a mix of fate, which was our move to Chicago, and a mix of faith, my daughter's belief in God.
Fifteen years later, I traveled to Israel for my grandson Jonathan's Bar Mitzvah. My husband Shelly and I then traveled to the North to visit Rabbi Jonathan tomb and thank him for granting my daughter Lizzie, her wishes.
Do something GOOD today: With all that we are granted in our lives it is of the most importance to be grateful and give thanks.
Have a lovely day, Darlings and thank you so much for sharing my blessed story with me.
For more Good Morning Stories, click here.
REAL LIFE. REAL NEWS. REAL VOICES.
Help us tell more of the stories that matter from voices that too often remain unheard.