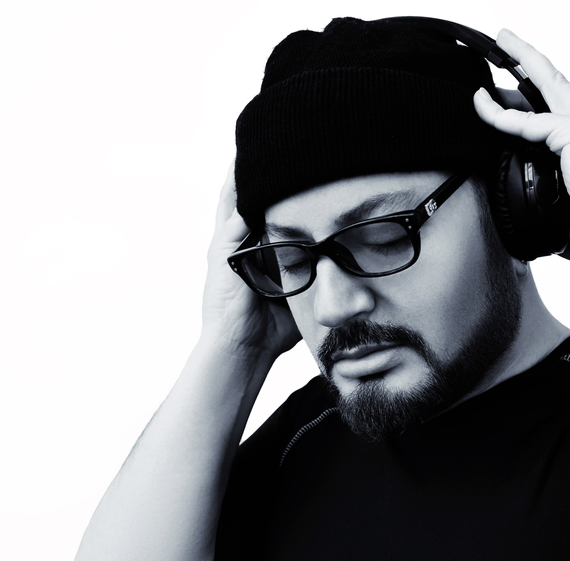 (James Day is photographed by Craig Bailey / Perspective Photo).
James Day makes the kind of sinewy, ultra-seductive music that you can enjoy with a lover, jam to at an all-ages family barbeque or groove to in the company of close friends. His is an elegant sound steeped in soulfulness and marinated with good-spirited energy. Very few artists make this kind of elastic, sophisticated music anymore (one can hear in his work elements of the feel-good factor that elevated Natalie Cole, Anita Baker, Sade, Incognito and Frankie Beverley's funkiness to new heights).

Day is a songwriter and producer in the vein of Quincy Jones circa his Q's Jook Joint era, collaborating with a wide variety of stunning vocalists to create a sound that feels distinctly his own. His latest album, Seasons and Reasons, is a joy-inducing affair, and one gets the impression of an artist pushing against his own capabilities and revelling in the results. This emotional expansiveness and generosity stems from a life threaded with trials and triumphs. In order to fully appreciate James Day, you need to appreciate how he got this point in his life and career.
"I always responded to music in a joyful way," he says. "Dancing to my sister's Jackson 5 records, playing my mom's Nat King Cole Christmas album in the heat of the summer. My grandfather, who had a massive and diverse record collection, saw the love of music in me early and used to allow me to pick one album from his collection every time I visited him. The first was Natalie Cole's Inseparable, which started my life-long love affair with soul music."
At first Day dreamt of becoming a singer and dancer, "though I did write poetry and won some contests with my work as well as a scholarship," he adds. "I had many lead roles in school plays and some community theatre as well. I even wrote a musical with my friend Andrew Stanton, who ended up becoming the amazing Academy Award-winning creator of Toy Story, Finding Nemo and Wall-e. Our lead singer was Paula Cole who ended up a Grammy Winner. It was a pretty talented high school in the small fishing town of Rockport where I grew up."
Things took a painful turn when Day moved to NYC to study musical theatre at the American Academy of Dramatic Arts. Soon after his move he was diagnosed with Meniere's disease, a rare disorder that affects the inner ear and leads to vertigo, tinnitus and hearing loss. Day left New York and moved back home, where he underwent extensive treatments and two surgeries. Reflecting on that period in his life, he says, "I learned to balance with one side of my body - which was easier for me than most because I had good balance from my dancing years. And I got as used to the ringing and hearing in one ear as I could over time. The only time it really bothers me is when I have problems in my good ear. Then I get very nervous that the same thing will happen on that side, which is a possibility but hasn't happened yet, thank God."
"At first," he says. "I wanted nothing to do with music, it was too painful. I covered all my albums in sheets so I didn't have to look at them. My mother called it a graveyard. But soon I began to listen to them and eventually I built a home recording studio and started writing songs."
Honing his craft and diligently pursuing his ambitions, Day has won numerous awards including the Billboard Magazine & John Lennon International Song Contests as well as the Songwriter's Hall of Fame Award for Songwriting Excellence. In a career filled with milestones, one of Day's greatest personal achievements was his work with Lalah Hathaway, for whom he wrote the gorgeous lullaby "Dreamland". Right now, however, his biggest ambition is bringing attention to the current state songwriters are in relation to royalties in the age of digital streaming behemoths like Spotify and Youtube. He has set up a pledge campaign in support of the Songwriters' Equity Act, which would allow writers to get a decent slice of the revenue from digitized spins.

It's important that we support our artists and thinkers in order for the culture to move forward. James Day is a remarkable musician and, just as importantly, a resilient individual whose sound and story is nothing short of miraculous.
You can support James Day's Pledge Campaign by clicking here. You can also purchase his album, Seasons and Reasons, which is out now.
Calling all HuffPost superfans!
Sign up for membership to become a founding member and help shape HuffPost's next chapter