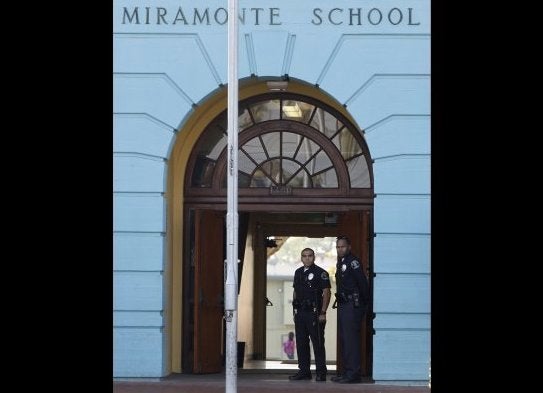 The most chilling moment of the press conference came in the form of a girl's father. He was wearing an oversized hoodie that covered his entire face and a pair of dark glasses blocking us from seeing the fear in his eyes. He came to denounce a school system that allegedly allowed his daughter to become a victim of lewd acts committed by a trusted teacher at Miramonte Elementary School. When a reporter asked how he was feeling, the man in the hot seat barked back: "Come here and sit on this chair and see how it feels."

Parents at the Miramonte Elementary School in the Florence-Firestone neighborhood of central Los Angeles are outraged by the alleged sexual abuse and injustice that their children have suffered at the hands of trusted teachers and their lackadaisical supervisors.

A conspiracy of silence appears to have been in effect within the school itself and the entire Los Angeles Unified School District and so the parents remained unaware of what was happening. However, it is an involuntary code of silence that now threatens to hamper the investigation into this scandal going forward. This is based on the fear that the parents have expressed in going to the police -- in this case Sheriff Lee Baca and the Los Angeles Sheriff's Department that patrols this area -- because they fear this would have immigration consequences, i.e. deportation.

While the sheriff himself has given his "word" that this fear is unwarranted, community members, immigration attorneys and advocates alike say unequivocally that this is simply not good enough. Not here in Los Angeles, not now in 2012, not when thousands upon thousands wind up deported due to the sheriff's excessive and zealous cooperation with Immigration and Customs Enforcement (ICE).

Indeed, along with the National Day Laborer Organizing Network and the National Immigration Law Center, CHIRLA has had to file a lawsuit against Sheriff Baca just to obtain more information on the extent of this collaboration. When vendors and domestic abuse victims are passed on to ICE after contact with local police, the Miramonte parents simply put one and one together: police = ICE.

Due to the pernicious nature of the misnamed of the all-seeing and omnipresent "Secure Communities" (S-Comm) program, this nightmare is closer to the truth than ever before. Los Angeles' local law enforcement databases are now connected to ICE and fingerprints are automatically checked in order to determine immigration status of any arrestee, regardless of the charge and before any conviction. As such, S-Comm is meant to leverage the arrest of any officer, whether based on racial profiling or a warrant. A recent report by the University of California Irvine Law School concluded that this is a "feature rather than a reparable flaw of the program."

Ask any police officer how hard it is to win the trust of communities. And after you gain it, the last thing you want is lose it. To really secure the community, especially in almost-forgotten communities such as the Florence-Firestone neighborhood, you draw a bright line between yourself and ICE. This the whole idea behind the Los Angeles Police Department's Special Order 40 -- preventing its officers from initiating contact in order to investigate immigration status. Both former Chief Bill Bratton and current Chief Charlie Beck of the LAPD have variously spoken out about ICE's programs threaten to undermine trust in the police and thus public safety. S-Comm blurs that bright line and in effect, it instead functions as a pipeline into the deportation system.

Los Angeles and California have been increasingly vocal against this trend -- especially after understanding that we were misled into S-Comm participation without even having had a real say. It also makes sense given our opposition to anything akin to Arizona's SB1070 and Alabama's HB56 -- whose main provision are intent on turning local police into mini ICE agents.

The cities of Los Angeles and South Gate have passed resolutions against this mission creep and last August, the community told the DHS assembled "Task Force on Secure Communities" in no uncertain terms that L.A. does not want this Frankenstein here. Letters from our local Members of Congress and Mayor Villaraigosa have expressed extreme concern to President Obama and Governor Brown. At all points along the way, DHS-ICE has reacted with subterfuge and spin.
Most recently, DHS voided the contracts that states like California had signed in good faith, thinking they were a prerequisite as well as a guarantor that S-Comm would operate as advertised.

Fortunately, there is light at the end of the tunnel in the form of the revamped TRUST Act, soon to be introduced by Assemblymember Tom Ammiano of San Francisco. In essence, it will "end the charade called S-Comm (and) ensure that our government protects its residents not criminalizes them when they have already suffered." California must be the next battleground in this effort to protect our communities.

Mayor Villaraigosa wrote the following to Governor Brown late last year:

'Secure Communities' is in fact perceived by many Angelenos as well as fellow Californians as highly detrimental to the core public safety mission of the Los Angeles Police Department (LAPD) and other local law enforcement agencies. By entangling agencies like the LAPD in immigration enforcement, community members are becoming wary of reaching out to police to report crime.
Sadly, his prophetic words are coming true and for the sake of the Miramonte school children and our entire community we need to reverse this trend.

Carl Bergquist, CHIRLA Policy Advocate, contributed to this story.
Related
Popular in the Community