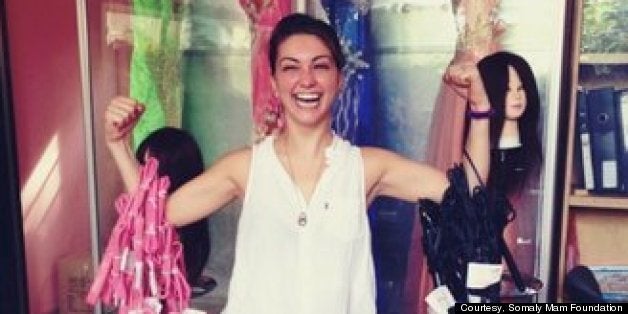 Hairdresser and photographer Michael Angelo normally spends hectic days at his salon in New York City's Meatpacking District, Wonderland Beauty Parlor -- retouching blonde highlights and getting models ready for photo shoots -- but recently he was in Cambodia, training young women who are survivors of the global sex trafficking epidemic that enslaves millions how to blow dry, give manicures, cut, color and style, teaching them to take control of their images -- which until now, like their bodies, have been controlled by pimps.
A few weeks ago, Michael was in Cambodia, teaching advanced training at a survivor-owned and operated salon (where a haircut is the equivalent of USD $3-5). He also taught basic training at a beauty school in one of Somaly Mam's shelters outside Phnom Penh. He traveled there with one of the stylists from his salon, Annastasia Konidaris, who Michael describes as "a strong, warm, confident woman."
They brought supplies from their beauty partners in the U.S., including Amika and MAKE cosmetics, a socially-conscious beauty brand that donates 33.3 percent of web sales to the We See Beauty Foundation, as well as funds from a male salon client who was so touched by Somaly Mam's story and mission that he made it possible to "outfit and improve supplies" at the beauty school and salon.
The founder of the Somaly Mam Foundation (and their ground partner, AFESIP Cambodia), Somaly is a Cambodian native and an outspoken advocate for fighting child and sex slavery. Somaly has her own harrowing story, having been sold into sexual slavery as a girl in Cambodia's brothels, where she was beaten, raped, and tortured throughout her childhood. If Somaly and Michael seem an unlikely partnership, in a way, it makes perfect sense. She is a beacon of hope and beauty in an often ugly and cruel world. "Life is love," is something she likes to say, and has passed this on to Michael and others. Also: "If you don't give a girl love, she doesn't heal." Somaly also happens to love high heels, make-up, and reminds people she is "a woman," not a saint.
Michael has been a supporter of Somaly and her work for years, going back to his first encounter with her work via a Glamour magazine article by French journalist Mariane Pearl, which described a young sex worker standing in the doorway of her shack, wearing "bright red lipstick from the night before."
"It was a haunting image," said Michael--one that made him think not only of the enslaved girls but the entire beauty industry (which is so often criticized for enslaving women in a different way). Unable to shake the feelings it evoked, in 2010, he released The Lipstick Portraits, an original body of work where models, icons, and famous actresses and actors wear red lipstick in solidarity with these girls across the world.
Michael has willingly gotten his life and work entangled with Somaly's world and the girls she rescues, traveling to Cambodia on several occasions to volunteer in her shelter and salons. Michael even became engaged to his husband, a theologian named Scott, at the shelter in 2007. Since then, some of the girls he's trained in the past have gotten married and now have kids. He's been able to watch them blossom into strong, confident women, including his friend Neang, who owns the salon where he was recently working. She has a daughter, a tiny girl who Michael took an Instagram photo of, dressed in a pink tutu, also the favorite uniform of so many of her fellow sugar plum fairies across the universe in the Western World. The half dozen or so girls who work at Neang's salon live there with her and her family. Working in a salon, the girls wear Somaly Mam Foundation T-shirts that say prominently on the backs: "MAKING VICTIMS PART OF THE SOLUTION."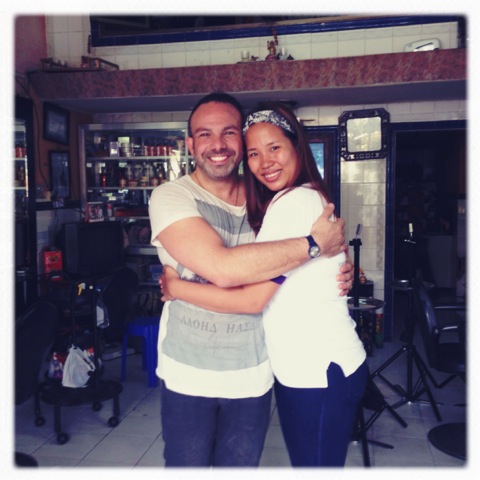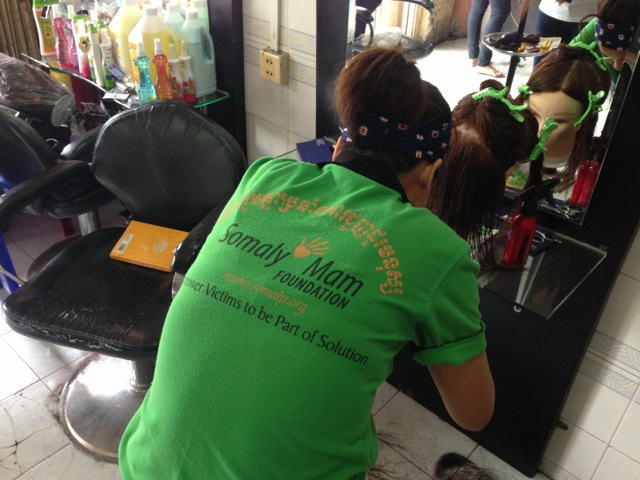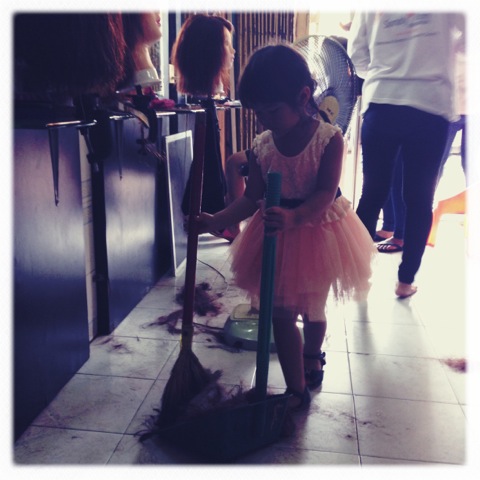 Part of working in one of the Somaly fostered salons helps them make the transition from victim to a survivor with a place in the world, beginning with economic freedom. As Michael explains, in Cambodia, as throughout many parts of Southeast Asia and the world, having been a sex slave is "the ultimate disgrace," and the girls face the risk of being publicly ostracized if they speak out. Salon workers are encouraged to talk to clients about their experiences, to become activists and raise awareness. They become ambassadors for Somaly's "Voices for Change" platform that encourages the women and girls to see themselves as "survivors" instead of "victims," and are strong, loving, catalysts for change and awareness. "They speak out instead of being meek and fearful," said Michael.
"It's like going through the looking glass," said Michael, whose long-term goal is to spread awareness through taking back beauty -- so that it is not a one-sided mirror. Michael contributes his skills in Cambodia and when he returns to New York, tells his high-profile clientele about the foundation, his experiences, and how they can get involved and help. One of the things both he and Somaly have talked about for the future is a beauty "epicenter," which would offer salon services as well as provide housing for the women and girls, an Internet cafe and a women's health clinic for those in need.
Many of the girls at the shelter that he worked with "had never touched scissors," Michael explained. But they are curious and fun loving, studious as he demonstrates on mannequin heads on stands (that look like life-size Barbie lollipops). Everyone he met, despite what they've gone through, he describes as "warm and affectionate," spreading love and happiness around them like so many colorful flower petals (like those some of the girls sprinkled on him and Scott when they got engaged).
Michael and Annastasia spent five full days between Neang's salon and the beauty school in the shelter, where there are currently 22 girls in attendance, one of whom had just been rescued off the streets. It is run by a woman they nicknamed "Chillin,'" because of the pronunciation of her name, who favored a sheer leopard print blouse. It was no amateur's routine. Day 1 was devoted to shopping for supplies. Day 2 started the workshops, beginning with Long Layers -- the Jennifer Aniston-type. Day 3 was The Lob -- the recently popular long bob, and sported by models like Brooklyn Decker, whose hair and curling iron setting Michael does. Days 4 and 5 were all about Balayage and makeup, both employing painterly skills of blending colors to create highlights and dimension on the face and on the hair. Special Balayage paddles and paint brushes are used for painting on hair color to achieve the sought after "ombre" hair trend, spotted on dozens of celebrities and specifically sought after by the young hairdressers they worked with in Cambodia, who had found out about it on the Internet. "Can you show us how to do the ombre?" one of the girls asked Michael during the first day's workshop. "That's Day 4!" he said.
They brought a virtual treasure trove of beauty supplies to outfit both the school and salon, including: 33 glamorous pink flat irons, 33 chic black curling irons (both from Amika), 3 MAKE cosmetics makeup kits with makeup brushes, 33 Balayage paddles, 33 tint brushes, 33 tint bowls, 33 cutting combs, 33 round brushes, 33 sets of 4 clips, 33 cutting shears, 33 texturizing shears, 33 mannequins heads, 10 mannequin stands, 33 blow dryers, salon supplies (shampoos/conditioners/hairspray/bleach/peroxide), and supplies for giving facials.
"I felt like Santa Claus," said Michael. "I'm not into the whole hero thing. When Neang [who owns the salon], told me, 'You're my hero,' I told her, 'That's impossible because you are my hero.' You are doing this 365 days a year. I'm just here for a week."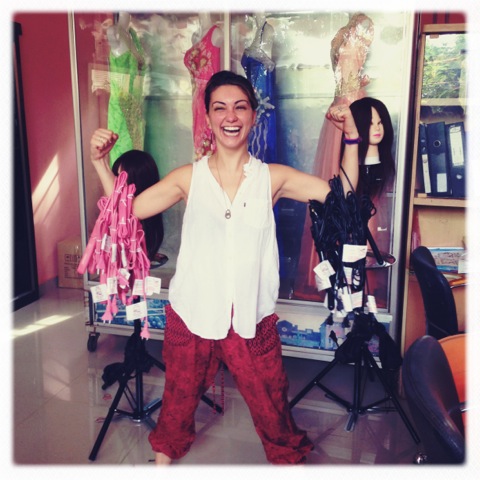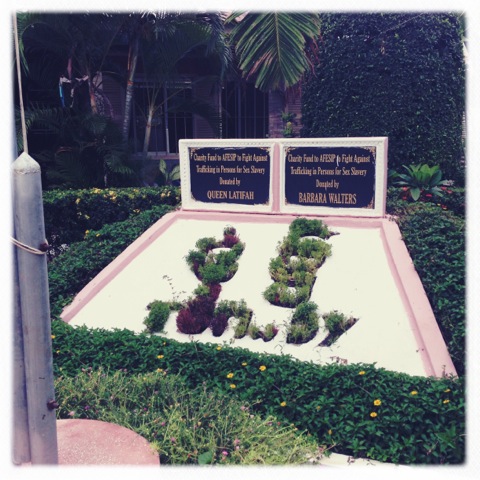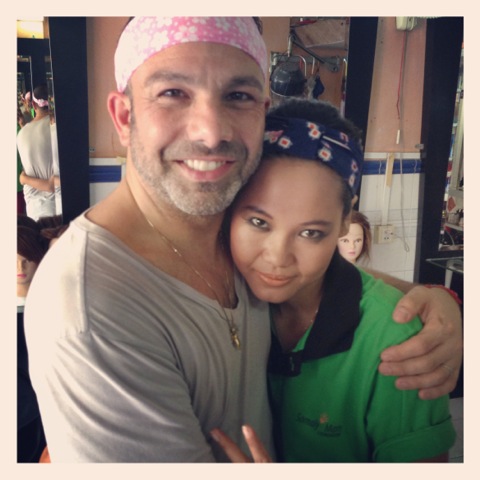 --
For more information on The Somaly Mam Foundation visit www.somaly.org and www.afesip.org. To learn more about Michael and the Lipstick Portraits and other philanthropic work, visit www.wonderlandbeautyparlor.com and follow him at @WonderlandBP and on Facebook (www.facebook.com/MichaelAngelosWonderlandBeautyParlor)