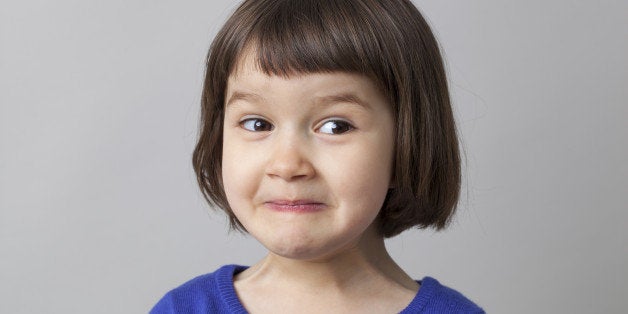 At 7:30 am on a Wednesday in September, teachers in a neighborhood nursery school located in Harlem, New York City began to sip their second cup of coffee, wipe down tables, un-stack tiny chairs, and organize wooden blocks. Hardened play dough was scraped off the tables with the careful flick of a thumbnail, and the smell of assorted crayons permeated the 42-square-foot room.
The two classroom teachers were sure to arrive with lesson plans stating clear learning objectives, and names were spelled correctly on name tags located above elfin cubby holes. Several pairs of small feet came into the classroom stampeding while several others were lifted up high and tucked close around their caregiver's waists. Giggling and whimpering were heard, accompanied by heartfelt, sympathetic murmurs which could be linguistically identified as French-Creole, Haitian, Spanish, and Arabic. This was the first day of Pre-K in New York City.
September 9, 2015 marked the first open enrollment period of NYC's Pre-K for All initiative, a time when New York City's 3 to 4 year-old children began to embark on some of their first school-based educational journeys; many children and families entering their new classrooms in similar fashion as those portrayed above. Mayor De Blasio's effort to invest $300 million dollars in fiscal year 2015 awarded 53,000 hopeful families a full 6 hours and 20 minutes of free education and care when they enrolled their young children in participating Pre-K For All settings. (For more information on the The City of New York Executive Budget: Fiscal Year 2015, click here )
This is very big news for our "littlest" student population and their families! NYC has taken a tremendous and progressive step forward in recognizing the significance of early learning opportunities; which signifies that the NYC Department of Education will be assisting parents in discovering a priceless yet highly valuable service- free quality education for their young children.
However, as an early childhood educator myself, I was slightly hesitant to release that audible sigh of relief I have been waiting so long for. Although every part of my being wanted to host a parade in celebration of such a promising measure, I could not help but to feel concerned about how the initiative will affect current and future preschool environments.
There is a loud chorus of ideas and opinions that work in and out of harmony with this new initiative, and several that exist in opposition to each other. As it is difficult to orchestrate or even represent the narratives of others, the best I can do is to present you with a brief, critical account of the new Pre-K for All "guiding principles" to education.
To begin, the Pre-K for All initiative has currently adopted aspects of the infamous Common Core State Standards as the PKFCC (Pre-K Foundation for the Common Core) in an effort to align early learning experiences with those that children will soon find in most elementary schools. In other words, the PKFCC is to be utilized as "a bridge between the learning expectations of children birth through three and the standards for those attending K-12 in public schools" (the PKFCC document can be located here).
Intuitively, this sounds like a promising and efficient plan. Isn't the purpose of Pre-K to get kids "ready" for what they will be encountering in elementary school, anyway? Well, when thought about analytically, the idea of aligning Pre-K curriculums to the PKFCC actually appears to be a bit ethically misguided.
Woven throughout the 62-page document is what seems like a sense of longing for typical and conventional American "normativity" among Pre-K students. I say this because there is an obvious absence of multiculturalism, not to mention differentiation for those populations who are labeled as "diverse learners" (e.g. ADHD, dyslexic, autistic, etc.).
To be clear, I do not refer to multiculturalism in the topical sense of, shall we say, celebrating holidays such as Martin Luther King Day, or Yom Kippur. I refer to multiculturalism (and multicultural education) as the ability to honor and utilize a child's pre-existing knowledge of how the world works and finds meaning in things. Thus, when taking into account the daunting amount of status-quo benchmarks the PKFCC presents teachers with, one begins to wonder how teachers will tailor this standardized learning approach to their impressively heterogeneous classroom students.
Although the PKFCC briefly states that it is not "meant to be used as an assessment tool", the document still offers a heaping 51 pages of very suggestive content which describes what Pre-K children are "expected to demonstrate" in domains such as English Language Arts and Literacy; and Social and Emotional Development (FYI, there are 5 domains in total, each as equally intimidating as the next). Wording such as "identifies the range of feelings he/she experiences, and that his/her feelings may change over time, as the environment changes, and in response to the behavior of others" reinforces the questionable structure, and more importantly, purpose of the entire initiative.
In addition to standardization, what is absent in the PKFCC document is the notion, adhered to by a wide spectrum of developmental psychologists, health care practitioners, classroom teachers, and parent body groups, that Pre-K aged children have qualitatively different needs then school-aged children. Thus, the PKFCC exists as a vague and ill-suited list of demands for Pre-K teachers, students and families.
The mere presence of this document in Pre-K classrooms symbolizes a dramatic shift toward standardization in the early years. Although the PKFCC "expectations" are not currently mandated, one can only wonder how soon they will be, giving teachers all across the five New York City boroughs a nagging feeling of impending doom. Of course this all sounds very dramatic, but take a moment to recognize what all early childhood education teachers are well aware of: that Pre-K has been for the most part, only slightly influenced by political demands of the U.S. Department of Education; it has existed as a nuanced environment full of wonder and exploration almost immune to the bureaucratic-infected system which we call K-12 education.
Of course, this is by no means a complete fulmination of the Pre-K for All initiative- quite honestly, it is impossible to resent that free care and education is now given to many of New York's youngest. However, this is what I took on for this blog post in an effort to present a critical perspective of the NYC PKFCC.
REAL LIFE. REAL NEWS. REAL VOICES.
Help us tell more of the stories that matter from voices that too often remain unheard.