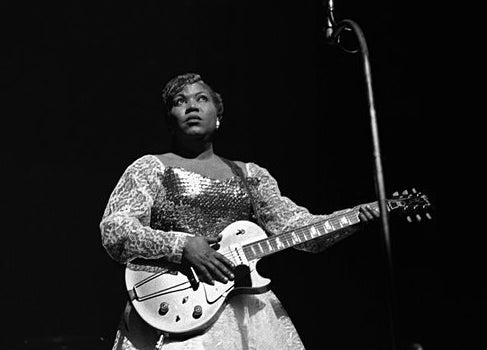 The electric guitarist takes a wistful look upward, fluttering fingers in split second repose, beckoning the audience, bodies smashed together in the darkness in sweaty anticipation. It's Rosetta Tharpe at a seventies gig, snapshot of a rare, unguarded moment in a storied career. The picture asks what it was like to navigate those waters, an anomaly in the tight white fraternity of touring rock musicians, a secularized traitor in the ossified world of Pentecostal gospel, a restless, Elvis-influencing blues shredder and a bisexual artist whose most enduring relationship was with another African American woman singer. Tharpe's photo gaze seems to foreshadow the bittersweet end of her career, during a period in which she received a new surge of white adulation memorialized in a 1971 performance at a British railway station.
Tharpe's influence and brilliance have been spotlighted in a recent documentary, biography and stage play. She's become the flavor of the month for white hipster excavators of proto-feminist rock icons. Inheriting Tharpe's mantle, contemporary black women rock guitarists like Malina Moye, Brittany Howard and Diamond Rowe are blazing ahead in the music industry. Black women rock critics are also busting past the white male gatekeepers of rock criticism. But decades after Tharpe's death, black women musicians still struggle for visibility in the genre she helped invent. It's a genre that has receded as the countercultural engine which spawned the aptly dubbed British Invasion and captivated legions of axe-slinging white Americans obsessed with electric guitar.
Bound by blacker-than-thou identity politics, respectable black women have always been warned to beware of such musical apostasy. Why would "real sistas" want to listen to, much less play, that "white boy music"? Why would a genre so antithetical to black identity and cultural production be appealing to black women who should rightfully be enthralled with soul, R&B, rap and hip hop; true markers of authentic blackness?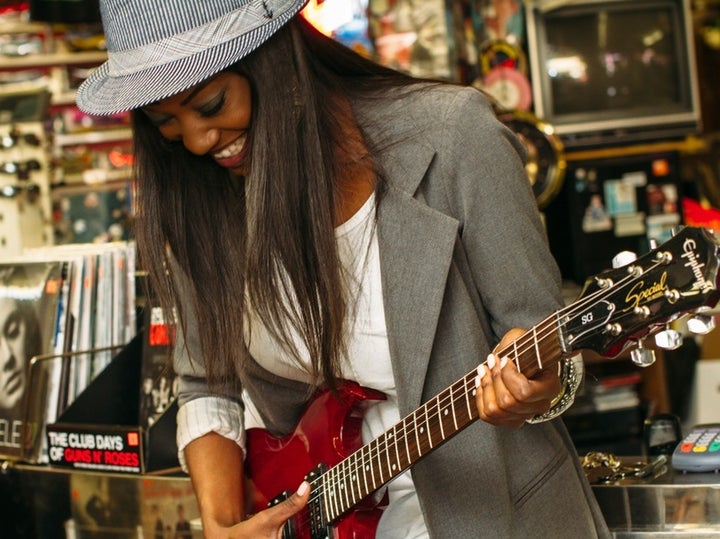 In ninth grade I asked a white male teacher who I'd seen playing guitar at a recital at my Catholic school for advice. I was a rock geek interested in getting my own instrument but knew nothing about where to start and I wasn't familiar with any black women or girls who played. In the eighties my best friend Heather and I pined to start a rock band, but there were simply no visible models. We didn't identify with any of the hetero-normative white women rockers who were being slobbered over in the mainstream and we were unfamiliar with Tharpe, Memphis Minnie or even Joan Armatrading. The teacher recommended that I begin with an electric bass. His stated reason was that it would be "easier" to handle than a traditional six-string guitar. The implication that guitar would be too difficult for a (girl) beginner came through loud and clear in his sanitized white liberal spiel.
In an interview with Sarah Haile Mariam of She Shreds magazine, 77 year-old blues guitarist Beverly Watkins alludes to the long history of black women playing blues guitar in the Jim Crow South. Nonetheless, in commercial rock and R&B most black women were singers, pianists or tambourine players but never guitarists. When rock became rigidly associated with axe-slinging, "Dionysian" white men who conflated their musical virtuosity with heterosexist conquest, the possibilities for black women rock guitarists narrowed. As has been well-documented, white cultural appropriation of African American rock music idioms and styles fueled a global multi-billion dollar industry that effectively shut black artists out. While white artists were free to sample and steal from black R&B and rock and still be considered "universal" rockers, black artists from the fifities on were tightly pigeonholed into R&B.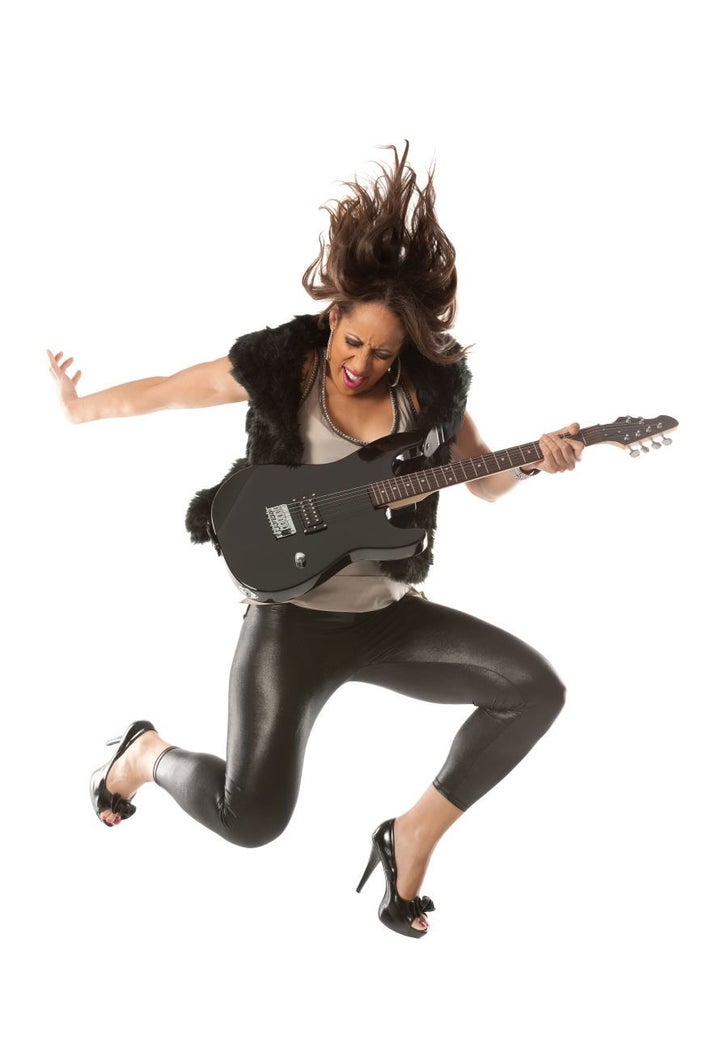 In her book Right to Rock, which explores the founding of the still vibrant Black Rock Coalition in the eighties, Maureen Mahon discusses the implications industry segregation has had on the development and marketing of black rock musicians. As Mahon notes, "A system of separate and unequal markets, music divisions, sales charts, and touring circuits sustained the music. Twenty years after the apex of the civil rights movement, popular music continued to occur in a racially segregated fashion, spurring the BRC (Black Rock Coalition) into existence." As a result, black rock artists have been systematically discriminated against by record labels and stereotyped as not appealing to predominantly white rock audiences.
Segregated marketing, promotion and distribution played a big role in obscuring the black roots of rock music. But the symbiotic relationship of rock criticism to this industry regime—a tradition that was almost entirely dominated by urban white males—was also a key factor in the whitening of rock music and the marginalization of women musicians. White male rock critics subscribed to an evolutionary notion of rock which venerated African American rock pioneers for their early "primitive" contributions to the genre while privileging white musicians' "refinement" and "innovation" of the form during the 60s and 70s. In his book Just Around Midnight: Rock and Roll and the Racial Imagination, Jack Hamilton argues that this white "rockist" genre of criticism, which only valued black artists as the founding inspiration for white rock dynamism, reinforced black exclusion. Here, "no black-derived musical form has more assiduously moved to erase and blockade black participation than rock music."
This legacy has led to racist redundancies like the very term "black rock". It's illustrated by travesties in which white imitators like Greg Allman and Eric Clapton can be respectively dubbed by some as the founders of "Southern rock" and "Blues rock", despite the pioneering Southern blues rock of black artists stretching back to Charley Patton, Arthur Crudup, Muddy Waters and beyond (The Wikipedia entry for Southern rock is dominated by white acts with a cursory nod to the Southern roots of rock music). As Mahon notes, "(Bo) Diddley observes that what he and Chuck Berry played was rock and roll until whites started playing it and then…'they was rock 'n' roll and we were R&B.'"
If white supremacy in rock has had a long insidious history, the sexist, misogynist hierarchies of the genre have been even more difficult to disrupt. Rolling Stone magazine's 2015 "Top 100 Guitarists" list celebrates everything from the hairpin curve rigor of Robert Fripp, the nimble derivativeness of Eric Clapton (who inspired Britain's "Rock Against Racism" campaign after a racist tirade in 1976 and was dubbed "God" by his followers for his virtuosity of theft), the whirling dervish wail of Neil Young and Hendrix's voyages into interstellar space. Hendrix and a handful of African American guitarists are the "privileged" exceptions to the white rule on a list that glaringly omits Rosetta Tharpe and other women of color. Lists like these are the hallmark of a self-perpetuating and incestuous white guitar god genre that has been in sharp decline since grunge rock faded in the late 90s.
Here again, masculine swagger and the appearance of mastery are at the core of establishing legitimacy in the rock universe. Mahon writes that in the early days of the BRC very few of the women members played male-dominated instruments like guitar or drums. The majority were singers and/or keyboard players. The perception that women "can't rock" as hard as men because they don't have the musical chops to master guitar, is a persistent cliché that has discouraged women and girls from pursuing rock guitar (especially electric). Gayl Wald's 2006 biography on Tharpe is replete with instances where she receives the imprimatur of skeptical males only after proving that she could play just as well, or better, as a man. Indeed, mainstream expectations for black women in rock are that they be eye candy, sexual objects and fodder for salacious lyrics (e.g., rock playlist staples like "Miss You" and "Brown Sugar" by the Rolling Stones; "Hello, I Love You", by the Doors) or earthy soul mamas who provide "bottom" to white rock staples (e.g. see the 2012 documentary Twenty Feet from Stardom and the fetishization of black women backup singers like Merry Clayton and Claudia Lennear). In the article "Black Female Guitarists Get Real About How the Industry Views Them", critic and writer Jordannah Elizabeth posed the question about the marginalization of black women who don't sexualize themselves in the industry. Music critic Laina Dawes, author of the2012 book What Are You Doing Here: A Black Woman's Life and Liberation in Heavy Metal, commented that, "They [simply] do not want to adhere to racialized gendered stereotypes." In a 2013 interview with NPR, Dawes reflected on being hamstrung by white racist assumptions about black women in metal and blacker than though identity politics. This erasure plays out in the tastes of black Millennials as she lamented "finding black kids who never knew a time when hip-hop didn't exist, and never even considered listening to anything other than what they have been told is a suitable soundtrack for black people."
The hypersexual objectification of black women in rock is reflected in the gender politics of stage performance and commerce. In an industry steeped in male histrionics, women of color are not supposed to imagine themselves fronting a band, playing lead electric guitar or independently negotiating with labels and managers. Commenting on unsung black women musicians who fronted bands and controlled their own production, filmmaker Sheila Jackson notes that "The 70s also introduced Mother's Finest as one of the first multiracial rock bands, with lead singer Joyce Kennedy. In an act of rebellion against the white male image that was fast emerging and masquerading as the exclusive face of rock and roll, Mother's Finest wrote the underground hit "Niggizz Can't Sang Rock & Roll." Jackson's forthcoming documentary "Nice and Rough" is one of the first to fully document the history of black women in rock, focusing on black female invisibility and empowerment in a genre that has been portrayed as antithetical to notions of authentic black femininity. As the ironic title of the Mother's Finest song attests, musical taste has always been a marker of ethnic identity. Assumptions about who is authentically black, straight and female hinge upon consuming the right kind of music, observing the right religion, choosing the right partner, and being a self-sacrificing caregiver. Insofar as black women rock guitarists defy these boundaries, they are outliers in both the black and white musical worlds.
My encounter with the white Catholic school teacher was only the first in a series of negative experiences trying to play rock. When I finally decided to pursue bass lessons in college I was sexually harassed by a black male teacher and dropped the lessons. It was only years later that I took up guitar as a middle-aged adult in a climate where guitar instructors are still predominantly white and/or male. As Jackson notes, "Black women in rock have been another one of those invisible intersections that we pretend don't exist. We are a nation full of mis-educated people. To embrace this history is to embrace our complexity and humanity", especially for future generations of black girl and black women shredders bucking misogynoir and reclaiming the black roots of rock.
Popular in the Community