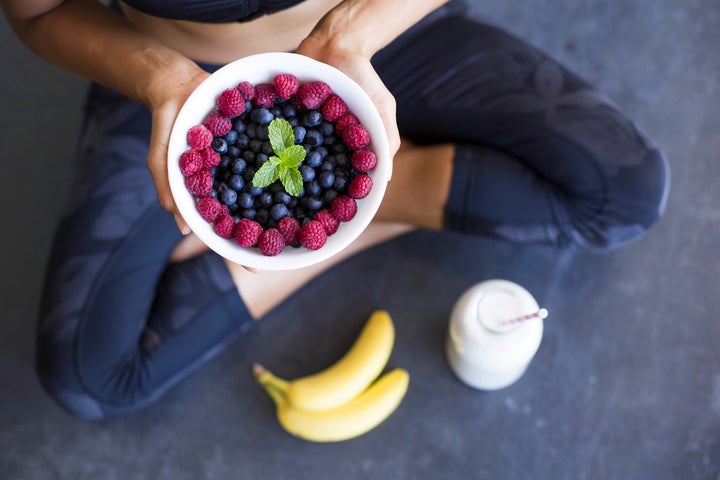 The American Cancer Society estimates that there are 13.7 million cancer survivors in the US today. Now, CANCER, their peer-reviewed journal, shows that this vulnerable population isn't getting the nutrition it needs.
The research team was led by Fang Fang Zhang, MD, PhD, of the Friedman School of Nutrition Science and Policy at Tufts University. The team analyzed the diets of over 1,500 adults participating in the National Health and Nutrition Examination Survey from 1999 to 2010.
Cancer survivors had low dietary intakes of vitamins D, E, potassium, and calcium. They were consuming more saturated fat and sodium than recommended. Few Americans consume the recommended number of fruits and vegetables and cancer survivors meet the recommendations at an even lower rate.
Nutrition isn't just about extending the life of a cancer survivor, it's about helping them live a better life. Susan Bratton, founder of Savor Health, explained how "Cancer treatment changes your body forever. Nutrition and exercise helps survivors feel like themselves again and keep long-term side effects under control."
Who's providing nutrition information?
According to Dr. Zhang, "Oncology care providers can play critical roles in reinforcing the importance of a healthful diet, and can refer patients to registered dietitians who are experts in oncology care or to other reputable sources in order to improve survivors' overall health."
However, relatively few cancer survivors are referred to specialists in oncology nutrition.
After treatment is completed, oncologists no longer actively manage their patient's care. Survivorship care plans are created to guide the patient's primary care physician. "Survivorship care plans include a summary of the treatment a patient received, recommendations for ongoing care, and other information that will help primary care physicians and patients manage their health. They often lack specific dietary recommendations or input from a nutritionist," clarified Elizabeth Chabner Thompson, a radiation oncologist.
Tyler Hayes explains, "Prime really came out of my helping some of my own family. The basic idea was just to relieve the huge amount of stress that was happening from not having the records. We were trying to get by just taking notes during appointments, which obviously didn't work. We had medications in a notebook, on an Excel spreadsheet, and also in email...every day. So I made Prime for my family first, to put everyone on the same page." Now Prime helps patients provide their doctors with their complete health history.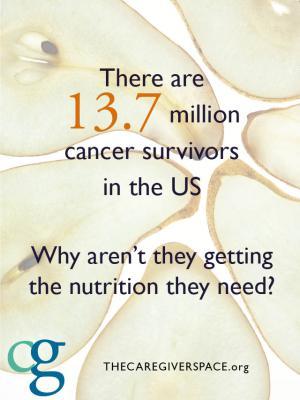 What cancer nutrition guidelines exist?
Jessica Iannotta, a registered dietician and certified specialist in oncology nutrition, pointed out how "Patients are told to eat healthy, but aren't told what that means. I work with Savor Health to help people understand what 'healthy' is by providing personal advice. We do all the research and help people apply it to their everyday life."
The American Cancer Society and the American Institute for Cancer Research provide broad guidelines, but there's little information on how to implement what may require dramatic lifestyle changes. Many organizations that support survivors and their families provide no information on nutrition.
When medical professionals aren't providing comprehensive healthcare information, patients and their caregivers go online for more information. The story of Belle Gibson, who claimed to have cured herself of a malignant brain tumor through a special diet and positive thinking, serves as a cautionary tale that much of the information out there doesn't stand up to scientific scrutiny. Jess Ainscough lost her battle with cancer after opting to follow a special diet in lieu of treatment.
The internet abounds with promises that various diets and natural remedies can cure cancer. There is currently no scientific evidence supporting this. Proper nutrition has been shown to strengthen people's immune system, mitigate symptoms and side effects, and improve quality of life.
Food and family
Amir Ahuja, a psychiatrist in Modesto, CA, explains how nutrition can also empower caregivers, "It's not unusual for people to prefer demonstrating how they feel, instead of talking about it. Helping someone eat healthy is one way they can show that they care."
Bob Harrison, who cared for his wife Annie, didn't have any problem talking about his feelings for her. His care for her brought them closer and for him preparing healthy food was an act of love. He was surprised by how cancer changed his wife's diet, saying "The healthy Annie always fixed us nutritious meals. Cancer changed her to a comfort food diet. Maybe because living a very healthy lifestyle did not save her from cancer."
Nutrition can be empowering for the patient as well. After having seen loved ones battle cancer, Susan Bratton understands how "So much of surviving cancer means giving up control. Nutrition is one way that patients can regain control over their health and their lives."
Cancer treatment doesn't end when someone is labelled a survivor. Medical advances have turned cancer into a chronic condition. Harriet Hodgson, a family caregiver and author of 35 books, explains "With medication and specialized care, chronic disease may stabilize for months or years. However, the word chronic implies that the disease will worsen. Since you can't predict your loved one's decline, or how long she or he will live, you can't settle into a new normal."
Life may not return to normal after cancer, but that doesn't stop people from leading the life they want. Elizabeth Chabner Thompson, who founded a company providing modern recovery products, understands what it takes, both as a doctor and from personal experience. "Getting proper nutrition is one way for cancer survivors to regain their strength after treatment and enjoy a better quality of life," she advised. The tools for recovery go beyond medication, encompassing a wide range of support services.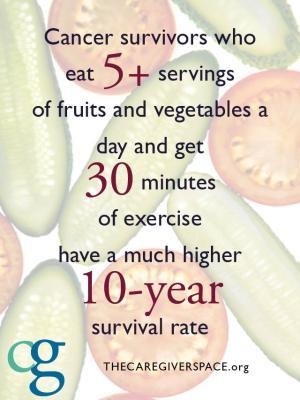 Nutrition during and after treatment
Nutrition is critical during and after cancer treatment. The CDC suggests there is a link between obesity and lower survival rates for people with breast, prostate, and colorectal cancer. Diet and exercise have been shown to significantly reduce the decline in physical function among older, overweight, long-term cancer survivors.Bob was so concerned about his wife's nutritional needs that he spoke to her oncologist about it. He didn't respond well, "he asked what I didn't understand about dying and told me to feed her anything I could."Susan wasn't surprised to hear that little in the way of nutritional guidance was provided, even during a cancer battle that lasted 29 months. "Few people get comprehensive nutrition support during cancer treatment. Almost no one is referred to a nutritionist after treatment, even though we know it leads to better outcomes," she said.Cancer treatment has widely known impacts on people's ability to eat. Cancer forums are full of patients and caregivers sharing tips on how to tolerate food and minimize symptoms. It's common for these symptoms to persist after treatment ends. The National Cancer Institute shares basic information on nutrition during treatment, but patients are still looking for more specific advice. Guidance on nutrition is no less critical after treatment ends.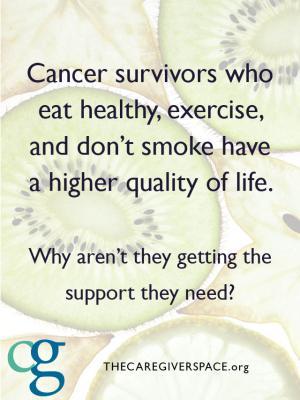 Cancer nutrition resources
You can find detailed, evidence-based information on nutrition for cancer survivors at Savor Health and the American Cancer Society. You can read the full study by Dr. Zhang on the CANCER website (paywall)."Diet quality of cancer survivors and non-cancer individuals: Results from a national survey." Fang Fang Zhang, Shanshan Liu, Esther John, Aviva Must, and Wendy Demark-Wahnefried. CANCER; Published Online: October 13, 2015 (DOI: 10.1002/cncr.29488).
Related
Popular in the Community