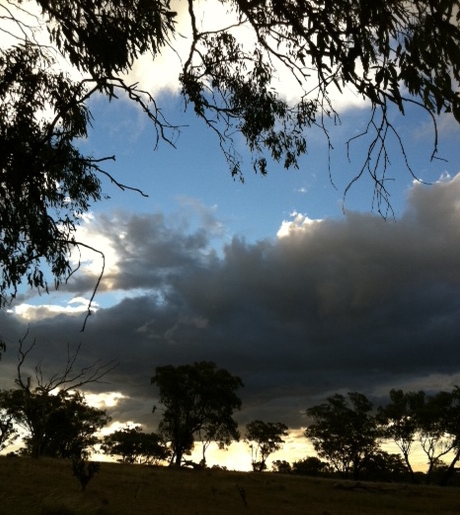 Families vary in size and shape, right? Yet, a family of four is a kind of social archetype. Cars are designed for it. Family passes to all kinds of venues assume it; so do TV commercials. There are often four servings in a pre-packaged meal from the grocery store. We are comfortable with the notion of a family of four. It is large enough to challenge one another's diverse opinions, yet small enough to feel intimate, loving and safe. Like the solid four-legged table standing in your dining room, a family of four appears to be balanced and strong, with its heavy load evenly distributed across its surface. It can stand even when the load is unevenly distributed.
But what happens if one of the table legs grows weak? What if it crumbles and disintegrates? The table, suddenly unbalanced, will crash to the floor. That can happen to families too, when one member is diagnosed with a life-threatening disease. Everything that seemed solid and certain is thrown down and shattered, the family plunged into a spiral of shock, fear, and loss. This is what happened to us.
At first, we picked up all the broken pieces, frantically searching for ways to fix the problem, stabilize the table, cure the illness. We held on as hard as we could to our old strength as a family of four. But some things cannot be mended; sometimes repairs are just not possible. Our family dynamic changed irrevocably, forever. This is what happened to us.
Can a table designed with four legs be redesigned around the missing one? Can it function with just three?
At first, we must all acknowledge how much we miss our fourth. The family feels awkward and off kilter, sometimes falling into isolating patterns of two against one. Odd numbers cannot be even. It becomes evident that to provide stability for the table, the legs must be repositioned. The remaining three must let go of their familiar places and modes of interaction, and figure out a new balance of power, strength and love upon which to stand upright once again. It is hard and painful. But it is this or abandon the table. This is what happened to us.
RIP Sara Taylor Gibson (Feb 14,1974 - July 17, 2000), gone from us far too young, far too soon. For you, we continue to stand strong, three instead of four.
A triangle shape can be as sturdy as a square. At first, it might be difficult to trust that the three-legged table will be as strong, as balanced, as safe as the four-legged one was. But it can be done. That table can be redesigned, remade, resilient. This is what happened to us.
Support HuffPost
A No-B.S. Guide To Life
Related
Popular in the Community