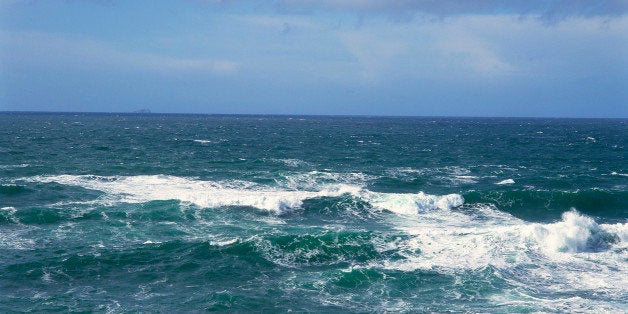 Ocean acidification. Plastic pollution. Overfishing. Sea level rise. When it comes to the challenges facing our ocean, it's easy to become overwhelmed. As a frequent witness to these issues, I, too, am often distraught over this dire state of affairs; reminded that we are in desperate need of problem solvers and innovators who aren't afraid to take bold action, and who aren't encumbered by political or financial agendas. The good news for all of us is that these environmental and ocean champions exist in growing numbers. They are committed, focused, formidable, and many of them haven't even graduated from high school. The bad news is that we as an ocean conservation community largely continue to ignore this powerful constituency.
My grandfather Jacques Yves Cousteau once said, "Before we can talk about conservation we must talk about education". My team and I at EarthEcho International work with youth around the globe. We regularly hear from these young people; not the sense of acceptance and resignation that stalls so many environmental efforts, but a profound belief that they can and will change our planet for the better. I believe that part of the reason for the lack of progress on many ocean issues is because the conservation community has made the mistake of dismissing this dedication and passion as youthful enthusiasm--of assuming that youth are merely the hands and feet of the environmental movement when they have the capacity to be the hearts and minds as well.
Take high school junior Delaney Reynolds, for example. She is a published author and illustrator of three children's books, as well as a comic book on environmental and ecology topics. Delaney is a graduate of the University of Miami's Summer Scholar's Program, where she earned a Certificate in Marine Biology, as well as in former U.S. Vice President Al Gore's Climate Reality Leader Training. She sits on The Cleo Institute Youth Task Force, is a Dream in Green Youth Ambassador and gave her first TEDx talk last February at the Adrienne Arsht Center in Miami about her work on sea level rise. Delaney is the founder of The Sink or Swim Project and www.miamisearise.com, a community educational program focused on the risks of global warming and sea level rise as well as the solutions that her generation must undertake to prevent catastrophic disaster. Over the past two years Delaney has presented to nearly 10,000 people of all ages, with audiences as far away as Saigon South International School in Vietnam, proving her key point--KIDS GET IT.
Eighteen-year-old ocean conservationist D'amy Steward provides another example of the level of work undertaken by the growing youth-led environmental movement. Participating in beach clean-ups from the age of three in her hometown of Coronado, CA, she learned at an early age the importance of ocean stewardship. D'amy reached out to Sailors for the Sea [SFTS]--a non-profit ocean conservation organization--in 2014 with ideas to spread its message to the boating community about reducing plastics in the ocean. Subsequently appointed the first SFTS student ambassador, D'amy educates children and adults by speaking at regattas, schools, and yacht clubs, and writing articles; she also created a handbook for future SFTS ambassadors and advises regatta organizers all along the West Coast.
All too often I watch as many of my peers in large ocean conservation organizations continue to dismiss youth as a questionable investment. It reminds me of the old adage: insanity is doing the same thing over and over and expecting a different result. Anyone who is being honest will admit that our oceans (and thus humanity) are in crisis and yet, in many ways, those who lead this movement continue to succumb to the blinding self-righteousness of adulthood by believing that, as adults, they hold all the answers. A friend once lamented to me that society has the technology and scientific knowledge to solve many of these problems, and that the true restriction was politics. He is wrong: we don't have a political problem, we have a constituency problem.
If you don't believe me then just follow the money. These are complex problems with complex systems-based solutions. Yet instead of empowering a movement by INVESTING IN and GROWING the constituency of citizens who are equipped to understand them, charitable giving continues to invest overwhelmingly in short-term legislative and technological solutions.
Of all the resources at our disposal to correct the damage we've inflicted on this beautiful and complex life-support system, I'm convinced these young leaders provide us with our greatest source of hope. It is our job to recognize their power, and give them the tools, investment, and respect they need to succeed...and then get out of their way.
To learn more about the efforts of youth acting now for a sustainable future, go to www.earthecho.org
This post is part of a series produced by The Huffington Post in partnership with Ocean Unite, an initiative to unite and activate powerful voices for ocean-conservation action. The series is being produced to coincide with World Ocean Day (June 8), as part of HuffPost's "What's Working" initiative, putting a spotlight on initiatives around the world that are solutions oriented. To read all the posts in the series, read here. Follow the conversation on Twitter with the hashtag #MakeASplash.
Related
Popular in the Community