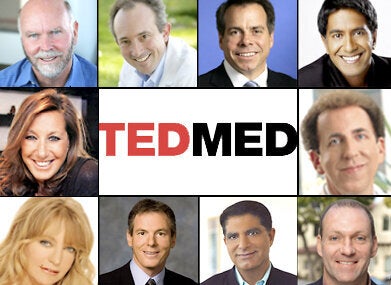 Tonight marks the start to the 2009 TEDMED conference, which runs from October 27th through 30th at the Hotel Del Coronado in San Diego, California. TED, an acronym for technology, entertainment, and design, is a non-profit devoted to "ideas worth spreading." This year's TEDMED is the fifth in a series created by Mark Hodosh and Richard Saul Wurman, focused on the intersection between medical and healthcare, personal to public. I invite you to follow me as I live blog from the event this week and provide you with the most up-to-date information as it unfolds.
In the inaugural session tonight, we heard about tissue engineering and cellular-based tissue regeneration from Damien Bates, the chief medical officer of Organogenesis, and Anthony Atala, the director of Wake Forest Institute for Regenerative Medicine and chair of urology at Wake Forest University (think: crafting new organs and tissues--more to come on that in a later post). Then Neal Baer, the executive producer of ER and Law & Order, Special Victims Unit spoke about the power of storytelling for medical and health education (prior to an episode, which taught that HPV can lead to cervical cancer, a random sampling yielded 9 percent of people knew this vs. 30 percent after the show aired).
But the most compelling and immediately applicable information came from Bill Davenhall, the global marketing manager for Health & Human Services Solutions, ESRI, the largest geographic information system (GIS) software developer in the world. Davenhall spoke about the missing piece to understanding personal health: the environment. He said the basic formula for good health is:
Genetics + lifestyle + environment = risks
So, if you manage the risks you'll live a good life. He raised the very important issue that whenever we visit a physician we fill out questionnaires that refer only to genetics and lifestyle (what diseases are in your family history and whether or not you smoke/drink), but we're never asked about environment: i.e. the places we've lived, where we spend our time, and what risks we've exposed ourselves to through those choices.
The quest to understand came when Davenhall had a heart attack out of nowhere it seemed. He was given a clean bill of health before and after the attack. But It wasn't until he tracked his environmental history - childhood in Scranton, P.A. breathing in methane gas and burning coal waste, midlife in Louisville, K.Y. where he breathed in the exhaust of incinerated rubber, and then moved to California where he's spent his senior years so far breathing in carbon dioxide and high doses of ozone. He said if he ever wanted to get a heart attack, he should have lived in exactly the places he chose. It completed his puzzle.
He believes physicians should be asking place history, how close we live to a freeway, what the quality of our drinking water and food is, and advises the following steps:
1.We must teach physicians the value of geographical education and the emerging field of geomedicine.
2.While we're spending billions building an electronic health record, we must also build a place record inside that medical record.
And our technology might be at the right place to support it. Davenhall spoke about his friend who allowed himself to be tracked for two years through his cell phone and now has his own place history. He suggested that if we build our place histories into our iPhones, it could end up being what our physicans look at when we go in for a visit in addition to our other medical records.
Tomorrow is a full day...so keep checking back for updates.
Full Coverage Of TEDMED 2009:
Related