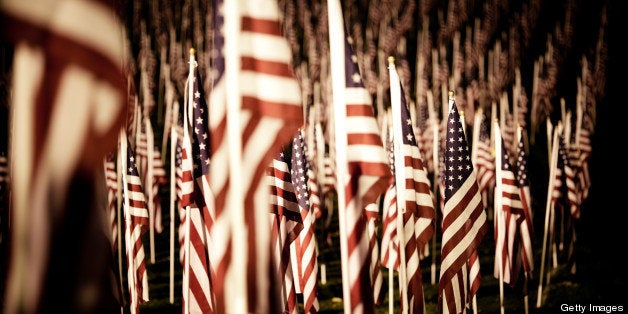 On Tuesday, May 14, our feature film HAPPY NEW YEAR was released nationwide, made available for rental/purchase for millions of people all over the country to see. The film tells the story of a war torn Marine who has returned home from war and is fighting to overcome post-traumatic stress and other severe health issues. The film takes a bold look at the ugly issue of veteran suicide that is affecting so many of our warriors today. It's been a long 6-year journey for us and this project, which originally began as a play, became an award-winning short film (which had its online premiere here on the Huffington Post) and is now a critically-acclaimed feature film. Not only have we grown significantly as artists and individuals, but we've seen significant growth in the nation's attitude toward post-traumatic stress disorder and the rise in veteran suicides. But with military suicide rates spiking, we're all accountable.
In early 2008, when we officially decided to turn the Happy New Year short into a full-length feature, a number of people tried their best to dissuade us, arguing that America didn't care to see a film about suffering vets. The Iraq and Afghanistan wars, both of which were incredibly unpopular, would be over soon, and people would forget about the vets and the battles they fought as soon as they could (if they hadn't already). Why not make a cool, low-budget hipster comedy instead? We begged to differ, stuck to our guns and set out on a long journey to interview as many veterans as we could to inspire the story and ensure accuracy. In the end, we ended up interviewing over 80 veterans (and various family members) from different wars (Iraq & Afghanistan to Desert Storm to Vietnam to WWII).
These interviews were not easy. We were not veterans, and getting people to open up about the challenges they faced post-combat was tough. But we found a way in, and ended up having some of the most powerful conversations of our lives. The majority of those interviewed asked to remain anonymous. They didn't want the stigma that was often attached to those suffering from post-traumatic stress to be put on them -- a reality that still exists for many veterans today.
By the time we premiered Happy New Year at the SXSW Film Festival in March 2011, the media began to focus more attention on the plight of the post-war vet, thanks to the pioneering journalism of writers like Greg Jaffe, Nicolas Kristoff, Joshua Kors, Deborah Sontag, David Wood and several others. As we traveled across the country to screen the film, we had the pleasure of meeting and speaking with hundreds of veterans about their own battles with post-traumatic stress. The post-screening discussions were always quite emotional and incredibly informative, with a number of civilians being educated to the issues of post-war trauma and the rise in veteran suicides. And a number of veterans spoke up about their own struggles publicly for the first time.
The interesting thing to note was that many of those men who had the courage to speak up were at least age 50 or above, many of them veterans from the Vietnam War, some from the Korean War and some from WWII. Only recently had they begun to come to terms with their own post-war trauma. There were no post-trauma networks available to them when they returned home. Thus, most of them suffered in silence. Many self-medicated with drugs and alcohol, while others did their best to simply forget, often refusing to even talk about their time overseas with loved ones. Many of these courageous men and women that we met were eager to help the new vets returning home, eager to prevent them from walking down roads well-traveled.
When we began this project, the statistic for veteran suicides was 18 per day. As of February of this year, the number has risen to 22 per day. And in the active Army, the primary cause of death isn't combat -- it is suicide. In fact, more soldiers on active duty died by their own hand in 2012, than died in combat. There is no way that we as a nation can go on ignoring it. Many VSO's are putting more of their focus on the issue of post-war trauma and helping our warriors and their loved ones. Some of them, like Blue Star Families and Stop Soldier Suicide, are making the prevention of veteran suicides their primary focus.
"The will to fight and survive is innate within our nation's warriors," remarked Brian Kinsella, Founder & CEO of Stop Soldier Suicide, at the close of his "A Night for Life" speech aboard the USS Intrepid. "And that hope, that will to live, is what we Americans owe to our brothers and sisters in uniform -- the men and women who have volunteered to fight for our freedom."
HAPPY NEW YEAR is now available for cable-on-demand purchase for all Comcast and Verizon Fios subscribers. The film is also available for rental/purchase on various digital platforms including: iTunes, Amazon, Google Play, Xbox and Vudu.
REAL LIFE. REAL NEWS. REAL VOICES.
Help us tell more of the stories that matter from voices that too often remain unheard.