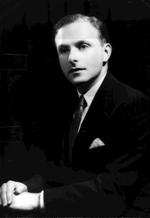 Developing business skills as a musician is not a 21st century phenomenon. There are timeless fundamentals to the enterprise of music that were as relevant to Bach in the 18th century as they are to Klaus Heymann, the pioneering founder of the Naxos streaming audio service. While technology has evolved dramatically over the past few centuries, the inherent business acumen required to succeed in the music industry remains the same. Young musicians are fortunate to have many role models from previous generations. One potent example of an admirable music entrepreneur during the twentieth century is a man named Irving Gifford Fine (1914-1962).
Image: Irving Fine, 1947 (Ellis-Gale Studio, Irving Fine Collection, Library of Congress)
Fine was a composer, conductor, pianist, music educator, higher education administrator, and overall impresario who believed in creating opportunities for new art to flourish. Though he has never been a household name outside of a very niche music community, his life's work serves as a blueprint for all who wish to refine skills as music entrepreneurs.
Fundamental Elements in Fine's Career as a Music Entrepreneur
1. Cultivate a strong network
2. Dream big
3. Maximize stakeholders
4. Build a strong, diverse team
5. Understand the art through experience as a creator
A native of East Boston, Fine attended Harvard University. He went on to study with Aaron Copland's teacher Nadia Boulanger and with Serge Koussevitzky, then-music director of the Boston Symphony Orchestra and founder of Tanglewood, one of the most famous American summer music festivals. His compositions include many gems in the canon of standard American art music--the Alice in Wonderland choruses and Partita for Wind Quintet--among choral, chamber, and orchestral works. This output is sadly limited in volume due to his early, sudden death at the age of 47.
Fine taught at Harvard for a decade and was a conductor of the Harvard Glee Club.Per the recommendation of Koussevitzky, who was himself a legendary music entrepreneur that presented cutting-edge new art music to audiences in Europe and the U.S., Fine was invited to shape the department of music at a fledgling new school in the Boston suburbs, Brandeis University.
Founded in 1948 as an academic home for the American Jewish community, Brandeis University has been at the forefront of progressive movements and host to countless distinguished faculty members, including former first lady Eleanor Roosevelt and Robert Reich, who served as the secretary of labor under the Clinton administration. Fine joined the faculty in the early 1950s and was given the opportunity to shape the role of the arts on the campus. Within just a couple years Fine helped transform the Brandeis campus from an inconsequential school on the site of a defunct medical college to a hot incubator for contemporary music, theater, dance, poetry and ideas. He accomplished this by leveraging his extensive network in the music business and academia. He worked with the university administration, built a solid team, raised capital, and created long-term sustainability by preparing students for successful careers.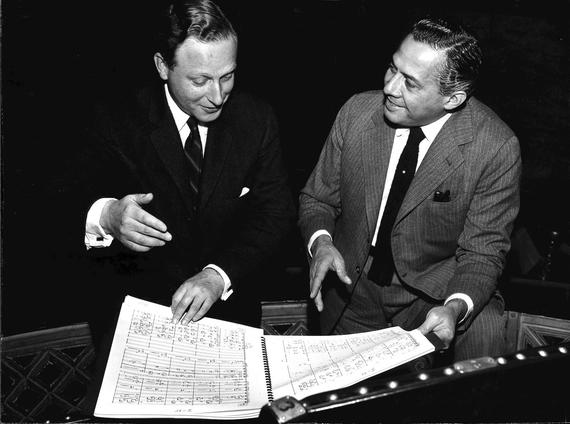 Image: Irving Fine and Eleazar de Carvalho, Boston, 1962 (Irving Fine Collection, Library of Congress)
Fine surrounded himself with the rising stars of his generation in American music, by bringing Aaron Copland, Leonard Bernstein, Harold Shapero and Arthur Berger to the faculty. He connected the school to flagship arts institutions like the Boston Symphony Orchestra and Library of Congress. Fine quickly expanded the arts programs at the university under the auspices of a new School of Creative Arts, which affords students the support and training required to create their own unique paths into the arts industries. Rather than developing a music technology product, Fine's work as a music entrepreneur was to create an engaging environment for students and faculty to pursue their own creativity.
In 1952 Fine launched a Festival of the Creative Arts at Brandeis, which boasted an astounding line-up of artists and works that have been immortalized in the standard canon of 20th century American culture. Leonard Bernstein was brought to the Brandeis music faculty and directed this first festival, conducting the world premiere of his musical operetta Trouble in Tahiti (1951). Jazz was represented with performances by emerging musicians Lennie Tristano, John Megehan, Miles Davis, Max Roach, Roy Haines, and jazz impresario George Wein, who founded the Newport Jazz Festival. Merce Cunningham's choreography for Stravinsky's ballet Les Noces (1917-1923) received its Boston premiere, in a performance that included performances by legendary soprano Phyllis Curtin, a chorus prepared by Boston Pops conductor Arthur Fiedler, an orchestra conducted by Leonard Bernstein, and Cunningham dancing. The crowning achievement of the festival was the world premiere (in a concert performance) of Marc Blitzstein's English adaptation of The Threepenny Opera by Kurt Weill, with Weill's wife Lotte Lenya playing the role of Jenny.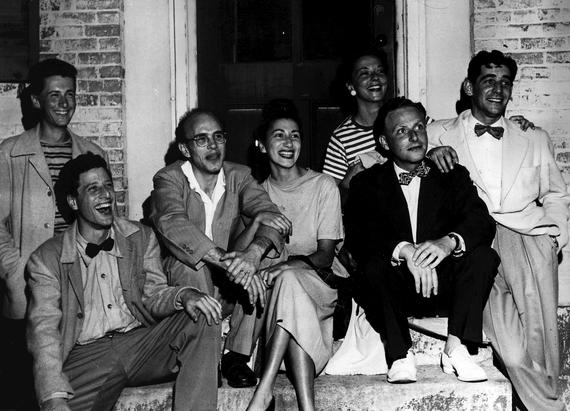 Image: Claudio Spies, Lukas Foss, Harold Shapero, Esther Geller, Verna Fine, Irving Fine, and Leonard Bernstein, Tanglewood, 1946 (By Ruth Orkin, Irving Fine Collection, Library of Congress)
Fine's legacy goes way beyond that first festival, though it serves as a tangible product of Fine's work on behalf the artistic community in Boston and the United States. In the Brandeis music department Fine cultivated a strong curriculum in musicology and composition that has produced some of the leading figures in art music (composers Peter Lieberson, Steven Mackey and Scott Wheeler). His leadership of the School of Creative Arts created a training ground for many entertainment icons like playwright and TV writer Theresa Rebeck (Smash), actress Debra Messing (Will & Grace, Smash), Friends co-creators David Crane and Marta Kauffman, Tony Goldwyn of Scandal, president emeritus of The Kennedy Center Michael Kaiser, and actress Loretta Devine of Dreamgirls and Grey's Anatomy.
The entrepreneurial spirit seems to be in Fine's blood, as his grandson Isaac Hurwitz is a leading figure in the musical theater industry. Hurwitz co-founded and served as executive director/producer of the New York Musical Theatre Festival (NYMF), a unique organization that has presented over 350 new musicals. NYMF's productions have gone on to win the Pulitzer Prize for Drama, Tony Awards, Outer Critics Circle Awards, Drama Desk Awards, and countless others. Hurwitz is now creative director for Fox Stage Productions at 20th Century Fox. Another of Fine's grandsons, Sam Stein, is a leader in his respective field of journalism as the Senior Politics Editor for The Huffington Post. At HuffPost, Stein has helped shape the way journalism and political commentary engages with readers through the digital realm.
The centennial of Fine's birth has been celebrated throughout the past year with concerts and events at Carnegie Hall, the Library of Congress, the Contemporary Music Center of Milan, and many other venues in the United Kingdom, Canada, Seattle, Boston, New Haven, and beyond. This global tribute to the very model of a modern music entrepreneur culminates with the release of a new recording of his complete orchestral works by the GRAMMY-nominated Boston Modern Orchestra Project (BMOP) , conducted by Gil Rose. This new recording, produced by BMOP/Sound in collaboration with The Irving Fine Society, is a tribute to the entrepreneurial spirit that Fine imparted upon his family and generations of Brandeis students. It is fitting that BMOP, which is a global leader in recording contemporary orchestral music, is at the heart of this collaboration. In this modern era of music entrepreneurship, it is worthwhile to revisit Fine's life and celebrate his centennial from the perspective of learning from this multi-talented exemplar of the best traits in the music industry, both as a creator and entrepreneur.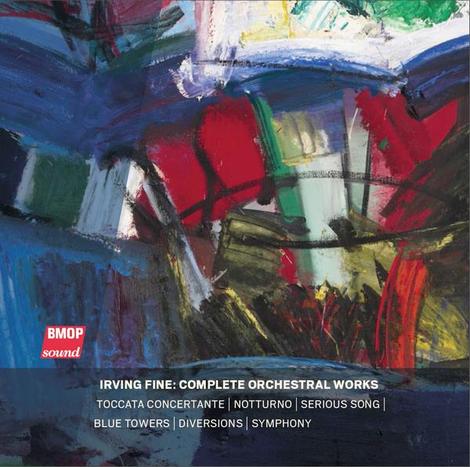 Image: Irving Fine Complete Orchestral Works (BMOP)