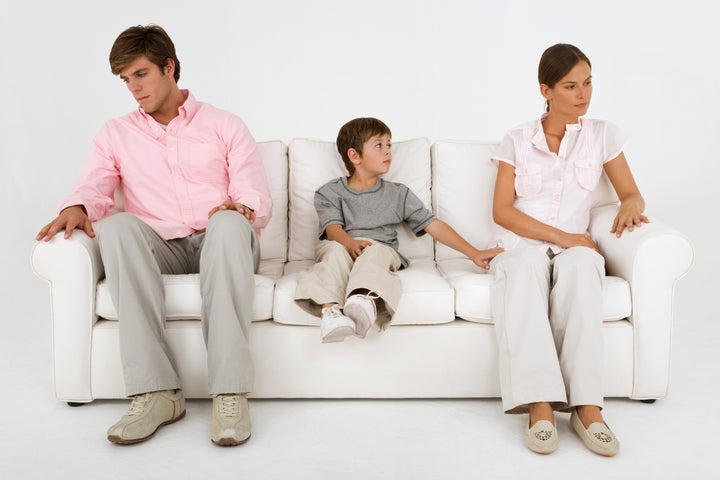 "My parents only ask us to sit together in the family room when they are mad at us or have something serious to tell us."
"I knew something was up but didn't expect the "D" word.
"My parents never fought; I always thought we were the perfect family."
These are just some of the insights from children who discuss the moment they found out about their parents' separation/divorce. Interestingly, when you start talking to children about this type of family transition, you may find out that they want to wear rose-colored glasses, even though they know all wasn't well with their parents' relationship.
While most teens will say that separation/divorce is no big deal and that it does not affect them, it does not necessarily reflect how they feel. Research shows that the initial impact of a separation hits children harder for children whose parents did not fight in front of the children. These children and teens are shocked because most children do not think about their parents' relationship. They assume and need to assume, to maintain their feelings of security, that everything is alright. Explaining a pending separation/divorce is critical for parents to do; it sends an important message to the children that the children count, and as painful as discussing the pending separation may be, it is important for parents to include their children.
What helps children when parents explain a separation or divorce?
1. Before you tell the children, speak to your spouse and decide what you will tell the children. Both parents should have the opportunity to speak.
2. Say what you think will be most helpful to them. Many parents want to tell exactly what happened in their adult relationship to their children. Parents can explain to their children how what they want to tell them will help them in understanding the separation.
3. Do not disclose adult information to your children. It is fine to say that you and the other parent had difficulties and that you were going to counseling, but could not resolve the problems. At the same time there are certain realities. If a child witnessed abuse, you need to label it as such and explain that this was not a healthy way to live.
4. Try to avoid the statement that you and your spouse or partner do not love each other any more. Children extend the loss of love to themselves.
5. Tell children about the separation when both parents are still living in the home and give them time to ask each parent questions or spend time with each child.
6. Wait to tell children until you have some idea about what will transpire once there is a physical separation. Give the children a picture of where each parent will live, when they will spend time with each parent, how their lives will change and most importantly, what will remain the same. Many children fear moving from their home, leaving friends, pets and schools.
7. Some children may react immediately by crying, running to their rooms, or denying that the pending change is any big deal. Accept each child's reaction and reassure them that they can ask you questions or express their feelings at any time. Be open to answering their questions for as long as they need to ask you questions.
8. What you say needs to be based on the age of your children.
Children also have different reactions at different stages of development. Younger children may not understand and may imitate their older siblings' reactions. Children, ages 6-10, may worry about their parents, worry about everything being fair in terms of time with each parent and may be profoundly sad that their picture of a perfect family has been shattered. Older children may deny having any feelings but we find that middle school kids spending more time alone are still fearful of being alone and may be very angry because this is a time of great change for them, especially when they want to fit in and be the same as everyone else. Teens in high school may become instant caregivers, neglecting their own needs to be a parent's confidante or caregiver for siblings.
While explaining family transitions may be very difficult for parents, the hope is that the moment serves as a springboard for other moments such that open communication, expressed feelings and hope develops as the changing family work together in perhaps a healthier way than ever before. There is no perfect explanation. Don't worry if you feel you missed something the first time you shared the separation news with your children. It's important to go back and explain it in the way you would want them to remember. Even as children get older, they need to hear that the divorce had nothing to do with them.

Popular in the Community