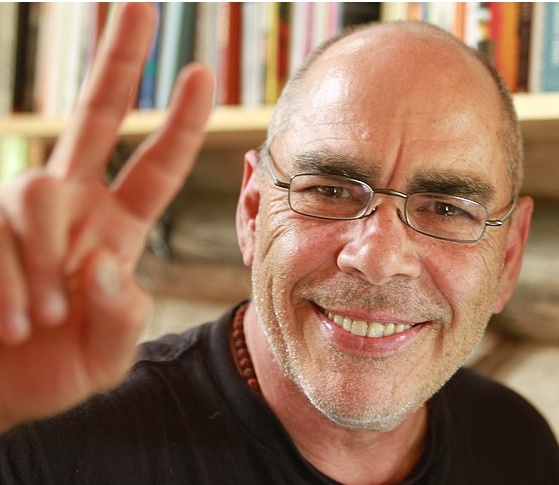 For Jimmy Santiago Baca, now a highly-acclaimed poet and writer, that moment when the power of words changed his life came as he was about to stab someone during a robbery he was committing. As he got ready to plunge a knife, he heard a voice tell him not to because "Then you'll never be a poet." He stopped short of murder and went to jail for robbery instead, but while in jail, after attributing the voice that saved a life to poet Pablo Neruda, he started reading and writing his way to a new life.
Santiago Baca, one of the keynoters at the Power of Words conference, Sept. 18-20 in Kansas City, has since turned his writing and his work toward helping others have similar moments. Through his organization, Cedar Tree, Inc., he offers writing workshops in prisons and community centers, and through schools and in detention centers for at-risk youth. His story, like the stories of so many people I've heard, shows us the power of the arts--particularly the calling to create--that can turn around a life gone destructive or self-destructive. As someone who has facilitated community-based writing workshops for many years, I've seen this power in action in a myriad of ways:
Teri, diagnosed with late-stage cancer, was fully prepared to die after years of hard work and even harder depression. In fact, her diagnosis was a relief to her. Strangely enough, she lived. While coping with the despair and anger that followed her unlikely remission, she started taking writing workshops with me, first for people living with serious illness, and then more general classes. Sitting in over overstuffed chair in my living room during a small writing group, she wrote her way into an epiphany: now that she had faced the worst in life, she was completely free to construct her life anew to better reflect what she wanted and needed. Since that time over 12 years ago, not only has she survived, but she's thrived, attending classes on spirituality and meditation, chair yoga and various healing arts, and of course, every writing class that comes across her path. She credits writing as enabling her rescript her life.
A gaggle of at-risk teenage girls, many living in trailers on the outskirts of town while their mothers battled or succumbed to addiction or abusive relationships with men, wrote together with a group of retired women living in a swanky assisted living facility in a small Kansas town. As I facilitated these workshops, I noticed how quickly the girls and elders bonded; within weeks, the girls were sitting in the laps of their older friends, showing them their latest poems. Within a few months, the girls began writing new versions of their futures that included going to college, doing a job they loved, finding a good relationship, and reclaiming their injured spirits. The older women also came alive, finding people to listen to stories of what they valued, who they loved, what they learned throughout the meandering maps of their lives.
Rich, someone who had always felt like an outcast as he made his living as a traveling salesman for decades, worked with me as he pursued a master's degree in literature and creative writing at Goddard College. Although he was a white, 60-ish married man living in Midland, Texas, he discovered, through the writings of Audre Lorde--an African-American, feminist, lesbian write, a call to his own spirit, which led him to the writings of more women, then to create his own collection of poetry. In time, his writing and reading catapulted him into leading storytelling workshops in a local nursing home, helping others land on their truest stories.
A moment. Some words on a page that show us what we really know or no longer know. Sometimes that's all it takes to pick up the thread of what's strongest and most vital in our lives, and cultivate the courage to follow that thread. Like the people I've worked with, I've lived the same story. When I was 14, in the middle of my parents' long-winded and painful divorce, I picked up a journal and wrote a poem. For years beforehand, I focused all my free time on drawing and painting, but now I needed words, and words didn't fail me. One poem led to another, and I followed. All I knew was that I needed to write, to make something that would show me where next to step. In the process, which has been rolling through the core of my life for over 40 years now, writing has continually opened up my peripheral vision, showing me more of the possibilities, tenderness, dangers, and inherent vitality the world has to offer.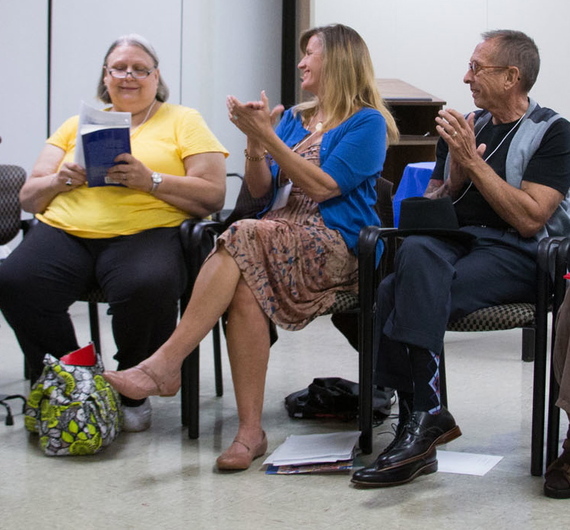 This is the same impulse that led me to help found Transformative Language Arts at Goddard College, a MA degree in changing the world and ourselves through what we write, tell, perform and create with words, and from there, the Transformative Language Arts Network, which is organizing the conference that Jimmy is coming to this weekend. In all this work, I witness how much one moment of finding the words to name who we actually are can change many more moments that follow.
Calling all HuffPost superfans!
Sign up for membership to become a founding member and help shape HuffPost's next chapter