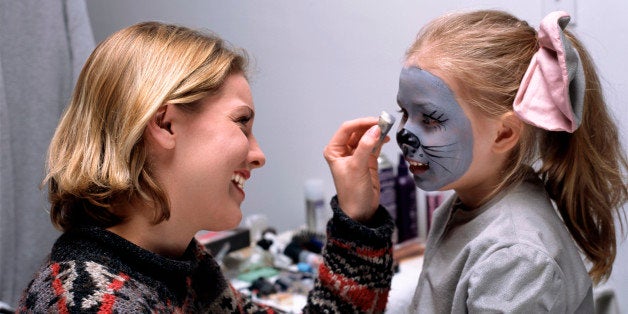 The holidays tend to bring out the best and worst in people, especially parents. Insecurities bubble to the surface as we try to outdo each other and even ourselves. With Halloween, we embark on the wonderfully judgy and stressful holiday season, which, of course, also includes Thanksgiving, Christmas and Hanukkah. Each holiday has its own challenges and excitement, but let's start by examining Halloween and the types of moms we all know and love, or love to hate...
You know this mom. She is the master of DIY all year round and Halloween is no exception. She comes up with an unbelievably creative theme and makes costumes for her entire family by hand. And, no surprise, she also throws an elaborate annual Halloween bash at her huge and immaculate house. You're not quite sure how she could possibly have the time, what with her four kids, full-time job and position as PTA president.
2. The Eco-Friendly Fairy
This Earth Mama doesn't want to burden our planet's resources, even when it comes to Halloween. She buys all of her family's costumes second-hand and participates in a local dentist's candy-buy-back program -- the candy gets sent to troops overseas and she donates her earned money to the local children's hospital!
She has boycotted the holiday ever since the neighborhood bully stole her bag of Halloween candy in the second grade. She continues the tradition by keeping her kids home on Halloween, turning off the front porch lights to discourage trick-or-treaters from visiting, and the next morning, she employs the help of her disgruntled family to wash egg off the house, car and mailbox.
4. The (Organic) Pumpkin Queen
If you look up "Crunchy Mom" in the dictionary, you'll find this woman's picture. She's all about feeding her family nothing but locally grown organic produce and free-range, grass-fed antibiotic-free meat. Halloween candy? Fuhgeddaboudit! She welcomes the "Switch Witch" to swap out her children's bags of candy on Halloween night for a gift, such as a new book or toy. She doesn't know her kids have a secret stash of the forbidden candy under the floorboards. Gasp!
This mom has a laissez-faire parenting style that lends itself well to a fun and stress-free Halloween for her whole crew. She sets her kids loose at the local Goodwill to pick out costumes themselves and sends them off with friends to trick-or-treat. Later, the family gathers to excitedly examine their loot (parents making sure everything is safely wrapped, and kids trading their favorites).
Which "Mom of Halloween" are you? Are you a combination of a few? Share in the comments section below!
Support HuffPost
A No-B.S. Guide To Life
Related
Popular in the Community