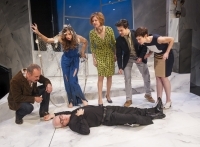 Let me just say that the twice-extended production of Amy Freed's terrific The Monster-Builder at the Aurora Theatre Company, in Berkeley, comes to an end after just six more performances. Tickets for the next four nights are limited, though Saturday night and the Sunday matinee look good. So before you read any further, may I suggest reserving a seat and then meeting back here?
As one of Freed's friends, actor Rod Gnapp, has said of this San Francisco-based playwright, "She's irreverently funny and wicked smart, and she tackles big projects and big ideas." That she is, and that she does. She may first have come to the attention of Bay Area audiences with A.C.T.'s The Beard of Avon, several years ago. Some people don't think the historic Shakespeare was genius enough to have written the plays attributed to him; Freed did her usual heavy homework and tackled the question in a smart, sophisticated, highly entertaining way.
She's done the same with topics such as Emily Dickenson's habit of rushing to the bedsides of dying neighbors (The Ghoul of Amherst) and the sex lives of Edgar Allen Poe and his child bride cousin (Claustrophilia); she's also pondered crazed Roman emperors (You, Nero) and troubled 20th-century poets (Sylvia Plath, Ted Hughes, Robert Lowell and Anne Sexton, in The Psychic Life of Savages). So you can see she's about far more than story telling -- or rather, that she tells wicked smart stories in an irreverently funny way, always tackling a big idea or two.
Now comes The Monster-Builder. Freed took her title from Ibsen's The Master Builder and inspiration from the poorly designed modernist home in which she grew up as her parents' marriage fell apart, which led her to think about "messy human lives in designed environments." Her father was an architect, so she's long noticed the many cold, look-at-me structures that are more a monument to the architect's ego than a comfortable place for human beings. Her latest play, satiric, thought-provoking and very funny, considers human scale versus prize-winning buildings, pretension, preservation and power.
Most of the action takes place in the steel-and-glass home of Gregor Zubrowski, an egomaniacal "starchitect," dressed always in black with showy black-rimmed glasses, whose abiding self-importance is as hilarious as it is ultimately maniacal. The six-member cast is uniformly excellent: local treasure Danny Scheie as Gregor; Sierra Jolene as his arm-candy girlfriend, Tamsin; Tracy Hazas and Thomas Borrebeeck as Rita and Dieter, young architects who want to preserve a beloved local boathouse; Nancy Carlin as Pamela, the wealthy daughter of a man whose demise she blames in part on one of Gregor's buildings ("What kind of person would make an Alzheimer's patient have to get to the cafeteria through a maze?" -- that's a quote from memory so probably not exact), and Rod Gnapp as her beer-drinking developer husband, Andy. Andy builds condos with kitschy designs and names like Versailles Acres and Casa Chateau, so the play isn't making an either-or point. Freed would never write anything so simplistic. She will get you thinking, she will make you laugh; the actors do every word she's written honor.
Through Dec. 20, Aurora Theatre Company, 2081 Addison St., Berkeley, 510.843.4822, auroratheatre.org.
Photograph, from left: Rod Gnapp, Sierra Jolene, Nancy Carlin, Thomas Borrebeeck, Tracy Hazas, Danny Scheie (on floor)
Credit: David Allen
Calling all HuffPost superfans!
Sign up for membership to become a founding member and help shape HuffPost's next chapter