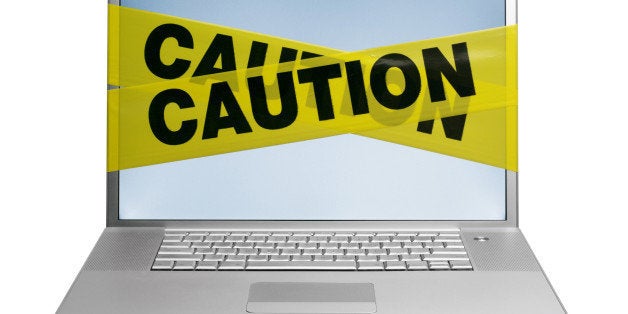 It will never happen to me. I keep my social media profiles on private and I would never consider meeting up with someone I don't know. These are the famous last words of many young girls who have fallen victim to cyber criminals. I have hesitated to tell my story, mostly because he's still out there and I don't know where he is or if he is still peering into my social media. I've tried to block him out of my mind and to be honest, I remain a bit afraid but realize sharing my story has the potential to bring awareness to an important issue of cyber education and safety for youth.
A little backstory: My parents are amazing and have always taught me cyber safety. I started using social media and texting when I began my middle school years. They knew the passwords to all my social media accounts and honestly I never minded the fact that they always had access. I had nothing to hide and in an odd sort of way, this made me feel a little safer as I surfed the great big cyber world.
At the age of two, I was signed with Neal Hamil Agency as a baby model. I spent several years playing dress up for print ads and even modeled as a boy when the boy model cried and photographers looked at me and said "Dress her as a boy". I don't remember much of these days but it must have been a positive experience as I carried the love of modeling into today. Acting was another hobby that presented opportunities that has allowed me to work with networks such as NCB and ABC Family and brands such as Foot Locker, Fox Sports and fashion designer Betsy Johnson. I had experience and three agents but that didn't stop him from targeting me. Little did I know, I was vulnerable and was an underage teen who never thought someone would ever think of abducting me. I was just a typical suburban girl. I was also VERY wrong.
It was a hot Texas summer day when I received an email from a very professional media company. They were looking for teen girls to be featured in a new energy drink commercial that was not yet advertised to the public. The commercial was to be filmed in Los Angeles, California and the payout was $6,000.00 AND they were interested in me! I was on his radar and this email was our first encounter. I immediately alerted my mom and was quite excited at the idea of a $6K payout. I remember her telling me, "Before you get too excited, let's check them out thoroughly before we respond." We did and things looked legitimate. The company's clients were high profile brands and the director who contacted me was indeed listed on their website. Because I did not have an L.A. agent and mine were not bi-coastal, my mom helped me draft a professional response and within a few days, I had a Skype audition scheduled with the director himself.
It's audition time! My mom allowed me to go upstairs and Skype with the director. She listened in but gave me space to do my best. I was old enough to know if he was creepy or unprofessional...or so I thought I was. The director was punctual and greeted me via Skype with enthusiasm. He looked and acted very professional and appeared to be in an office that was decorated nicely. He was extremely attractive and very good at his "job". He asked me questions I've been asked in auditions a million times so I was beginning to feel quite comfortable with his style and genuine behavior. He knew all the buzz words and discussed the commercial in great lengths. After we talked for a while he asks me if I would mind changing into a bikini bathing suit. This did not strike me completely odd due to the fact that the commercial required talent to wear a bikini. For a fleeting moment, I felt uneasy and remembered we sent head shots and bathing suit photos, however many times those can be photoshopped and altered so his request seemed appropriate at the time. He waited for me patiently as I changed. When I returned he asked me to step away from the camera and turn to the side, back and front. As I write this I feel violated and it sickens me that this happened but at the time it seemed everything was normal and he made me feel like I was a strong candidate for the commercial. My audition ended and all I could do was wait. The director emailed me to thank me for a great audition. He complimented me in the most professional manner. I felt good about this. This might be a big break for me.
Several emails were exchanged with various questions and we became even more familiar with each other. He discussed details with my Mom as I was underage and there were forms to sign, etc. He told my mom he would pay her way to L.A. as well. This was their company policy. This gained trust from not only me but my mom as well. I know you're wondering, and the answer is yes, she did call the company and confirmed his employment as a director. Again, there was no creepy or weird vibes, only professional exchanges. One of the last emails I received was a request for my cell phone number so he could text and call me. He said his driver was taking him to L.A. so texting would be easier. O.K. this is the moment where we see a little red flag waving. The emails got more aggressive and he was becoming impatient that I had not shared my cell number. We decided to share my mom's cell, not mine and see what happens. His texts were no longer quite as professional. He had invested a great deal of time with me and he was becoming angered that I was not as forthcoming as he would have liked. I am not comfortable sharing all the details but I can assure you without a doubt this man was on a mission to abduct me. My initial thought was to end all communication and be done with this man, but he knew too much and what if he he knew where i lived or went to school. Panic has set in...
My mom called the company once again and asked if this director was auditioning girls for a commercial in L.A. The company representative became very alarmed and quickly linked us to their C.F.O. They were quite concerned about my safety and well being. This was not the first time they had heard this and they were in the process of trying to capture this man with the help and assistance of the LAPD. We were sent to the cyber crimes unit at the HPD. The investigators were able to ping this monster and when we were told there was a ping nearby us, my heart began pounding and it was only then that I realized just how serious this was. He was never in LA and he was not the person he said he was. He used another company's website and employee names to legitimize his role throughout our communications. I was not alowed to be alone for weeks while the investigation continued. I couldn't help but wonder how many times he was watching me from afar as I met with my friends at Starbucks, or shopped at the mall.
I feel lucky that I am here to tell me story. Many are not, and this is one of the most important reasons why I feel Cyber Citizenship should be taught in schools, which will help keep youth on the lookout for that little red flag that saved my life. I am thankful and honored that the Texas Education Agency has approved my Cyber Citizenship Course (PEIMS Code: N1260001) for all Texas public high schools. My life is forever changed. There's not a day that goes by that I don't wonder if he's still out there and what young girl he is targeting. Instead of hiding, my mission is to bring awareness to youth on the importance of cyber safety.
Share my story ~ Save a life.
Calling all HuffPost superfans!
Sign up for membership to become a founding member and help shape HuffPost's next chapter