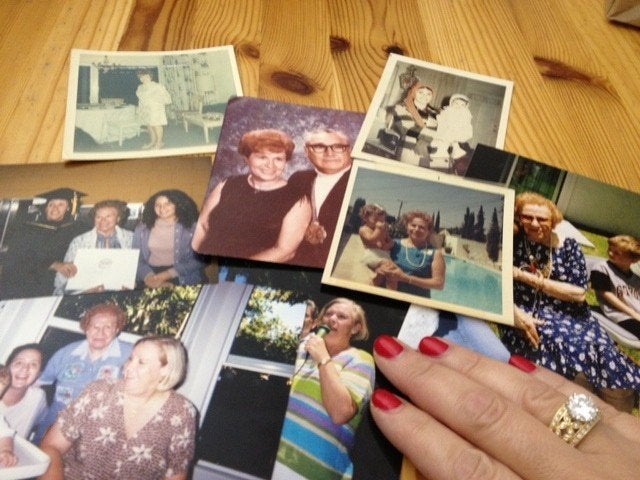 I call it, The Monster. It's enormous.
Yes, it's true that Jennifer Aniston's is bigger. Ditto Jennifer Lopez'.
It may not be Hollywood big, but it's close. Nearly five carats. And it's shiny. It was my grandmother's, then my mother's, and now it's on my finger.
The Monster is a diamond, and it came into our family because my grandmother married well. Her husband liked to buy her shiny things. Big, shiny things. Diamonds, Cadillacs, you get the picture.
The Monster was set in a white gold setting that circled Grandma's finger in a leaf design. It was her signature ring. She wore it every day. Grandma believed that beautiful things should be enjoyed and not hidden away in a safe somewhere. So, she wore diamonds to the grocery store. Diamonds to baseball games. Diamonds to the park.
She left it to my mother, who had much different taste. Quickly, Mom had the ring changed. The Monster was tucked into a massive platinum setting. "Isn't it beautiful?" she asked me when she got the ring back from the jeweler. She stuck her hand out, wiggling her fingers to give me the full effect by making The Monster catch the light.
The setting was cold and hard, but I nodded my head. Picking up on Grandma's lesson, Mom wore it every day. A thing of beauty to keep her company, it was also the symbol of her father's love. And most importantly, according to her, she didn't have to rely on a husband (well, not her own) for it.
She left it to me. And it remained in a box for over a year because it had become a symbol of loss. The great matriarchs of my family were gone, and how dare I take their place? My mother had told me she expected me to wear it every day when it came to me, but I couldn't bring myself to put it on my finger.
Sometimes we are not ready to accept the gifts of the women who go before us. Their love, knowledge, and secrets are imparted through the years, doled out in small lessons that grow through time, layered over each other, building in strength until we are ready to go out on our own. Grown. Strong. Women.
A family story. A recipe. A ring. We're not aware at the time that these are the building blocks of our identity and our connection to our female lineage. But when we lose the maternal figures in our lives, we lean back on these seemingly small inheritances to steady ourselves, as we continue their journey through our own experiences.
A year and four months after my mother passed the ring to me, I took it to the jeweler. I turned the pages of book after book of settings until I settled on the perfect one. Yellow gold. An Etruscan filigree design with little diamonds over it. And in the center: The Monster.
"Isn't it beautiful?" I asked the jeweler, gleefully, when the ring was finally finished. I stuck my hand out and wiggled my fingers. I watched in awe and joy, as the diamond caught the light, shining brilliantly. Suddenly, I saw what my mother had seen years before: My grandmother and my mother, there with me, supporting me as I continued where they left off.
PHOTO GALLERY
Beth Bernstein
REAL LIFE. REAL NEWS. REAL VOICES.
Help us tell more of the stories that matter from voices that too often remain unheard.