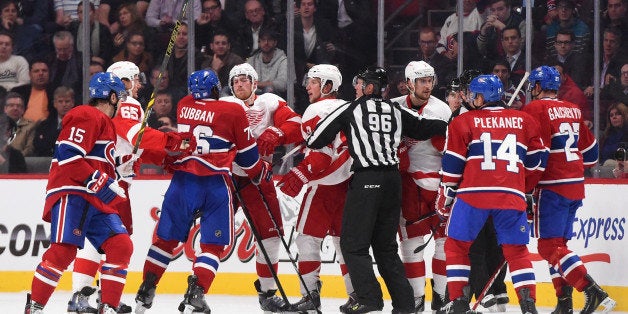 One of the great debates among NHL fans is whether certain referees tend to favor or go out of their way to penalize a specific team. Many fans think -- and some are truly convinced in their hearts -- that the officials are "out to get" their favorite team.
In terms of perceived favoritism, pretty much ever since the Richard Riot in 1955, there has been a common claim around the league that officials give the Canadiens the benefit of the doubt on calls in home games. Toronto is another venue about which fans of rival teams often make similar claims. Sometimes it is a player or coach unwisely tossing out that accusation on the ice.
Officials have a job to do on the ice and they do it. Period. I can honestly say that I never cared one iota what building I was in or which two teams were playing. That's how any official who achieves longevity treats the game. As a player, I was never intimidated by any other player, a hollering coach or any hostile crowd. I was the same as a referee.
I will never deny that there's a human relationship dynamic at work in officiating. On every team, there are some players with whom you have a better rapport than others. There are also some coaches, GMs and other people tied to the various organizations that you like more than others. However, as Kerry Fraser has said -- and I agree with -- even if you get mad at a player or coach, you are not going to deliberately punish the entire team. If you do that, you're also punishing the ones you like. That's just real-life human psychology.
Good officials come to realize over their careers that the players and coaches are under pressure to win and competitive by nature. Most of them are good people off the ice. Well, the opposite is also true. The savvier players and coaches come to realize over their careers is that most officials are good people off the ice and have a tough job to do in the ice. That's how acceptability gets developed, and relationships move on without grudges being held for things said and done on the ice.
There are certain locales around the NHL where the games instantly have more visibility and scrutiny: places like Montreal, Toronto, New York or Philadelphia. The passion is intense and every controversial play or call gets scrutinized and magnified that much more. I always found those atmospheres to be exciting and fun.
Strange things have a way of happening on the ice, no matter where or what level the game is being played. The only difference is that when these things happen in an NHL game in a locale like Montreal or Toronto, many more people see and talk about it. Within NHL circles in general and across Canada, the wide visibility of these teams has long produced a sort of "water cooler chat" effect the day after a big game.
Here's a little story about a Canadiens versus Capitals game that I worked in the early stages of my career. Keep in mind that this happened before the use of video replay.
The game was a scoreless deadlock in the third period when the Habs finally got a shot past Washington goaltender Pete Peeters. I had to disallow the goal because the Canadiens' Guy Carbonneau was in the crease -- actually above the crease, as he jumped to let the puck go through -- and prevented Peeters from having a fair shot at making the save.
I skated over to the scorer's table to explain that the would-be goal would not count. As I am standing there, the phone on the bench rings.
"It's [Habs GM] Serge Savard," the scorer said. "He wants to talk to you."
"It's Savard," I said to linesman Ron Asselstine.
"Don't talk to him!" Asselstine said.
I reached for the phone anyway. Ron shot me a disgusted look.
"Stewy, you have to allow that goal," Savard said. "There was no good reason to wave it off."
"Serge, there was a real good reason to disallow it. Carbonneau was in the crease and he prevented Peeters from having a chance to make the save. Over and done."
Savard persisted. "He wasn't in the crease. He jumped out of the way."
"C'mon Serge," I said. "You know that the crease area extends from the ice to the height of the crossbar. Carbonneau might be a good athlete but he's not a gazelle. He can't leap over the crossbar! Second of all, you've gotta know that I'm not about to change my ruling now."
"If you're so sure of what happened and already got your mind mind made up, why would you even take the phone?" Savard demanded.
"Well, Serge," I said, "I thought you were going to tell me you were bringing me pizza after the game and asking what I wanted on it. 'Cause there's no need to debate this call."
I hung up the phone. The game ended in a 0-0 tie.
Back in the officials locker room, Asselstine and I disagreed about the wisdom of me picking up the phone in the first place.
"Stewy, that's going to look horrible to everyone," Ron said.
"How is anyone going to know who I was talking to at the scorer's table?" I shot back.
"Word travels, Stewy," Asselstine said. "People are gonna say we bent over backwards for the Canadiens."
"Well, first of all, talking to someone at the scorer's table is hardly something all that unusual. I talk to people a lot, and..."
Asselstine interrupted. "Yeah, but not to one of the team's GMs during a game."
"Hang on, I'm not finished," I said insistently. "Did I change the call?"
"OK then. Do you think I cared the least bit that we're in Montreal?" I asked.
"No, but I still think it looks bad," Asselstine sad.
Ron and I agreed to disagree in this situation. The truth of the matter, as I see it, is that there were certain people in hockey that I knew I could talk to during a game and others I couldn't talk to. Savard, much like Bill Dineen and some others, was one of the folks I could have an in-game rules discussion with even if they had a personal interest in the outcome of a game. I'd have extended the same courtesy to "the Senator" if he was on the Capitals side and the call went the other way.
A few minutes later, there was a knock on the door. It was Serge Savard, holding a box in his hands.
"I brought you a pizza," he said. "But I forgot to ask what you wanted on it."
Every city around the NHL has its strong points and its quirks. Personally, I always enjoyed visiting Montreal and seeing what the city had to offer. During my brief NHL playing days, I was a member of the arch-rival Nordiques from Quebec City. Even so, it's hard not to appreciate the hockey tradition of the Canadiens and the city of Montreal's cosmopolitan charms.
During the 1989 Stanley Cup Playoffs, the NHL assigned me to referee three games in the Montreal-Hartford playoff series. Before Game 2 in Montreal, I was feeling mighty good. It was a beautiful spring day on that April 6, and I felt on top of the world.
I dressed up in a handsomely tailored new sport jacket and strolled out of my hotel on Sherbrooke Street, feeling suave and debonair. I headed to Rue Ste. Catherine, where I stopped to watch a street performer do a juggling act and pondered which night spot I would wear my slick duds for dinner with my officiating teammates after the game.
Ah, the glamorous life of a bon viveur. Well, not quite.
Acting in solidarity with every hockey fan, coach, player and League official who told me that I was excrement as both a referee and player, a seagull flew over head and machine gunned me. I got, um, splashed on my head and all over my new jacket.
As I arrived at the Forum, everyone was doubled over with laughter, especially my officiating brethren.
"Well, look on the bright side, Stewy," someone said. "They say it's good luck."
"Yeah," I retorted. "Good luck finding a dry cleaner before game time."
After the game, I showered and left the arena in my decorated suit. The glamorous life, indeed.
In one of the series games, a skirmish broke out on the ice. As he was wont to do, Montreal's Claude Lemieux used the opportunity to deliver cheap shots to a prone opponent as the rolled around on the ice.
During my minor league refereeing days, I had a previous confrontation with Lemieux where I picked him up and physically dumped him into the penalty box. This time, I yanked the 225 pound Lemieux up off the pile. Claude wasn't happy with me, but too bad.
As it turned out, NHL President John Ziegler was in attendance. Before the next game I worked in Hartford, Ziegler pulled me aside.
"What you did with Lemieux there, is that, um, normal for a referee to do?" he asked.
"No, not really," I replied, a bit sheepishly. "But it was an unfair situation and I thought I had to make it fair. Referees have to try to make things as fair as possible. I just happen to be physically strong enough to handle it against a big guy like Lemieux."
Ziegler smirked. "Yeah, I saw that."
That was the last the heard of it.
My sport jacket, by the way, was a goner. It went from something out of Johnny Carson's wardrobe to a Flock of Seagulls souvenir. Hey, it was the '80s, after all.
Paul Stewart holds the distinction of being the first U.S.-born citizen to make it to the NHL as both a player and referee. On March 15, 2003, he became the first American-born referee to officiate in 1,000 NHL games.
Today, Stewart is an officiating and league discipline consultant for the Kontinental Hockey League (KHL) and serves as director of hockey officiating for the ECAC..
The longtime referee heads Officiating by Stewart, a consulting, training and evaluation service for officials. Stewart also maintains a busy schedule as a public speaker, fund raiser and master-of-ceremonies for a host of private, corporate and public events. As a non-hockey venture, he is the owner of Lest We Forget.
Stewart's writings can also be found on HockeyBuzz.com every Monday, Tuesday, Thursday and Friday. He is currently working with a co-author in writing an autobiography.
Related
Popular in the Community