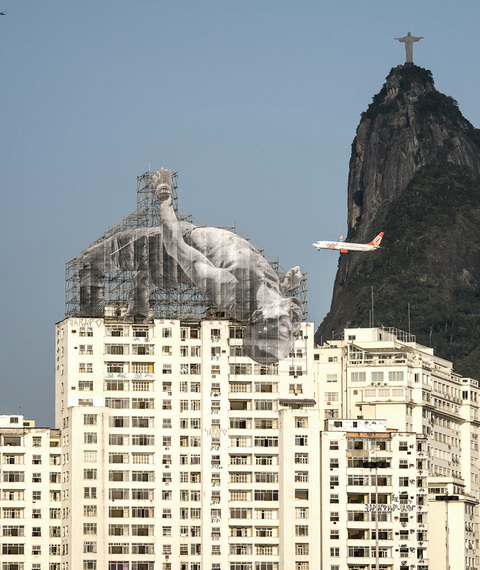 JR (Jean René) is an accidental artist - or so he claims. On his Twitter account, he states: "I am an artist, until I find a real job". The works he has created for the Rio de Janeiro Olympic Games look nothing like accidents. The giant scaffolding pieces dominate the skyline of some parts of the city, and cannot be ignored. They are baptized The Giants, and represent actual athletes.
Your eye catches the web of lines and tubes before you even see the shapes. The scale of the creations dwarfs the building and places they are built upon. The agility and eerie lightness of the bodies they represent simply feels at ease in the air above the city or by the waterline. The black and white images and their installation scaffolding are both equal part of the work.
Such scale is a habit for JR. Before Rio, he was the photographer who took very large pictures plastered on the walls of cities. In 2015, it was a 150-foot tall walker lying flat on a street of New York City, near the Flatiron building. Early in 2016, JR made the Louvre Museum pyramid seemingly disappear - a big success with Parisians and tourists alike.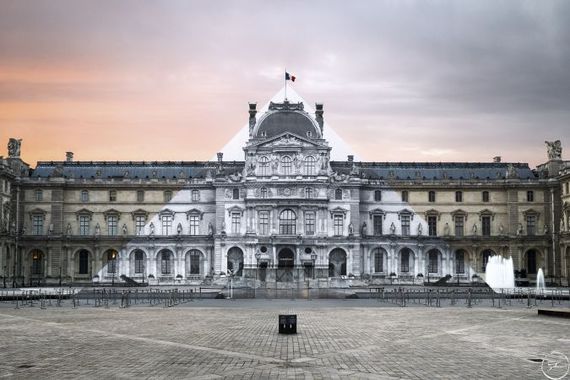 JR also realized a short movie with Robert De Niro, written by Eric Roth. The fiction short, "ELLIS", relives the memory of the 12 million immigrants escaping poverty or discrimination in their countries who landed at Ellis Island between 1892 and 1954 - entering the USA via New York.

In 2014, for his first foray into dance, JR created an acrobatic ballet for the New York City Ballet, with music by French Woodkid artist, and principal dancer Lil Buck Riley from Memphis, an adept of street dance called jookin - a mix of jerky gait, gangsta walk, and street styles such as sneaker-toe-stepping .
With the Inside Out project, JR covered entire walls with photo collages in 129 countries. In Paris, the national treasure Pantheon monument became another canvas for his inspiration, when the floor and the dome were covered with some 4,000 black and white massive pictures.
So, yes, we could say that this artist is definitely multi-faceted. "I would like to bring art to improbable places, create projects so huge with the community that they are forced to ask themselves questions." JR (Beaux Arts Magazine.)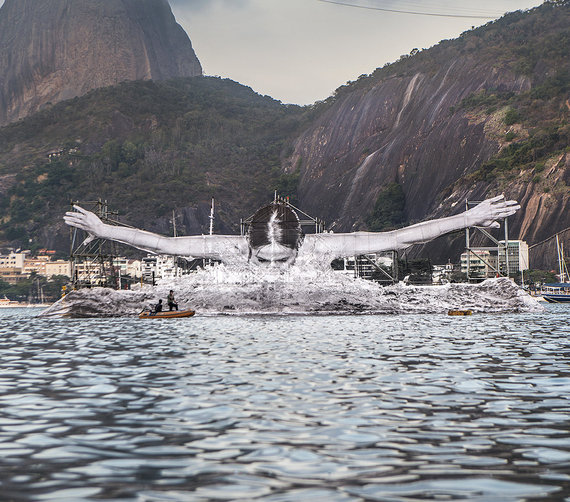 He seems to mix his artistry with mathematics, geometry, photography, and a definite sense of scale in the grand dimension. The wonderful and whimsical pieces of Rio are unique and probably the first of their kind. It's more like landscape art than traditional museum art. Nobody will buy those creations and put them on their living room walls. They are truly ephemeral, in time and space alike.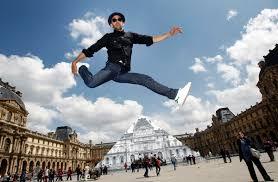 Popular in the Community