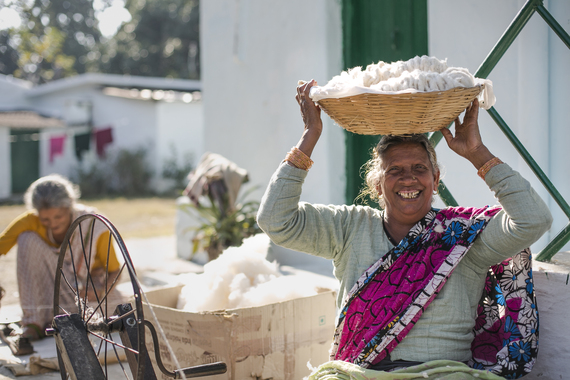 In the foothills of the Himalayas, on the outskirts of Dehradun in a town called Rajpur, sits a bustling network of co-operatives strung together by a family of American social entrepreneurs. If one is fortunate enough to venture to this specific community in India, one would never guess that hundreds of jobs are being supported in different pockets by the Murray's desire to create opportunity for artisans with challenging lives. With the exception of an enthusiastically received coffee and espresso shop, the streets of Rajpur suggest more "Indian countryside" than "social enterprise hub." Yet, with the right guide (and a four wheel drive car), we were introduced to a supply chain so holistically empowering that we've yet to find a rival.
Mel and David Murray didn't come up with their enterprise out of thin air, however. The pair's track record for service as a family began during their honeymoon, when the newlyweds worked with children at an orphanage in Uganda. This moment, like many of the experiences of those serving others, led to the realization that they wanted to dedicate their lives to helping others. But they weren't sure how to go about it.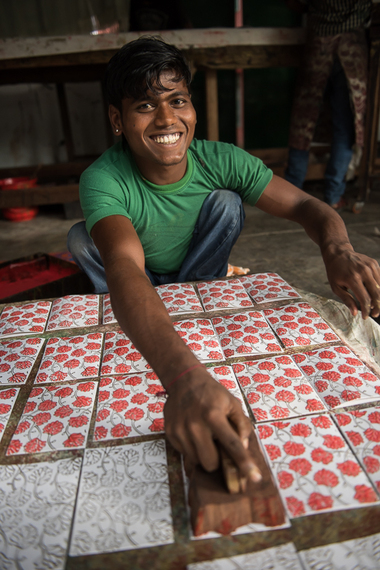 The Murrays felt the "rescuer mentality" was not the solution; people need job opportunities in order to have sustainable livelihoods. So, they packed their bags, went home and began researching. They soon discovered a community in the heart of India's cotton-growing region and, in 2010, they again packed their bags -- and their young son -- and moved outright to Rajpur. There, they founded JOYN, an artisan collective that sells handmade products ranging from clutch hand bags to headbands to pillow covers.
"At the heart of JOYN lies a desire to see lives changed through work," says Mel Murray.
The Murrays believe that every person deserves a good job -- a job that will not only enable them to "get by," but also give a sense of dignity and self-reliance. In order to employ as many artisans as possible, JOYN fashions products that are completely handmade, working with marginalized people, including those who have survived addiction, homelessness, abuse and deprivation. A TO THE MARKET visit to JOYN in September 2014 moved us to tears as we engaged with those whose lives had been transformed by the Murray's vision and more importantly, execution.
"We practice 'Purposeful Inefficiency,'" Mel says, and describes this as the belief that "the more hands it takes to make a product, the more lives are changed by that product."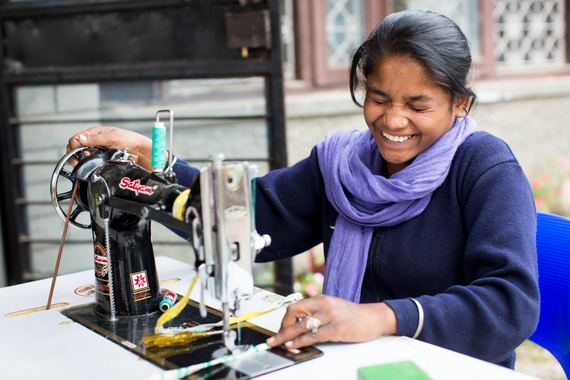 As an example of this philosophy, at least twelve pairs of hands touch every JOYN bag. The materials are grown, harvested, washed, spun, woven, printed and stitched without the use of machines or electricity. The skills required at each phase of the supply chain are significant enough to generate a flood of appreciation for how products are made (a TO THE MARKET team member tried to learn how to spin cotton while visiting JOYN and abysmally failed!).
Through its partnership with Joycorps, a U.S.-based nonprofit that helps fund community development, JOYN is able to provide its employees with steady jobs and a safe work environment, as well as a daily meal plan, education for their children, English and vocational training and medical care.
"JOYN's mission is based on the belief that work is redemptive," Mel says, "and that every person has something productive to offer to the community and society at large."
Despite the plights JOYN's employees have endured, "there is an inextinguishable joy," Mel says of her family's collective. "It is the one thing that continues to amaze me even today." The perseverance of the artisans is, no doubt, extraordinary, but so is JOYN's ability to create transformational opportunity for the twelve individuals crafting each bag.
Click here to learn more about JOYN.
Calling all HuffPost superfans!
Sign up for membership to become a founding member and help shape HuffPost's next chapter