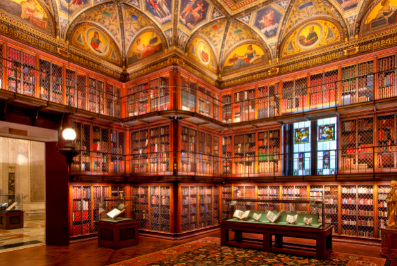 J.P. Morgan's Newly Restored Library
Run, don't walk, to one of Manhattan's finest architectural gems, The Morgan Library & Museum, where the century-old McKim (one of the Morgan's three main buildings) has just been renovated to the tune of $4.5 million.
Morgan began collecting around 1890. Although rare books and manuscripts were his main passion, he was also interested in archeology and collected everything from Egyptian art and Renaissance paintings to Chinese porcelains. In 1924, eleven years after Pierpont Morgan's death, his son J.P. Morgan, Jr. (1867-1943) known as Jack, decided that his father's library was too important to remain in private hands and opened it to the public. Today, it is considered one of the most momentous cultural gifts in U.S. history.
Before the renovation, the library was so dark it was almost impossible to read the titles on the leather-bound books. With the new lighting, now you can even see the gilt on the book bindings. The West Room, Morgan's Study, has also benefited from the new lighting. The coffered wooden sixteenth century Florentine ceiling is now dazzling, just as it must have been 100 years ago. Precious objects have been added to the room including a 1530 globe (one of the earliest known globes recording the world as explored by Verrazano), a 16th century bronze St. John the Baptist, and paintings by such artists as Hans Memling and Jacopo Tintoretto. The plush couches have been reupholstered in rich red velvet, and I can now imagine the bankers who must have sat on them during the 1907 Banker's Panic which J.P. Morgan averted when he convened a meeting in this room.
The biggest change is the former director's office which has been transformed into a gallery and features the earliest objects in Morgan's collection. As William M. Griswold, the Director of the Morgan Library & Museum who oversaw the restoration and refurbishment says, "One comes into this room and discovers the origins of art."
Now on display are Ancient Near Eastern cylinder seals that date from about 3500 BC in Mesopotamia, the earliest known objects using pictorial symbols to communicate ideas. On view also are clay tablets including a seventeenth-century B.C. fragment inscribed with the Babylonian flood epic predating the story of Noah's Ark in the Old Testament.
REAL LIFE. REAL NEWS. REAL VOICES.
Help us tell more of the stories that matter from voices that too often remain unheard.