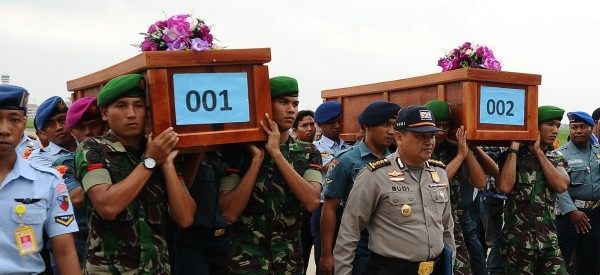 TOP STORIES
SONAR SHOWS POSSIBLE WRECK OF MISSING AIRASIA FLIGHT, FIRST BODIES RETURN TO INDONESIA "Indonesian rescuers believe they have found the wreck of a crashed AirAsia plane on the ocean floor off Borneo, after sonar detected a large, dark object beneath waters where debris and bodies were found floating." At least seven bodies have been recovered so far, as rescue crews continue to battle severe weather to find the 162 passengers and crew. And meet the 15 people who narrowly avoided their deaths on AirAsia flight QZ8501. [Reuters]

FLU HITS EPIDEMIC LEVEL At least 15 children have died from the outbreak this year, which has mutated into a form rendering the current flu vaccine less effective than usual. [CNN]
BOEHNER BACKS SCALISE AMID WHITE SUPREMACIST REMARK CONTROVERSY The Speaker of the House threw his support behind House Majority Whip Steve Scalise (R-La.) after news broke that he spoke to a white supremacist group in 2002. The GOP is hoping to clamp down on the political fallout from Scalise and ongoing controversy surrounding embattled Rep. Michael Grimm (R-N.Y.), who resigned Monday after pleading guilty to felony tax fraud. [HuffPost]
DEATHS OF POLICE OFFICERS BY GUNFIRE UP 56 PERCENT In 2014, according to the National Law Enforcement Officers Memorial Fund. [Reuters]
5 GUANTANAMO PRISONERS RELEASED, SENT TO KAZAKHSTAN "The two men from Tunisia and three from Yemen had been cleared for release from the prison by a government task force but could not be sent to their homelands. The U.S. has sent hundreds of prisoners from Guantanamo to third countries but this is the first time Kazakhstan has accepted any for resettlement." [AP]
CDC HIRES LAB SAFETY CHIEF So that boxes full of smallpox vials don't accidentally end up in supply closets again. [Reuters]
2-YEAR-OLD ACCIDENTALLY SHOOTS, KILLS MOM WITH CONCEALED GUN KEPT IN HER PURSE "Veronica Rutledge and her husband loved everything about guns. They practiced at shooting ranges. They hunted. And both of them, relatives and friends say, had permits to carry concealed firearms. Veronica typically left her Blackfoot, Idaho, home with her gun nestled at her side. So on Christmas morning last week, her husband gave her a present he hoped would make her life more comfortable: a purse with a special pocket for a concealed weapon." [WaPo]
WHAT'S BREWING
JIM HARBAUGH EXPLAINS HIS MICHIGAN RETURN "On the plane back to Michigan -- a journey that took a few hours or almost three decades, depending on your perspective -- Jim Harbaugh looked at his kids. 'They had some stocking caps from my kids from the "M Den,"' he told SI.com. 'My daughter Addie was wearing a scarf. We had a gift bag of some hats and things. When I saw my kids in the maize and blue, it was a terrific feeling.'" [Sports Illustrated]
WITH OSCAR VOTING COMES OSCAR MUD-SLINGING "Selma" and "The Imitation Game" are already under attack. [Variety]
WHY IT'S HARD TO TRACK AN AIRPLANE "The overarching problem with tracking planes is the vast expanse of earth devoid of radar coverage: Most of the oceans, polar regions, and areas of Africa, Asia, and South Africa -- as much as 80 percent of the world -- are 'a blind spot to surveillance,' the director of Nav Canada, the company that runs the country's air traffic control system, told the National Post last week. That means ubiquitous flight tracking via satellite is likely inevitable across the industry, and not just among major airlines with flights across the world." [Businessweek]
THE BEST CORRECTIONS OF THE YEAR Everybody makes mistakes, but these were at least fun for the rest of us. [Vanity Fair]
DISNEY CHANNEL PURISTS, REJOICE ABC Family is airing "That's So Raven," "Lizzie McGuire" and "Even Stevens" to ring in the new year. [Refinery 29]
CAN YOU PASS THE BEYONCE SAT TEST? How well do you know Queen B? [Vulture]
WHY WE MAKE NEW YEAR'S RESOLUTIONS It's not because of NBC's "The Biggest Loser." [HuffPost]
ON THE BLOG
WHY YOU STEAL OTHER PEOPLE'S IDEAS "The psychologist Dan Gilbert calls this kleptomnesia: generating an idea that you believe is novel, but in fact was created by someone else. It's accidental plagiarism, and it's all too common in creative work." [HuffPost]
BEFORE YOU GO
~ The open-office trend is not all it's cracked up to be.
~ Surprise, surprise: The Kardashians are the queens of the 2014 tabloids.
~ Save $1,000 without thinking about it.
~ You asked, and it was given -- more Matthew McConaughey Lincoln commercials.
~ Disney remains the Lion King of Broadway.
~ Meet AdAge's 50 most creative people this year.
~ What you should do to your wedding dress if your fiance leaves you at the altar.
~ The Department of Interior's Instagram account puts yours to shame.
~ The best champagne for your budget tonight.
~ Jeremy Renner and the mother of his child have filed for divorce after ten months of marriage.
~ Vanity Fair's favorite on-screen couples of 2014.
~ A South Korean activist plans to airdrop copies of "The Interview" in North Korea.
~ And two new Girl Scout cookies are coming in 2015!
Have a happy new year everyone! The Morning Email will return Monday, Jan. 5.
Send tips/quips/quotes/stories/photos/events/scoops to Lauren Weber at lauren.weber@huffingtonpost.com. Follow us on Twitter @LaurenWeberHP. And like what you're reading? Sign up here to get The Morning Email delivered to you.
Calling all HuffPost superfans!
Sign up for membership to become a founding member and help shape HuffPost's next chapter