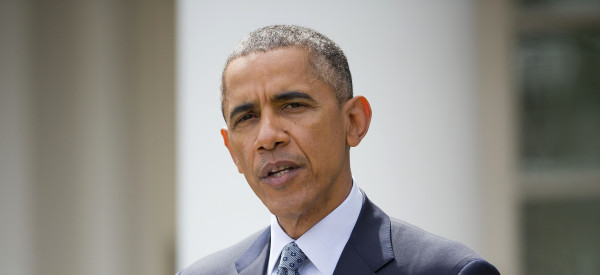 TOP STORIES
To get The Morning Email, HuffPost's daily roundup of the news, in your inbox, sign up here.
PRESIDENT OPENS UP ABOUT 'OBAMA DOCTRINE' AND IRAN FRAMEWORK In a wide-ranging interview about his foreign policy guiding principles, President Obama detailed for New York Times columnist Thomas Friedman how he makes decisions when it comes to Cuba and Iran. You can watch the full interview. Sen. Dianne Feinstein (D-Calif.) said over the weekend that the framework was better than "I thought it was ever going to be." And Western companies see a business opportunity. [Igor Bobic, HuffPost]

ROLLING STONE'S UVA GANG RAPE REPORT DISCREDITED IN COLUMBIA JOURNALISM REVIEW "Rolling Stone's discredited story of an alleged gang rape at the University of Virginia amounts to a 'journalistic failure that was avoidable,' Columbia University's Graduate School of Journalism concluded in an exhaustive report published Sunday night." [Michael Calderone, HuffPost]
COULD DROUGHT KILL THE CALIFORNIA DREAM? With 25% water cuts looming, what will the California of 2025 look like? [NYT]
ITALY RESCUES 1,500 MIGRANTS IN 24 HOURS Over 170,000 people attempt to illegally enter Italy through a dangerous crossing of the Mediterranean Sea each year. [Reuters]
KENYAN COLLEGE MASSACRE GUNMAN WAS GOVERNMENT OFFICIAL'S SON "One of the gunmen who slaughtered 148 people at a college in Kenya was identified Sunday as the law-school-educated son of a Kenyan government official, underscoring the inroads Islamic extremists have made in recruiting young people to carry out attacks against their own country." Kenya has bombed two al Shabaab camps in retaliation for the horrific massacre. [AP]
MILLENNIALS' DREAM JOBS INCLUDE MEAL PERKS AND FLEX TIME Insert grumbling about the entitlement of this generation here. [USA Today]
FBI BRINGS BACK FITNESS TEST FOR AGENTS "The F.B.I.'s 13,500 agents worldwide have until October to take it and the results will be included on their annual performance reviews. The test is primarily designed to ensure that agents can move quickly during a mass shooting, chase suspects and restrain them if they resist arrest. There are no weight limits, but agents have to achieve certain requirements in four different exercises depending on their age and gender." [NYT]
WHAT'S BREWING
PREVIEWING THE DUKE, WISCONSIN SHOWDOWN TONIGHT The Duke Blue Devils will face the Wisconsin Badgers in the NCAA men's finals in a game for the ages tonight. Tune in at 9:18 p.m. EST. [ESPN]
THE DECLINE OF BASEBALL IN AMERICA Behind the slow fall of America's pastime. [WaPo]
VEGAN EATING, BETTER FOR ENVIRONMENT? "A federal panel that helps set federal dietary guidelines is recommending Americans eat less meat because it's better for the environment, sparking outrage from industry groups representing the nation's purveyors of beef, pork and poultry." [The Hill]
BEYONCE DEBUTS NEW SONG The single, "Die With You," has been leaked on YouTube after debuting exclusively on the new music-streaming service Tidal. Quartz lays out the problem with so-called "exclusive content." [HuffPost]
THE CIA ISN'T SAD CARRIE MATHISON NO LONGER WORKS THERE The official CIA Twitter account tweeted "Good Riddance, Carrie Mathison" at the news Carrie will no longer be working for the CIA in season five of "Homeland." [Vanity Fair]
WE CAN'T STOP LISTENING TO CARLY RAE JEPSEN'S NEW SINGLE "All That" is another addictive tune from the "Call Me, Maybe" songstress. [HuffPost]
MEET MELLODY HOBSON "Mellody Hobson's life -- from her tough Chicago childhood to success as an investment guru, to her marriage to George Lucas, in 2013 -- has shattered stereotypes of every kind." [Vanity Fair]
'FURIOUS 7' BREAKS FRANCHISE RECORDS With a $143.6 million opening, the movie is on track for a $1 billion haul. [HuffPost]
WHAT FAMOUS CHEFS EAT FOR BREAKFAST Not Pop-Tarts. [HuffPost]
WHAT'S WORKING
CHANGING THE WAY THE MEDIA REPORTS VIOLENCE "The Solutions Journalism Network, a non-profit that spreads the practice of solutions-oriented reporting, is launching a year-long initiative, 'Violence Prevention and Reduction,' to create a solutions-based approach to reporting about crime and violence. " [HuffPost]
ON THE BLOG
LESSONS FOR DIVORCED PARENTS "The truth is that divorce does not have to affect your child's ultimate success in life. All of my closest friends have parents who are divorced, and they all are incredibly successful people, both professionally and personally. The key for us, as divorced parents, is to provide our children with an environment in which they can excel, even though mom and dad don't live in the same house." [HuffPost]
BEFORE YOU GO
~ How much Italy owes Amanda Knox.
~ Mitt Romney's NCAA bracket puts yours (and Obama's) to shame.
~ The "Twin Peaks" revival may live on despite David Lynch's departure.
~ We have more footage of that epic Destiny's Child reunion.
~ Recycling's falling profitability.
~ When you are a high-functioning shut-in.
~ Roku debuted voice control.
~ The best comment section on the Internet.
~ Hackathons, the fast track to Silicon Valley.
~ Do you have exploding head syndrome?
~ The Obamas obviously had cute Easter outfits.
~ All the crazy New York parade Easter hats.
~ When you get laughed at on the Internet.
~ ICYMI, watch the premiere episode of "The HuffPost Show."
~ Queen Latifah kills it as Bessie Smith in an upcoming HBO biopic.
~ Daniel Craig underwent knee surgery after suffering an injury on the "Spectre" set.
~ Beat that jet lag.
~ The latest Nike commercial about Rory McIlroy will give you all the feels.
~ Is your home haunted, or just really, really, really dirty?
Send tips/quips/quotes/stories/photos/events/scoops to Lauren Weber at lauren.weber@huffingtonpost.com. Follow us on Twitter @LaurenWeberHP. And like what you're reading? Sign up here to get The Morning Email delivered to you.
Calling all HuffPost superfans!
Sign up for membership to become a founding member and help shape HuffPost's next chapter