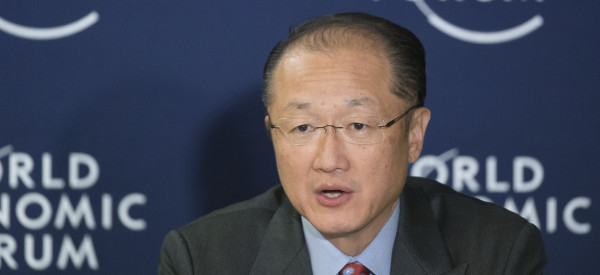 TOP STORIES
To get The Morning Email, HuffPost's daily roundup of the news, in your inbox, sign up here.
HOW THE WORLD BANK ABANDONED ITS MISSION TO HELP THE POOR "Over the last decade, projects funded by the World Bank have physically or economically displaced an estimated 3.4 million people, forcing them from their homes, taking their land or damaging their livelihoods … The World Bank has regularly failed to live up to its own policies for protecting people harmed by projects it finances." [Sasha Chavkin, Ben Hallman, Michael Hudson, Cécile Schilis-Gallego and Shane Shifflett, HuffPost]

ANTI-SEMITIC VIOLENCE UP 40% THIS YEAR "The number of violent anti-Semitic attacks around the world surged nearly 40% last year, according to a report released Wednesday by researchers at Tel Aviv University in Israel. The report found there were 766 recorded incidents against Jewish people in 2014 — the worst year for attacks since 2009." [USA Today]
CLINTON FOUNDATION TO KEEP ACCEPTING FOREIGN GOVERNMENT DONATIONS But only from six countries. [Reuters]
SEARCH AREA FOR MALAYSIAN FLIGHT 370 TO BE EXTENDED The plane has been missing since March 8 of last year. [AP]
MAN DETAINED AFTER LANDING GYROCOPTER ON CAPITOL HILL GROUNDS Doug Hughes, a postal worker from Florida, hoped to bring attention to campaign finance reform with his stunt. And in case you were wondering, this is what a gyrocopter looks like. [Paige Lavender, HuffPost]
AARON HERNANDEZ FOUND GUILTY OF MURDER The former star NFL player was sentenced to life in prison without parole and still faces other murder charges in the deaths of two Cape Verdean immigrants. [Andres Jauregui, HuffPost]
NBC REVISES KIDNAPPING ACCOUNT "NBC News chief foreign correspondent Richard Engel revealed Wednesday night that the masked men who kidnapped him and five colleagues in Syria in December 2012 misled the captive journalists about their affiliation, leading him to misidentify them in accounts of the ordeal." [Michael Calderone, HuffPost]
TIME RELEASED ITS LIST OF 100 MOST INFLUENTIAL PEOPLE Kanye West, Lorne Michaels, Misty Copeland and Ruth Bader Ginsburg all make the cut. [Time]
WHAT'S BREWING
STEPHEN CURRY HIT 77 THREES IN A ROW AT PRACTICE Un.be.liev.able. [HuffPost]
TARGET TO PAY $19 MILLION TO FINANCIAL INSTITUTIONS For the 40 million credit cards that were compromised. [Reuters]
BEN & JERRY'S IS DEBUTING A BEER A match made in heaven. [HuffPost]
HOW SNL PERFECTED THE ART OF POLITICAL SATIRE From Chevy Chase's Gerald Ford to Tina Fey's Sarah Palin. [HuffPost]
DAVID CHASE DISCUSSES 'SOPRANOS' ENDING We still have lots of questions. [HuffPost]
THE END OF AN ERA: GISELE HAS RETIRED A look back at her 20-year career. [Vanity Fair]
'SUFFRAGETTE' TRAILER FEATURES MERYL A women's rights movie starring Meryl Streep? What more could you want? [HuffPost]
WHAT'S WORKING
CORY BOOKER: BRINGING JUSTICE BACK INTO THE CRIMINAL JUSTICE SYSTEM "The facts about the criminal-legal system in America are sobering: The United States accounts for only 5 percent of the globe's population, but for 25 percent of the world's prison population. We lead the world not in science and math education, college graduation or childhood health -- but in the total number of people we incarcerate. We imprison more people than China, Russia, and India combined." [HuffPost]
ON THE BLOG
WHARTON PROFESSOR: HOW GOOGLE ABUSED ITS POWER "Google has committed so many abuses, over so many years, that it has hard to know where the European Commission should start. And, I believe, once the filing of complaints and litigation start, there will be additional complaints. There will be more complaints, in more jurisdictions. Eventually even Google's cozy ties with the current administration in Washington will not be enough to protect it, and there will be litigation in the US as well." [HuffPost]
BEFORE YOU GO
~ How to win friends and influence people's waistlines: use this recipe to make doughnuts at home.
~ Could "Cabin in the Woods" have been a ripoff?
~ That Dennis Quaid meltdown was a "Funny or Die" video.
~ Inside Abbey Road.
~ A look at all of the world's passports.
~ The longest hoax in Wikipedia history.
~ Bill Nye and Neil DeGrasse Tyson got into a bit of a Twitter scuffle.
~ This Knicks fan hit a half-court shot for $10,000.
~ Kendrick Lamar named his "favorite artist in the game."
~ Honest wine labels.
~ When you eat like a Chinese soldier for a week.
~ Kendall Jenner covers GQ.
~ Why are the smartest folks passing on law school?
~ Barbie's Instagram.
~ What gun violence monetarily costs us all.
~ What keeps an airplane flying.
~ And the first full color photo of Pluto.
Send tips/quips/quotes/stories/photos/events/scoops to Lauren Weber at lauren.weber@huffingtonpost.com. Follow us on Twitter @LaurenWeberHP. And like what you're reading? Sign up here to get The Morning Email delivered to you.
Calling all HuffPost superfans!
Sign up for membership to become a founding member and help shape HuffPost's next chapter