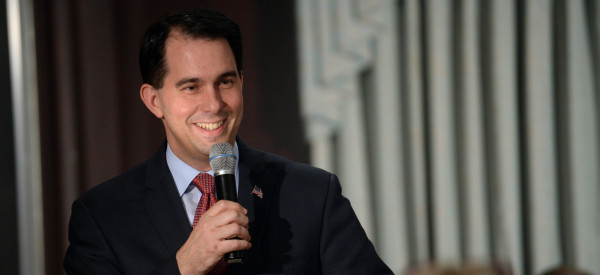 TOP STORIES
To get The Morning Email, HuffPost's daily roundup of the news, in your inbox, sign up here.
KOCH BROTHERS PICK THEIR 2016 CANDIDATE Christmas came early for Scott Walker. The news comes as the candidate is tacking hard right on immigration. [Reuters]

DEATH TOLL FOR MEDITERRANEAN DISASTER COULD HIT 900 Only 28 survivors have been found thus far. The captain and a crew member have been arrested for "multiple homicide." [NYT]
PREPARE YOURSELF FOR MOBILEGEDDEON TODAY "Google, which dominates online search, is launching an algorithm to favor sites that are 'mobile-friendly.' This means that people who use Google to search on their smartphone may not find many of their favorite sites at the top of the rankings. Sites that haven't updated could find themselves ranked way lower..." [USA Today]
FORMER EGYPTIAN PRESIDENT MOHAMMED MORSI SENTENCED TO 20 YEARS "An Egyptian criminal court on Tuesday sentenced ousted Islamist President Mohammed Morsi to 20 years in prison over the killing of protesters in 2012, the first verdict to be issued against the country's first freely elected leader." [AP]
IRAN DETAILS CHARGES AGAINST WASHINGTON POST BUREAU CHIEF "Iranian authorities are charging The Washington Post's Tehran bureau chief, Jason Rezaian, with espionage and three other serious crimes, including 'collaborating with hostile governments' and 'propaganda against the establishment,' according to his attorney in Tehran." Read the full statement from the Post's executive editor regarding the charges. [WaPo]
BLUE BELL RECALLS ALL PRODUCTS Over listeria concerns. [AP]
THIS DIET MAY CUT THE RISK OF ALZHEIMER'S The MIND diet recommends lots of greens, berries and a glass of wine a day. [WSJ]
NATIONAL BIRD FLU OUTBREAK WORSENS Poultry across the country are dying in the millions. [Reuters]
WHAT'S BREWING

GO READ ALL THE PULITZER PRIZE WINNERS You won't be sorry. [Pulitzer]
NEW SERIES OF TESTS FOR BREAST CANCER "A Silicon Valley start-up with some big-name backers is threatening to upend genetic screening for breast and ovarian cancer by offering a test on a sample of saliva that is so inexpensive that most women could get it. At the same time, the nation's two largest clinical laboratories, Quest Diagnostics and LabCorp, normally bitter rivals, are joining with French researchers to pool their data to better interpret mutations in the two main breast cancer risk genes, known as BRCA1 and BRCA2." [NYT]
'THE MESSY BUSINESS OF REINVENTING HAPPINESS' Behind Disney's revolutionary MyMagic+ wristbands. [Fast Company]
AC/DC DRUMMER PLEADS GUILTY TO DRUG AND MURDER THREAT CHARGES Phil Rudd was accused of possessing methamphetamine and threatening to kill two people. [HuffPost]
SAY GOODBYE TO KRAFT MAC AND CHEESE AS YOU KNOW IT Kraft is taking out the synthetic color and preservatives. [Reuters]
HOLLYWOOD'S ALL ABOUT THE TENNIS MOVIES RIGHT NOW Emma Stone and Elizabeth Banks are both attached to movies about Billie Jean King's takedown of Bobby Riggs. [Vanity Fair]
YOU'VE BEEN MAKING CHOCOLATE CHIP COOKIES WRONG Apparently you're not supposed to use chocolate chips, which seems somewhat counterintuitive. [HuffPost]
COMBATTING THE 'ON-DEMAND ECONOMY'S LABOR LOOPHOLE' "Many of these companies are built with workers who are not even considered workers at all. In a twist of business logic that drives much of the sharing economy, these delivery people, drivers, and maids aren't employees  --  they're entrepreneurs." [Medium]
WHAT'S WORKING
'THE MOST EFFECTIVE ANTI-POVERTY PROGRAM IN AMERICA' "Child First is a 'home visiting' program, which means staff members work with families mostly in their homes rather than in office settings, sometimes meeting as frequently as three or four times a week. The first priority is addressing tangible problems like poor housing or lack of medical care, which sometimes means connecting families with public programs. But the main focus is improving relationships within the family, particularly between the parents and children, through a combination of advice and therapy." [HuffPost]
ON THE BLOG
MICHAEL BLOOMBERG: WHY BIG CITY DATA MATTERS "Technology has unleashed an explosion of new information for city halls to work with. The possibilities for how cities can use that data to improve lives -- and improve the way services are provided to citizens -- are limitless. To help more cities embrace those possibilities, today Bloomberg Philanthropies is launching a new national program called What Works Cities. It is the most comprehensive effort yet to help city leaders use data and evidence in their decision-making to improve the lives of residents." [HuffPost]
BEFORE YOU GO
~ Ariana Grande and Big Sean called it quits.
~ The music festivals that are better than Coachella.
~ Basically all the tourists are dead in the newest "Jurassic World" trailer.
~ We only have 107 more days of Jon Stewart at "The Daily Show" -- try not to cry.
~ Why you should always pick watching "Gilmore Girls."
~ The average cost of prom is out of control.
~ Take a look for the Loch Ness Monster -- from your couch.
~ Kermit the Frog is definitely real.
~ You can make hard-boiled eggs without boiling them (also, somewhat counterintuitive).
~ All the animals the U.S. government killed last year.
~ The world's best hip-hop albums, in Google Street View.
~ MLB rolls out the most advanced baseball stat metrics to date today.
Send tips/quips/quotes/stories/photos/events/scoops to Lauren Weber at lauren.weber@huffingtonpost.com. Follow us on Twitter @LaurenWeberHP. And like what you're reading? Sign up here to get The Morning Email delivered to you.
Calling all HuffPost superfans!
Sign up for membership to become a founding member and help shape HuffPost's next chapter