Despite a sustained global commitment and technological advancements, mosquito-borne illnesses continue to claim the lives of countless men, women and children around the world each year. When you think about mosquitoes these days, the Zika virus likely leaps to mind, but tragically, it's far from the most devastating disease transmitted by this opportunistic insect.
For centuries, the world has waged an unending battle against malaria, one of the world's oldest, deadliest diseases--it kills an estimated 430,000 each year and infects 214 million more. Pregnant women and children under 5 years old are particularly vulnerable because of their compromised immune systems. Malaria in pregnancy often contributes to dangerous health consequences for the mother and her unborn baby, including severe maternal anemia, low birthweight and even death.
In 17 countries around the world, Jhpiego, a nonprofit global health affiliate of Johns Hopkins University, is contributing to what was once thought to be impossible: ending malaria for good. Through collaborations with governments, private partners and communities, we are helping women and families survive malaria and, most important, preventing new cases through the introduction and acceleration of high-quality malaria services.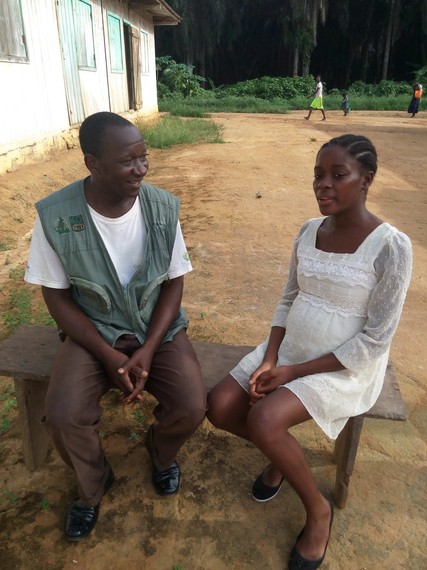 Community health worker, Papa Esso, counsels expectant mother Jenny at her home. Photo by Eric Tchinda One of these women is Jenny, a 19-year-old mother-to-be from Cameroon. Thanks to home visits from a community health worker trained through a dynamic partnership between ExxonMobil and Jhpiego, Jenny received information on malaria in pregnancy and was encouraged to visit the local health center. There, she received antenatal care, and medication to prevent malaria in pregnancy, resulting in the birth of a healthy baby boy. Use of Intermittent preventive treatment, insecticide treated bed nets and prompt diagnosis and treatment of confirmed cases are the recommended life-saving measures that prevent transmission of malaria and save lives. Through the Jhpiego-ExxonMobil partnership, hundreds of health providers and community health workers have been trained in malaria prevention and treatment best practices to cover 700,000 women and families in Chad and Cameroon, including 125,000 children. These children will benefit from the partnership's expanded focus on ensuring access to prompt diagnosis and effective treatment through case management, which is critically important as children under 5 account for 78% of all malaria deaths.
In some areas of Africa, such as Rwanda, success at providing women and families with lifesaving treatment for malaria has advanced to a stage where public health workers actively search for potential new cases in effort to eliminate malaria, a process called pre-elimination
Fabien Nsengiyumva and his family live in a village in northern Rwanda that is 3 miles and two mountains away from the nearest health center. Fabien came down with a fever but, lacking health insurance, he self-medicated with drugs he bought at the pharmacy. Soon after, his neighbor fell ill. The neighbor, however, decided to make the difficult trip to the Mataba health center, where he was diagnosed with malaria and properly treated. His visit triggered the next steps in the pre-elimination effort--health workers tracking down any related cases of malaria and treating them. With leadership from the Government of Rwanda, the United States Agency for International Development's flagship Maternal and Child Survival Program, which is led by Jhpiego, is working to strengthen health facilities in pre-elimination efforts and train providers on how to actively detect and treat malaria cases, using rapid diagnostic tests for diagnosis at the community level.
"I was so happy and relieved after the health care worker visited," said Fabien. "I felt the government and its partners are truly caring for me."
A future without malaria belongs to those who can dream about it, but more important, to those who create the future they want to see. On this World Malaria Day, Jhpiego honors the efforts of our partners and colleagues around the world who fight tirelessly each and every day to create the change they want to see--the eradication of malaria and millions of lives saved.
Popular in the Community